The Best 'Second Finish' American Whiskeys Of 2022
Distillation alchemists are tweaking American whiskey profiles with everything from ex-cognac casks to honey barrels.
The second chapter in Maxim's fourth annual Best In New American Whiskey (see a deep dive into favored American Ryes here) feature represents another of the more flourishing spaces in all whiskey: Second Finishes. Some credit The Balvenie's renowned Malt Master David C. Stewart MBE for pioneering the practice, but truth is since the beginning of distillation alchemists have been shifting spirits from one barrel to another—for simple utility or conscientious experimentation.
Today any distillery worth its tumbler stones plays with every sort of secondary wood they can get their hands on—from barrels that held rum and cognac to Madeira and Port to honey and maple syrup—eager to tweak flavor profiles and dial in specific notes pouring from their best juice.
Widow Jane 'The Vaults 2022' Bourbon
The holidays are that magical time of the year when many labels across this great land release their year-end flagship expressions, such as Widow Jane. They just dropped the latest gem in their always anticipated The Vaults series, which perennially blends the well-awarded Brooklyn distillery's oldest and rarest whiskies. The Vaults 2022 is no exception.
For the fourth chapter in their Vaults series Master Distiller Lisa Wicker selects bourbons resting in their Red Hook rick house, all aged between 14- to 19 years-old, and blends them to perfection. Each year a specific wood is selected to finish the Vaults blend, this year's being Missouri Ozark oak casks that spent three years seasoning in the open air of their Red Hook HQ. Widow Jane says the tight grains of the oak deliver hints of vanilla, smoke and spice to the whiskey.
Finally, as with all Widow Jane releases the mix is proofed down a bit—but not too much, as Vaults 2022 still boasts a punchy 49.5% ABV (99 proof) ABV—with pure limestone-filtered water sourced direct from the nearby Rosendale Mines in upstate New York. They credit this mineral water for their whiskey's round mouthfeel and long finish. Only 2,000 cases of Widow Jane 'The Vaults' 2022 will be sold. $239.50
Garrison Brothers 'Laguna Madre' Bourbon
For summer 2022 Garrison Brothers released Laguna Madre, the rarest and most coveted straight bourbon in Texas whiskey-making history (as the Lone Star state's first legal bourbon distillery, Garrison can proudly make the claim.) Named after the azure waters off the Texas Gulf Coast, the idea is Laguna Madre should ease away the stresses like a day at the beach.
The inaugural Laguna Madre raised over $400,000 to help the local hospitality community rebuild their lives during for Operation Crush COVID-19. Now for the 2022 expression Garrison Bros founder Dan Garrison and his Master Distiller Donnis Todd crafted a special whiskey starting with their 4-year-old Garrison Brothers bourbon—a sweet mash of food-grade corn, locally grown soft red winter wheat and two-row barley—and then finished it for another 4 years in new oak from the Limousin forest.
Laguna Madre notched Double Gold at the 2021 World Spirits Competition and Gold in the 2021 USA Spirits Ratings earning 90 points. It also took home Double Platinum at the 2021 ASCOT Awards and Bronze at the 2021 Melbourne International Spirits Competition. $680
Barrell Craft 'Vantage' Bourbon
Barrell Craft have built a name for themselves as masters in blending and aging, and their contribution to Bourbon Heritage Month excels in both. Barrell Vantage starts with three different straight bourbons (sourced from Indiana, Kentucky and Tennessee) and finishes them in three different virgin oak casks: Mizunara, French and toasted American. Analyzing the flavor profiles of each, the three distinct whiskies are then blended to create their latest opus of three-part barrel finishing.
The BCS team has done this before, mastering the art of three-barrel finishing in previous expressions like their Seagrass, Armida and Dovetail expressions. Vantage makes a fine continuation in the concept. So fine, in fact, Whiskey Advocate named it #3 on their Top 20 Whiskeys of 2022. Vantage is bottled at cask strength (57.22% ABV) with a SRP is $90. $79.99
Sweetens Cove '22' Bourbon Finished In Speyside Scotch Casks
In 2020 a cadre of uber-athletes released a sincerely terrific, very low volume whiskey inspired by their favorite golf course. NFL HOF brothers Peyton and Eli Manning, tennis star Andy Roddick, Jim Nantz and others hired Marianne Eaves, former Master Distiller of Castle and Key and Brown-Forman blender, to blend their 100 barrels of 13-year-old Tennessee bourbon to perfection, resulting in the first expression from Sweetens Cove.
For 2022 Eaves blends four different Tennessee bourbons, aged 5, 6, 8, and 10 years, and then looks across the Atlantic for a twist. As an homage to the founders' passion for both golf and whisk(e)y, uniting the nations of Scotland and America, Eaves and company imported unpeated casks from Speyside for a back-nine round of second finishing. There's a nose of oak and leather, with additional touches of baked apple and vanilla. Only 2,000 cases were bottled at an SRP of $200 per bottle, packaged in a fitting St Andrews Tartan pouch. $200
Chicken Cock 'Island Rooster Rum Barrel' Rye
While a heritage brand launched way back in 1856 in Paris, Kentucky, Chicken Cock was wiped out by a distillery fire just after World War II. In 2012 the brand relaunched with Master Distiller Gregg Snyder behind the controls, bringing their Kentucky Straight Bourbon and Straight Rye to life via Bardstown Bourbon Company as part of the brand's collaborative distilling program.
To celebrate what they dubbed the "Summer of the Rooster," in late spring Kentucky's Chicken Cock launched a new limited release: Island Rooster Rum Barrel Rye. Starting off with Chicken Cock's Straight Rye Whiskey the legacy label—founded in 1856, but only recently resurrected by Grain and Barrel Spirits—then finishes the rye in Caribbean rum casks for a minimum of six months.
This is a delicious, well rounded high-rye (95% rye / 5% malted barley) that absorbs some deep network of spices from the Caribbean rum, including vanilla, butterscotch and other rum sweet rum notes in addition to a dash of white pepper. Chicken Cock Island Rooster Rum Barrel Rye was awarded a Gold Medal at the 2022 San Francisco World Spirits Competition, and is limited to only 25 barrels. Look out for it with a SRP of $200. $194.99
I.W. Harper 'Cabernet Cask Reserve' Bourbon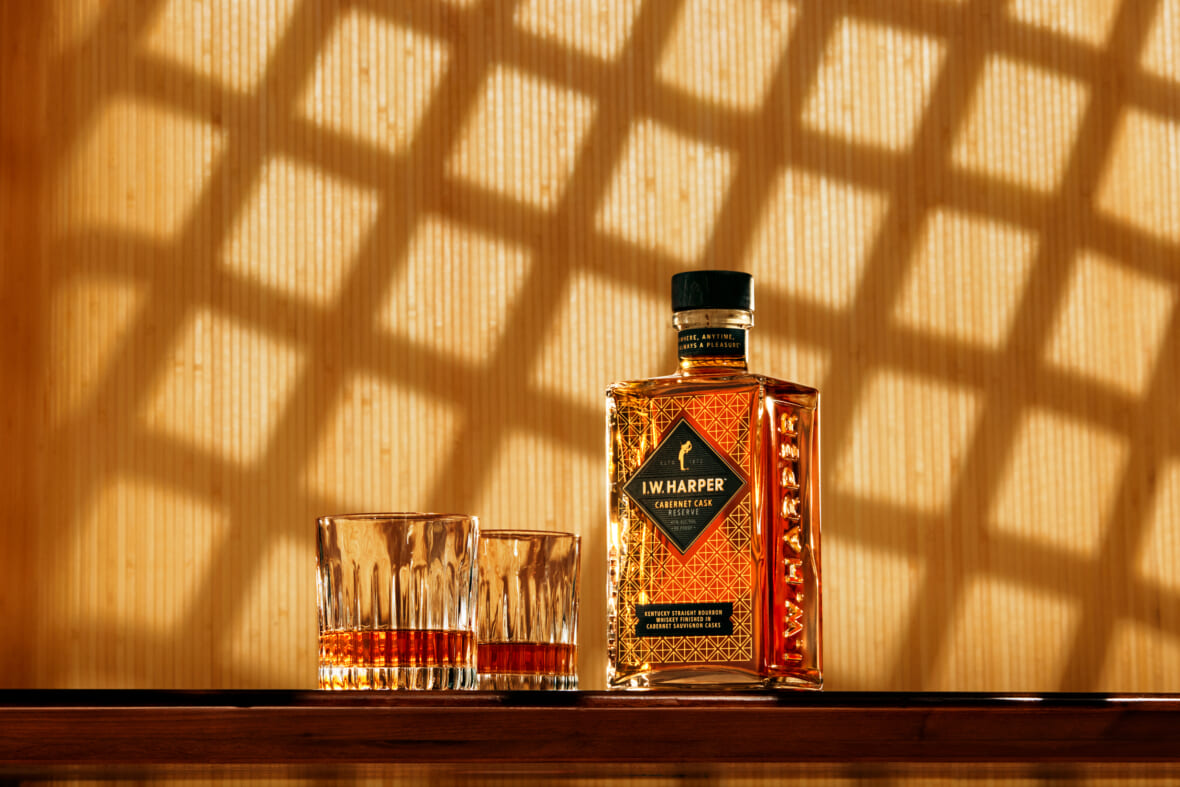 In 1872 a pair of German immigrants named Isaac Wolfe (I.W.) and Bernard Bernheim launched a whiskey distribution interest and began bottling their own bourbon under the I.W. Harper Kentucky Straight Bourbon Whiskey label. Resurrected by Buffalo Trace 150 years later, they're going strong and now launching a second finishing expression. Aged 4 years in new charred American oak barrels, the folks at I.W. Harper then pour their bourbon into California cabernet sauvignon casks and bottle the finished product at 45% ABV at the famed Stitzel-Weller Distillery. I.W. Harper Cabernet Cask Reserve matches a bit of stone fruit sweetness with some smoke and vanilla for a tasty dram on the rocks, or as a spot-on backbone to a boulevardier. A relative bargain at a $50 SRP. $51.99
Woodford Reserve 'Honey Barrel Finish' Bourbon
Every year esteemed Woodford Reserve Master Distiller Chris Morris puts together something special to celebrate Bourbon Heritage Month. For 2022 the long-serving whiskey maker looked to a nearby beekeeper for the twist, opting to finish his signature Woodford Reserve Bourbon in barrels used to store honey. The project was rather symbiotic, as his neighbor's barrels initially came from Woodford Reserve so the honey farmer could age his nectar in freshly-dumped bourbon barrels. The end result is a floral, honey-accented spin on Woodford Reserve's well-awarded bourbon. As it's part of Woodford Reserve's annual Distillery Series, Honey Barrel Finish (45.2% ABV) was only available at the Versailles distillery and some shops around Kentucky for $60—but it can be found online. $287
2XO 'The Phoenix Blend' Bourbon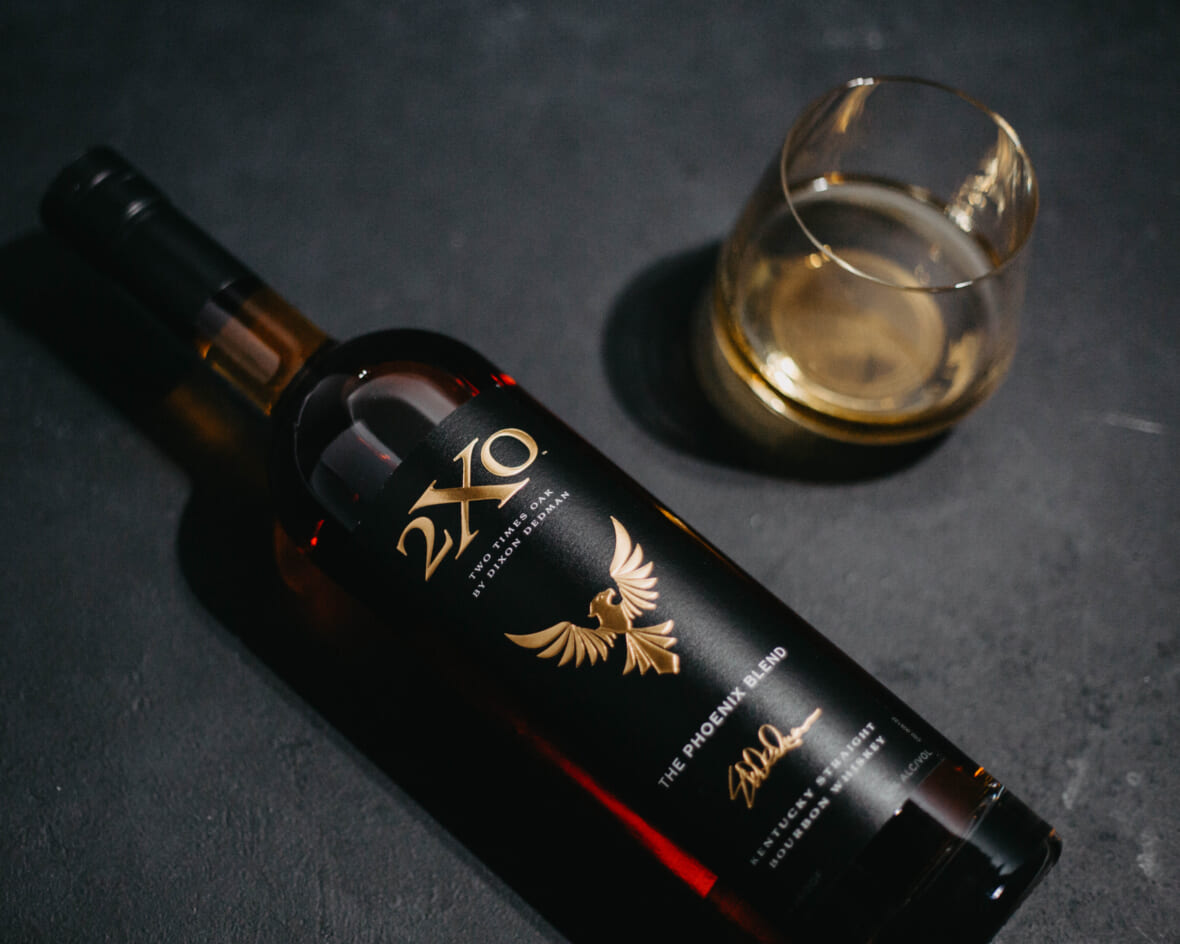 Dixon Dedman made his name in the whiskey world resurrecting the Kentucky Owl label in 2014, sourcing award-winning juice, and selling it only in Kentucky. It grew like wildfire, Stoli came in and invested, and soon Dedman moved on to new endeavors. To whit he introduces his new label, 2XO (aka Two Times Oak)—a literal explanation of its ethos, which will be to double barrel every expression. His first, aptly dubbed The Phoenix Blend, looks to mirror the path he walked with Kentucky Owl in crafting a coveted, immaculately blended bourbon. As Dedman puts it, "That's my jam—blending."
He starts with two bourbons from different distilleries, each with different mash bills—the first a very high rye mash bill architected by renowned whiskey genius Jim Rutledge, the other with more moderate rye count—blended and then re-barreled into new charred American oak barrels to highlight traditional bourbon flavors like caramel, vanilla and red apple. $110
Puncher's Chance 'D12TANCE' Bourbon
Relatively new to the American Whiskey scene, Puncher's Chance is a new bourbon label hailing from Wolf Spirit, a liquor company born in a Eugene, Oregon laundromat in 2020. With only their second release Punchers Chance drops their first-ever LTO: a Straight Bourbon (84% corn, 8% malt, 8% rye) sourced from Louisville, Kentucky's IJW Whiskey Company aged 12 years in traditional stone and wood rickhouses.
It was then finished in California Cabernet Sauvignon barrels for an undisclosed period. The D12TANCE name is a nod to both to the age of the liquid and the 12 rounds in a boxing match, continuing Puncher's Chance's spicy pugilist motif. Only 70 barrels of Puncher's Chance D12TANCE will be sold, bottled at 96 proof for $100. $99.95
Garrison Brothers 'Guadalupe Port-Finished' Straight Bourbon
We've grown fast fans of proud Texas distillery Garrison Brothers and their seemingly unstoppable quest to craft the best Lone Star bourbon. So many interesting LTOs like their Balmorhea, Laguna Madre and HoneyDew keep fans on their toes, and now their Guadalupe adds to the fervor.
In only its second year of release the 2022 Guadalupe starts with their foundational straight Texas bourbon, aged 4 years in toasted and charred white American oak barrels, and then second finishes 90 (30-gallon) barrels for another two long years in Portuguese port casks. Personally sourced by Donnis Todd, Garrison Brothers' Master Distiller knew Portugal's famed sweet fortified wine would add rolls of berries, cinnamon and chocolate sauce to his bourbon, with tawnier options layering in hazelnut, almond and butterscotch.
Guadalupe was only initially available at their Hye distillery in July and sold out all 1,002 bottles in a flash, but the remaining 4,900 Guadalupes have spread across our nation's best spirit outlets like gifts at Christmas. Garrison Brothers' latest Port-Finished Straight Bourbon Whiskey bursts with flavors of caramel and graham cracker, only fortified by its muscular (53.5% ABV) proof. $350
Chicken Cock 'Chanticleer' Bourbon Whiskey
Chicken Cock, or "The Famous Old Brand" as they were once known—continues the previously mentioned "Summer of the Rooster" experimentation with their latest year-end LTO: Chicken Cock Chanticleer, a Kentucky Straight Bourbon Whiskey finished in French Cognac barrels.
Only 32 barrels of Chicken Cock's high-rye mash bill (70% corn / 21% rye / 9% malted barley) were hand-picked by Master Distiller Snyder for their unique profile to match the cognac influence—a project Chicken Cock saw as an ode to longstanding French-American friendship that influenced both Bourbon County (named after the Bourbons, France's royal family) and Chicken Cock itself (established in Paris, Kentucky). Bottled at 56% ABV (112 proof), the holiday release can be found for under $500. $473.99
Basil Hayden 'Red Wine Cask Finish' Bourbon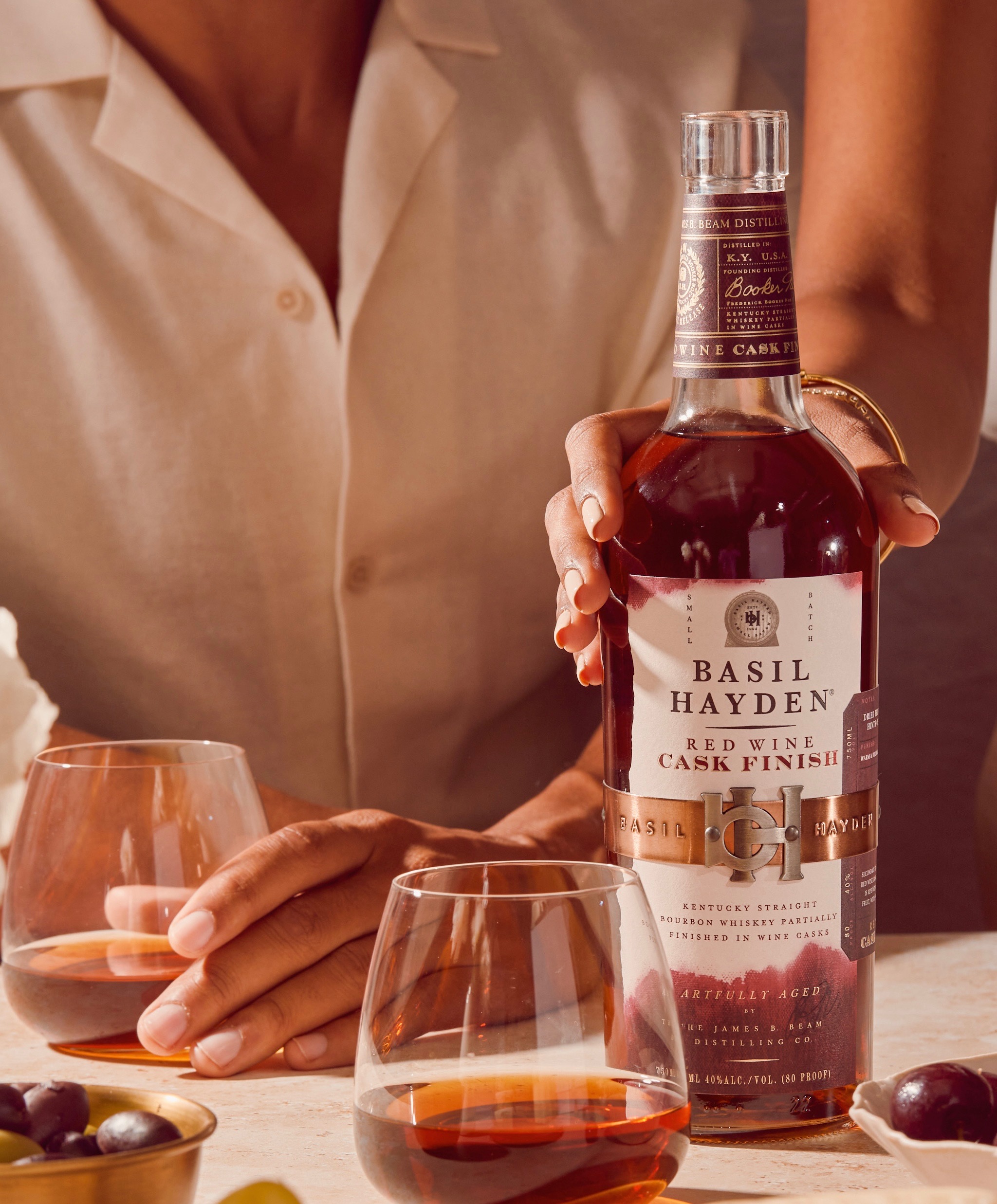 Basil Hayden continues their ambitious volley of limited edition whiskeys with another innovative offering, this one made unique via a second aging in Californian red wine casks. Like previous Basil Hayden LTOs—think Dark Rye, Subtle Smoke, Caribbean Reserve Rye, et al—Basil Hayden Red Wine Cask Finish applies a singular twist on their Kentucky Straight Bourbon.
To craft Basil Hayden Red Wine Cask Finish 8th generation Master Distiller Freddie Noe aged his bourbon in Californian red wine casks and then blended that experiment with Basil Hayden's signature Kentucky Straight Bourbon to craft a spirit that could appeal to both bourbon and wine aficionados. According to Noe the idea was add notes of dried fruit and sweet nectar from the wine casks to Basil Hayden bourbon's known profile of vanilla and charred oak.
Freddie's dad Booker launched Basil Hayden exactly 30 years ago as a font of whiskey experimentation; Red Wine Cask Finish continues the mission by making the ideal liquid to brace any aperitif-style whiskey cocktail. $60
Thomas S. Moore 'Merlot Cask' Bourbon
In late 2020 the Barton 1792 Distillery launched its first ultra-premium label, Thomas S. Moore. The idea was to create a new category of "extended cask finished" bourbon experimenting with the effects of additional finishing on whiskey—its consequences on flavors and aromas. This month Barton 1792 drops its second Thomas S Moore collection, featuring their fine high-rye bourbon, which is aged 5-6 years in new charred oak. It's then finished for an additional 1-4 years in a quartet of different casks: Cognac, Madeira, Sherry and Merlot.
The best strategy is to own all four so you can really discern the effect these secondary barrels have on the same quality bourbon, but we realize that may not be realistic. Of the collection the two we appreciated most—in the way the finishing wood affected the bourbon—was the Madeira (96.5 proof) and the Merlot: 2-4 years / 93.3 proof), both matured an additional 2-4 years in their second homes. These are rich, beautiful whiskeys well worth exploring. $65
Follow Contributing Spirits Editor Nicolas Stecher on Instagram at @nickstecher and @boozeoftheday.