The Best Tennessee & American Single Malt Whiskeys Of 2022
From a $600 bottle of Jack Daniel's highest proof whiskey to Seth McFarlane's new "Bear Fight."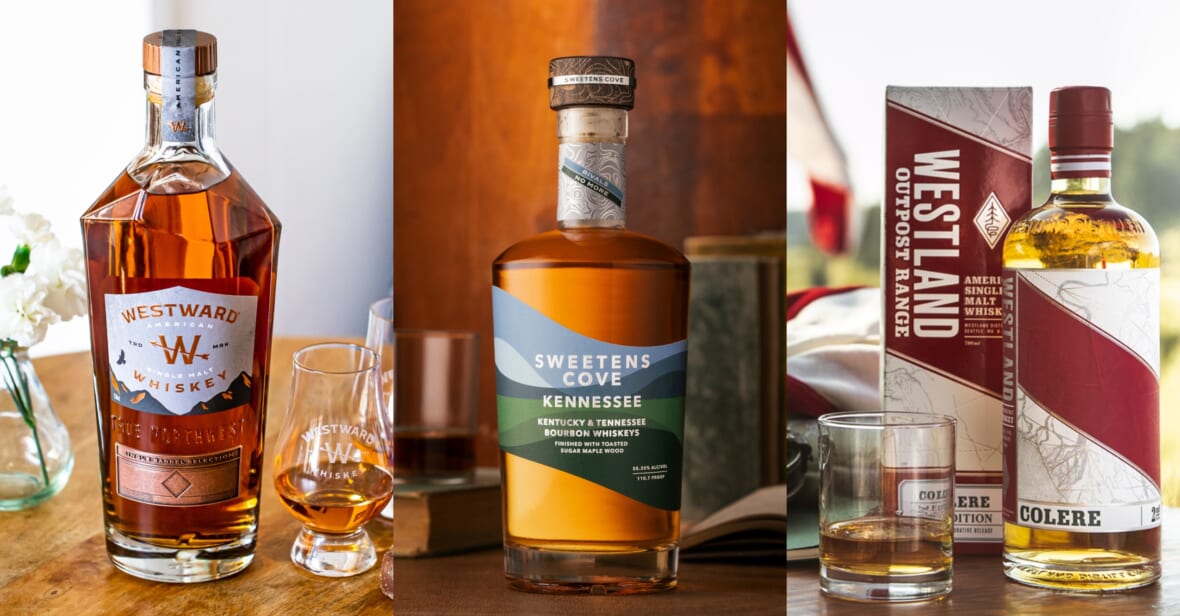 Following Best in Rye and Best in Second Finishes, the third chapter in Maxim's guide to the best American Whiskeys of 2022 combines two smaller but still growing categories: Tennessee Whiskey and American Single Malt (ASM). The former is one of the oldest categories of American distilling, while the latter is officially brand new—after decades of petitioning this year ASM finally received its own official recognition from the Tax and Trade Bureau (TTB). Here are the best from both categories for 2022.
Tennessee Whiskeys
George Dickel 17 Year Old Reserve
Back in 2016 we visited Cascade Hollow and fell in love with this tiny, rudimentary distillery (at the time computer-free, might still be). A babbling brook, a small still, a couple single-story rickhouses and a shop, wherein we found only two bottles of a super rare, distillery-only 17-year-old expression. At the time the oldest Tennessee Whiskey ever sold. We snatched up both and were lifted to the clouds when we finally opened and finished a bottle after a wedding (the other bottle remains locked in a safe).
That spirit was all but impossible to find—until this year, as George Dickel finally revisits that gem with a brand new 17 Year Old Reserve expression. To pay homage to that original 17 year old juice, Cascade Hollow General Manager and Distiller Nicole Austin plumbed the rickhouses for barrels that captured the similar flavor notes of crème brûlée, apricots and juniper. Start your search for George Dickel 17 Year Old Reserve (46% ABV) at its SRP of $250. $260
Uncle Nearest 'Master Blend Edition'

While Uncle Nearest hit the whiskey scene with a bang in 2017, until now all their juice has been meticulously sourced by the Uncle Nearest team from outside distilleries. For the first time ever in 2022 Uncle Nearest began selling whiskey they distilled, aged and bottled at their own distillery in Shelbyville, Tennessee—to be sold only at that 323-acre campus.
Crafted from barrels distilled and laid down in 2017, Uncle Nearest 'Master Blend Edition' continues the mission to honor Nearest Green, Jack Daniel's first Master Distiller and the first known African American Master Distiller. This Blend #5 comes in at 59.2% ABV, and hopefully inspires other BIPOC who are trying to pave their own way in the spirit industry. Credit the sugar maple charcoal filtration for its high-proof smoothness. $45
Jack Daniel's Small Batch Coy Hill High Proof
For decades relying steadily (and handsomely) on their world-famous 'Old No. 7' label, the American whiskey juggernaut known as Jack Daniels recently pivoted with a slew of new offerings and quick-hit LTOs. For their latest JD wanders deep into the fields with one of the smallest LTOs they've ever offered—both in size (only 375ml bottles) and reach, making Coy Hill available only in Tennessee. However don't dismiss, as it may be small but it's also explosive like Wolverine in its tiny package: Jack Daniel's Small Batch Special Release Coy Hill High Proof is the highest proof whiskey ever released by Jack Daniel's.
The LTO gets its name from being matured in the highest reaches of the barrelhouses on Coy Hill, the highest point of elevation at the Lynchburg campus, where more water evaporates than alcohol. The resulting Tennessee Whiskey is being bottled at 143.6 – 155.1 proof. Jack Daniel's Special Release Coy Hill whiffs of burnt sugar, with notes of molasses and barrel oak, and finishes with layers of char, dried fruit and caramel. Find it only in Tennessee with a SRP of $55 or elsewhere at a premium. $600
Sweetens Cove Kennessee
For 2022 Sweetens Cove releases their most accessible expression to date: Kennessee. Once again blended by Marianne Eaves, Kentucky's first female Master Distiller since Prohibition, Kennessee was inspired by the "union of Kentucky and Tennessee Bourbons." Eaves sourced, experimented with and blended whiskies from the two most foundational states in American whiskey.
The final twist? Eaves tossed in Toasted Sugar Maplewood spirals into the spirit aging in American oak to further tweak flavor profiles. "Almost like a Kentucky expression of the Lincoln County process—doing the toasted sugar maple as opposed to the charred sugar maple to really emphasize the flavors that that wood can contribute," explains Eaves. "It was fun to think about all the ways that that we could bring Kentucky and Tennessee together and honor the styles and signatures of both of these places." Sweetens Cove Kennessee comes proofed at 110.7-proof at a SRP of $60, considerably more approachable than previous Sweetens Cove offerings. $55
American Single Malts
St. George Spirits '40th Anniversary Edition'
Leading California's—and arguably America's—indie spirits movement, St. George Distillery conjures some serious heaters (their Baller whiskey, Terroir Gin and Absinthe among our favorites), and this year the Alameda distillery celebrates four decades of existence. It all started in 1982 when a young German judge by the name of Jörg Rupf moved to UC Berkeley on assignment from his Ministry of Culture. Raised in the Black Forest, Rupf grew up distilling eau-de-vie from local forest berries—and quickly fell in love with California's wide bouquet of produce. He soon began distilling pears, raspberries, cherries and even kiwis in his backyard. St. George Spirits was born.
Then in 1997 an eager ex-nuclear engineer named Lance Winters knocked on his door with an audacious request: to hire him, which Rupf did. Soon Winters was convincing Rupf to begin distilling single malts—decades before the American Single Malt category would even be recognized.
So it's fitting Rupf, Winters and company are releasing their St. George Spirits 40th Anniversary Edition Single Malt to celebrate their 40 years of existence—being the first American craft distiller to reach this momentous landmark. Winters and Head Distiller Dave Smith tasted over 600 casks for this super limited release expression, with only 14 honey barrels of their single malt making the final cut—including California Sauternes-style and umeshu cask finished whiskies. All were pot-distilled between 1997 and 2017, meaning juice from some of St. George's original ASM barrels are included in the blend. Bottled with a punch at 48% ABV, only 1,982 bottles of St. George Spirits '40th Anniversary Edition' American Single Malt will be sold for an SRP of $500. $1,200
Westward 'American Two Malts Chocolate Rye'
The first release from Westward's superb Whiskey Club hit mailboxes early in the year, making eager fans of ASM celebrate like that galactic party scene at the end of Return of the Jedi. Only with whiskey. Launched in 2004 by Founder and Master Distiller Christian Krogstad, Westward's goal has long been to craft an ASM that most deliciously reps the terroir of the Pacific Northwest. As an experienced brewer and winemaker Krogstad applied all he knows to the endeavor—which is where this Spring 2022 release from the Westward Whiskey Club, 'American Two Malts Chocolate Rye', was inspired.
"As former brewers our distillers know just how much flavor can be unlocked when grains are hydrated and kilned in the malting process," Krogstad explains. "Caramelization and toasting brings out delicious notes from the malt that would otherwise not be present. Rye, too, is enhanced in this way, accentuating earthy spice and stone fruit notes to develop nutty biscuit flavors that race through the palate."
Only 2.5% of chocolate roasted rye added to their grain bill was enough to add complex chocolate notes to this latest Westward ASM, giving American Two Malts Chocolate Rye a character—and color—worthy of its name. $110
10th Street Distillery 'Peated Wine Cask Finish'
One of the true leaders of the American Single Malt revolution, 10th Street Distillery this summer dropped a new spin on their signature Peated single malt. For their aptly named Wine Cask Finish the well-awarded San Jose distillery starts with their lauded Peated expression—a very traditional, Islay Scotch-like single malt of the old leather and pipe tobacco world/ That's initially aged in first-fill charred American oak bourbon casks and then completed with a second finish in French oak Pinot Noir casks from a local California vintner. The French wood smoothly tempers the smoke while also imbuing the ASM with whiffs of strawberry jam and brown sugar oatmeal—a unique profile that earned 'Best Whisky in Show' at the 2021 New York Wine and Spirits. 10th Street Distillery Peated Wine Cask Finish comes bottled at 50% ABV. $65
Bear Fight
We're not ones to normally champion celebrity spirits, but this one feels different. Seth McFarlane is so obscenely wealthy from his Family Guy empire you gotta think this isn't a money grab, but more because he just really likes the whiskey—so he joined Bear Fight as not only a stakeholder but also its Chief Storyteller. As Seth notes:
"There's a lot of whiskey out there. So for me to put my name on it, you know it's either great, or I'm getting paid a ton of money," explains MacFarlane of his new American Single Malt. "Well, they're paying me almost nothing which means Bear Fight is damn good whiskey. I don't always stare off to the left side of a photo at something off-camera while holding a bottle, but when I do, that bottle is Bear Fight whiskey."
Sounds about right. Aged for at least three years in first-fill bourbon barrels, Bear Fight is then finished in peated-smoked oak and sherry casks. The idea being to converge the new-world flavors of American Whiskey and Bourbon with the old-world flavor notes and traditions of Scotch single malts. The result is a profile that offers bourbon notes of candied pecans and honey with the scotch wisps of sweet sherry, red apples and Islay peat. $40
Westland 'Colere Edition 2' Outpost Range
Few distilleries play with American terroir to the degree of Westland, who've carved a name for themselves among the ASM pioneers by continuously seeking new ways to incorporate local Pacific Northwest ingredients into their spirits. The Seattle distillery has investigated thousands of "unchartered" barley varietals, and have distilled over 20 different strains in just the last decade—most developed with Washington State University's Bread Lab and local farmers.
You see this experimentation manifested most notably in their Outpost Range, where this summer Westland welcomed Colere Edition 2. For the second Colere in the new series Westland focused on a two-row winter variety of barley called Talisman, matured in used casks (42% second-fill ISC Cooper's Reserve / 58% first-fill ex-bourbon) that will enhance the particular flavor notes of the Talisman. For Westland Colere Edition 2 look for strong notes of malted barley, followed by vanilla, brown sugar, bitter chocolate and lemon zest. Unfortunately there are only 3,000 bottles (50% ABV) made in 2022 of this small run whiskey available at $150 SRP. $145
Stranahan's 'Diamond Peak Bushmills Irish Cask Finish' 2022
Every year annual releases from Stranahan's write headlines, their Mountain Angel 10-Year and Snowflake among the most notable. But this year we preferred their Diamond Peak expression, which for 2022 gets an interesting twist of second aging in casks that used to hold Bushmills Irish single malt.
This is no two-week second aging, mind you—the Colorado distillery first ages their 100% malted barley ASM between two to seven years in American oak, and then adds another additional four years in the Bushmills wood. Stranahan's then proofs the liquid with nearby Eldorado Springs Rocky Mountain water, crafting an ASM rich in notes of cereal and toffee. Stranahans now plans to make Diamond Peak a yearly, but still limited edition, expression — each time profiling a different, unique finish curated by Head Distiller Owen Martin. $70
Lost Lantern 2021 Single Cask #6: McCarthy's 6 Year Old Oregon Peated
We'll close out the ASM category with one of the best peated single malts—from Islay, India, America, Australia, doesn't matter—of 2022. Lost Lantern Co-Founders Nora Ganley-Roper and Adam Polonski launched their endeavor to shine a light on smaller American distilleries, collaborating with them on limited run and single cask releases. It shouldn't surprise that their project with McCarthy's, the Godfathers of American Single Malt, would be such a stunner.
Nora and Adam walked Clear Creek Distillery's rickhouses with McCarthy's Master Distiller Joe O'Sullivan and Head Distiller Caitlin Bartlemay searching for the perfect cask for their collab and decided upon a McCarthy's 6 Year Old Oregon Peated American Single Malt, distilled in Clear Creek's Portland distillery, aged in third-fill Oregon oak and aged in both Portland and Hood River. However using Scottish malted barley and Islay peat, the finished product—one of the oldest whiskies ever released by McCarthy's—is like a quintessential Islay whiskey filtered through a Pacific Northwest lens. The oils are thick, coating your mouth with a slippery smoky sheen, and layering your palate with waves of tobacco, bright pear and campfire memories.
Lost Lantern Single Cask #6: McCarthy's 6 Year Old Oregon Peated ASM is but one of seven single cask releases from six distilleries that Lost Lantern released in their Summer 2022 Single Cask Collection, and frankly all are worthy seeking—this just happened to be our favorite.
Not to mention, the Lost Lantern project and ethos of illuminating ambitious, handcrafted independent distilleries is a fantastic project to support. Only 248 bottles (55.6% ABV) of Lost Lantern Single Cask #6 were released at SRP of $140, with an almost as tasty McCarthy's 3-Year Old Oregon Peated Single Cask available for $90.
Follow Contributing Spirits Editor Nicolas Stecher on Instagram at @nickstecher and @boozeoftheday.