This 30-Year-Old, $3,000 Vodka is the Oldest & Rarest Ever Released
Chopin's new Vintage Vault expression is limited to just 1,000 bottles worldwide.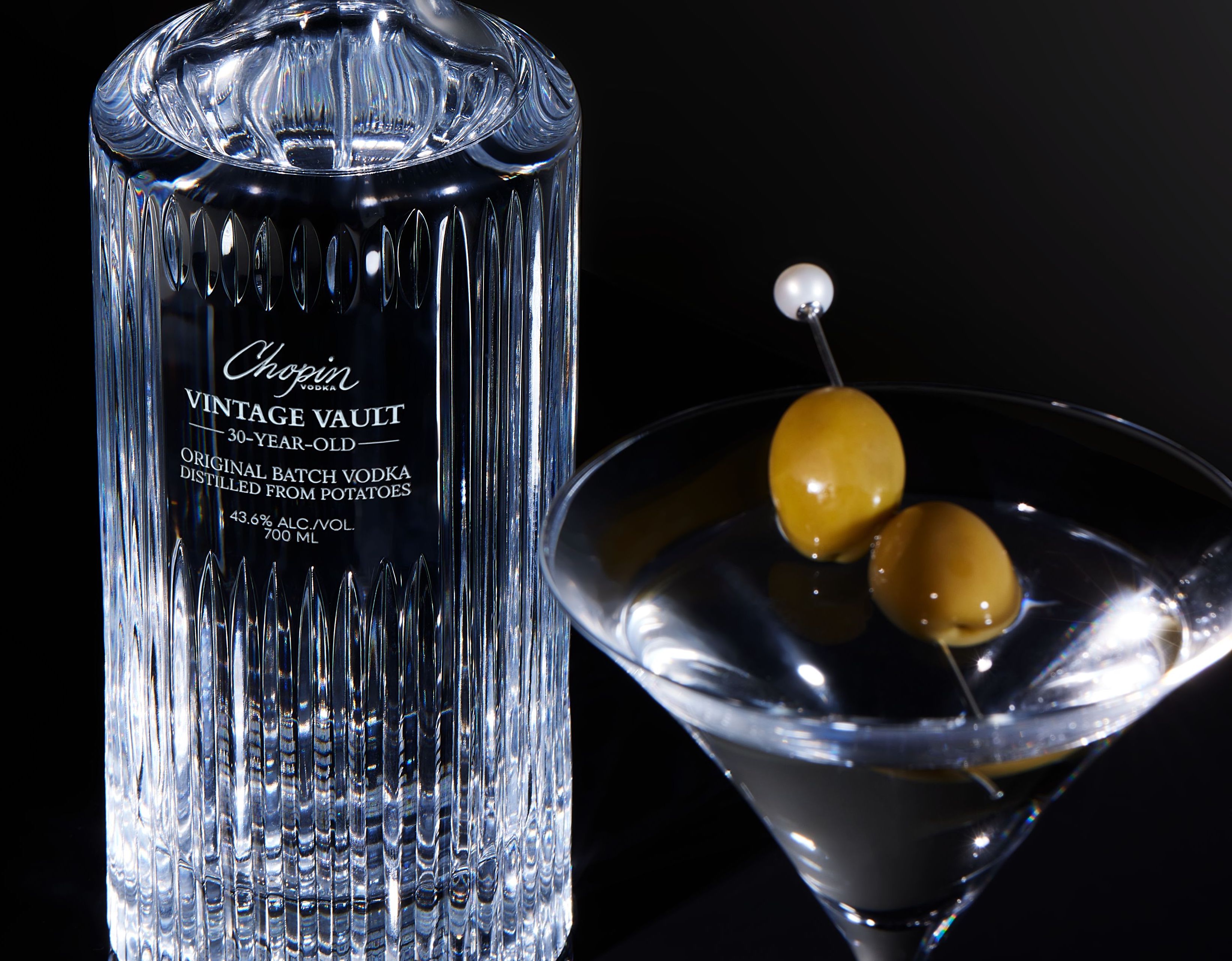 Chopin, the independently-owned, ultra-premium vodka brand, recently released some spirit from its very first batch produced 30 years ago. A portion of the precious elixir had been held in reserve since 1993 at the Chopin distillery in Krzesk, Poland. This special Vintage Vault release, priced at $3,000 per bottle, features a custom, hand-cut eco-crystal (lead-free) decanter and a pair of pearl-tipped cocktail garnish picks.
One of the most exclusive and expensive vodkas in the world, the ultra-collectable offering is presented in a display chest made of polished Alder wood and is limited to just 1,000 bottles worldwide.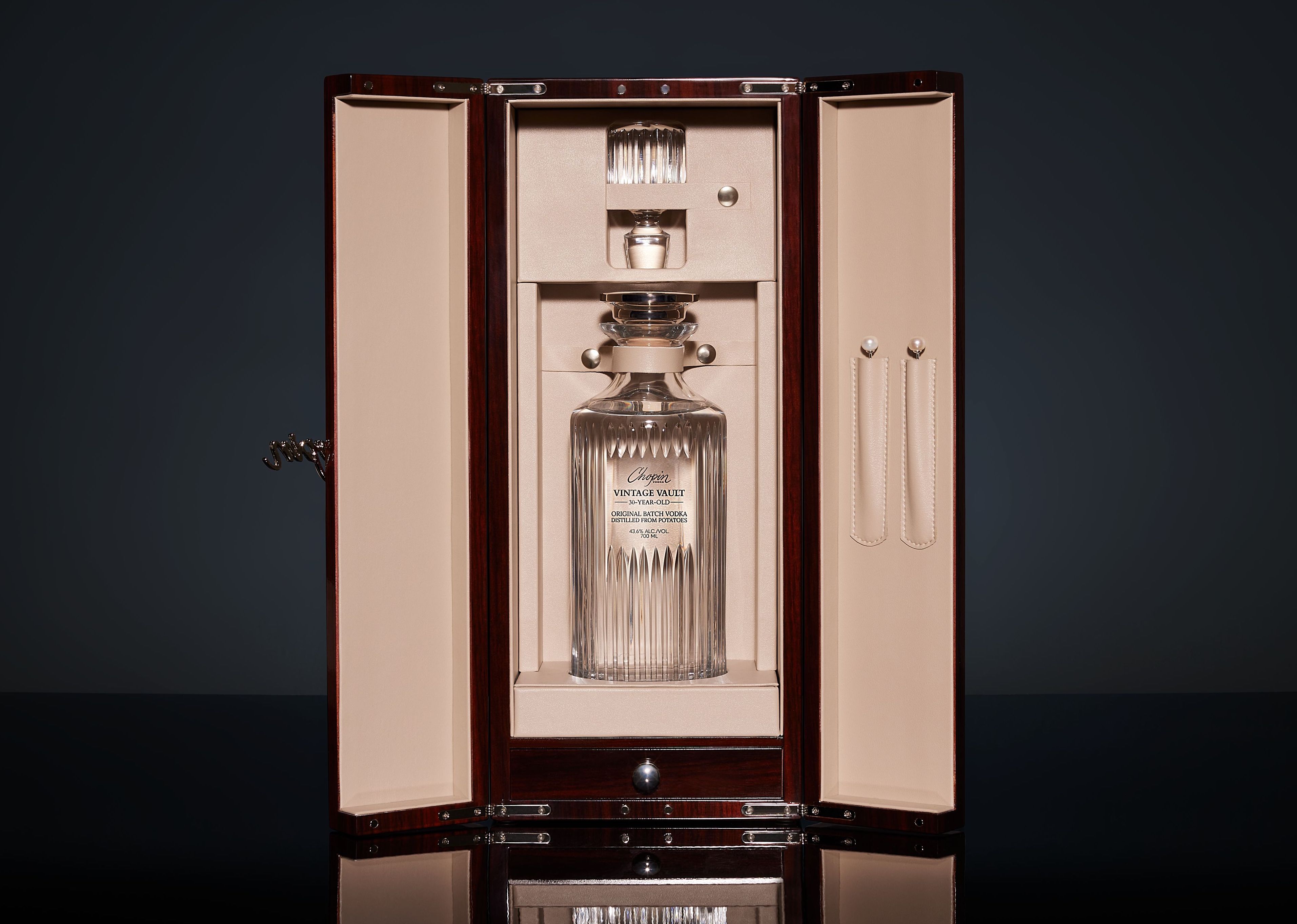 In a similar vein to Bombay Sapphire's Premier Cru gin that we wrote about earlier this year, this can be considered the world's first Grand Cru vodka. The very fact that it exists has everything to do with founder Tad Dorda's desire to create the world's first ultra-premium vodka.
"We kept part of the first production from the market for all these years in order to have a standard to compare subsequent batches to," says Dorda. "An enormous amount of effort and experimentation went into the creation of Chopin. For me, the release of Vintage Vault represents 30 years of maintaining the highest quality."
On this side of the Atlantic, where the popularity of martinis has long been established, Chopin's Vintage Vault release immediately took its place as the crown jewel of the Black Book Menu, the bespoke speakeasy cocktail program of Manhattan's Bar Verōnika.
The $1,500 Vintage Vault martini, prepared tableside, is served dry, dusted or wet and garnished with a pickled dwarf peach skewered with Chopin's custom 30th-anniversary pearl cocktail pick, a fitting memento of this once-in-a-lifetime cocktail.
"We wanted to offer the ultimate martini experience," says Tim Stuyts, Beverage Director at Fotografiska Museum, where Verōnika is located. "The release of this ultra-rare Chopin potato vodka provided the perfect opportunity. It is paired with two-tone Osetra caviar, which we suggest having in-between sips. The saltiness of the caviar will open up your palate and the Chopin will taste even richer."
Given the long history of vodka in Poland (The first mention of the word wódka was here in 1405), Dorda saw no reason it should be treated any differently than fine wine. Merely substitute potato varietals for those of grapes. Working with Master Distiller Waldermar Durakiewicz, who came with the historic distillery Dorda purchased, the two examined each step of the vodka-making process for opportunities to maximize character and quality.
Beginning with the late autumn potatoes grown on the grounds of the distillery and on neighboring farms, the time between harvest and the beginning of production was reduced to less than three days to maximize freshness. Time was added to the production process, however. Following distillation, the concentrated distillate is allowed to rest for a full six months before it is further refined and brought to proof.
"In creating Chopin, we went right to the limits of what can be officially called a vodka," Dorda says. "Drinking is very much an act of culture, and the way I look at things the character of the ingredients should shine through…. It makes perfect sense to apply the concept of terroir to Chopin. The soil, the artesian water drawn from beneath the distillery, the variations in climate from season to season, all contribute to the unique character of the local potatoes. The vodka we produce reflects this."
With the release of Vintage Vault, connoisseurs and collectors alike can relive the birth of this iconic brand but with the added dimension of 30 years of age. This precious spirit presents a bright, citrusy nose and strikes the palate with velvety smoothness and a sweet warmth. What follows is a lengthy procession of flavors; fresh green apple, vanilla, subtle grapefruit and then finishes with white pepper and coriander.
The old adage that a prophet is not accepted in his own country is being disproved by Dorda. Though Poles have traditionally imbibed vodka in shot glasses, Chopin is changing the culture. Mixologists here use it as a gateway to martinis. Damian Mielniczek, co-owner of Ave. Pegaz, a must-visit cocktail bar located in the heart of Warsaw's historic district, says, "We make our martinis with Chopin potato vodka, which shows our customers that drinking vodka can be a nuanced experience."
It is common practice for multinational spirits companies to scoop up smaller brands with passionate followings, but Chopin has kept the sharks from its doors. Dorda's enthusiasm for his original vision has not diminished. Asked if a 30-year-old vodka strikes him as excessive, Dorda merely shrugs and points to the practice of storing away cognacs. He has a point— a Cafe Voisin cognac bottled in 1721 was sold last year in Viet Nam for an impressive sum.
Collectors take note.