This Cayman Islands Luxury Resort Launched The Caribbean's Coolest New Cocktail Bar
Library by the Sea is one of the best and most beautiful bars in the Caribbean.
The Kimpton Seafire Resort & Spa in the Cayman Islands has been a crown jewel of the British Overseas Territory in the Greater Antilles since it first opened in 2016. Now the luxe retreat has established itself among the very finest resorts anywhere in the Caribbean with the opening of Library by the Sea, one of the coolest and most beautiful bars we've ever had the privilege of visiting.
Seafire spared no expense in developing the concept, which is overseen by acclaimed industry veteran and man of letters Jim Wrigley, who was given carte blanche to create something truly inspirational; the bar even has its own laboratory. Seafire, which is said to bring in business worth $100 million a year, is a flagship for Kimpton brand and therefore needed to go above and beyond the usual high-end hotel bar offering.
With floor-to-ceiling windows looking out at one of the world's most beautiful beaches and Grand Cayman's famed Seven Mile Beach sunset, this library is far from stuffy. As Wrigley puts it, "There is a whole host of curated cocktail collections for guests to peruse, from a specialist selection of vintage spirits to the storytelling, narrative-driven artisan cocktails taking inspiration from literature, prose, poetry, art and all of the characters and experiences that can be held within the pages of a book."
That includes cocktails inspired by the likes of James Bond, Ernest Hemingway and Truman Capote, to name a few. The concept began with the small library located off the hotel's main lobby, which was sadly lacking in a bar.
"We said, 'Well, you've got a library. Why don't we just run with that?'" Wrigley tells us. "As in a library of drinks, but also a curated collection of books, a library of cocktail books, vintage books that relate to the authors that have inspired the cocktails," in addition to others meant merely for guests to read.
Library by the Sea's drinks menu is broken down into four distinct style categories: Short Stories, for smaller, aperitif-style drinks; Page Turners, the core of the menu, featuring eight cocktails "as unique as their literary inspirations;" Masterpieces, "a collection of showstopping serves," ideal for sharing; and Rare & First Editions, "incorporating long-lost or vintage spirits into incredibly limited-edition cocktails."
Wrigley notes that wanted to "get away from the idea of the library bar with Chesterfield sofas and vintage, weighty tomes, where every drink is super speakeasy-night c.2005 New York," and instead come up with something airier and more suitable to the tropical, seaside location.
Hence the antique wooden fishing boat suspended from the ceiling. And they were also able to pursue any avenue that could enhance the experience, including acquiring not only rare, vintage books but rare, vintage spirits of the kind that the authors themselves would have indulged in while writing.
In one of the cocktails is an 1851 cognac costing over $500 for an ounce-and-a-half, but prices for the vintage finds start at just $28." Some are from distilleries that no longer exist, Wrigley says, "And if you want to, we'll take one of the vintage vermouths and make it into a Manhattan or a Rob Roy…. You can have a little slice of history, but also then you can read a book that's from the same era" while you're drinking it and truly be transported.
In addition to the wood-and-marble bar itself and clusters of comfortable seating, there's also an outdoor section to make the most of the Caymans' beautiful weather. When you sit outside, you get the ocean breeze, and the changing light as the evening progresses. As the light dims, candles behind the old bottles and vintage books on the library shelves literally make everything glow.
"In the evening, we want everyone who comes in to be like, 'Wow, look at this space, look at those books, look at those bottles, look at the boat on the ceiling,'" Wrigley says. And of course they end up staying for drinks.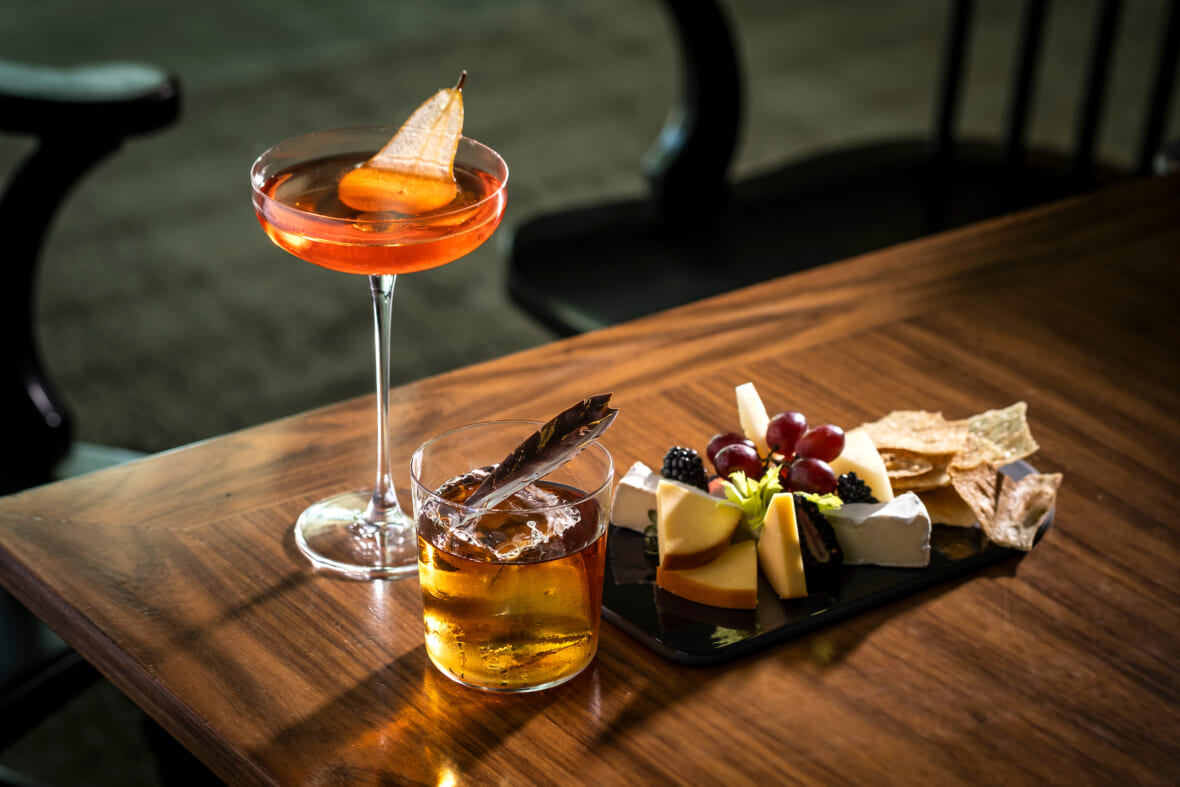 The cocktails are as incredible as you'd expect. For example, the From Cayman with Love cocktail, which "takes its inspiration from Ian Fleming's love of the Caribbean and the lesser known character of Quarrel, a Caymanian fisherman who teaches a younger James Bond the ways of diving and the sea." One of the simpler concoctions on the menu, it's made with local sugarcane spirit infused with island botanicals, sea-mineral vermouth, and homemade tropical cordial.
Then there's the $275 E. Hemingway Special, made with 1930s Bacardi and 1930s maraschino liqueur from the bar's vintage spirits collection, plus fresh lime and grapefruit. It's a faithful recreation of the famed Hemingway Daiquiri created for the legendary author by the head bartender of the El Floridita in Havana, Cuba. "Here you can try the exact drink that Hemingway made his own," Wrigley notes, "with the original spirits and liqueur from that exact time period, in a glass from the same era."
Library by the Sea merely enhances Seafire's already impressive charms. Its swimming pool, which meanders down through different levels and incorporates huge bits of local coral stone, is an alluring place to while away an afternoon. It finishes up with a recreation area fronting the beach, which is known for its fine, powder-white sand and picture-postcard water. And the talented Mr. Wrigley and his team have had a hand in ensuring every drink that is served on property, down to the pina colada, is the very best of its kind.
All of the property's 264 guestrooms and suites have ocean views through floor-to-ceiling windows, as well as private balconies. But the 4,700-sq.-ft. Seafire Presidential Suite located on the 10th floor is opulence at its best, highlighted by a massive wraparound balcony with spectacular views over Seven Mile Beach. The suite's custom-made furnishings come from Spain and Italy, for a mix of European sophistication and island style. And the master bathroom finished in white onyx has its own private deck and a floating tub with views to the sea.
Culinary experiences at the resort more than live up to the standards of Library by the Sea. Ave, led by Executive Chef Massimo De Francesca, offers a Mediterranean-inspired menu drawing from seasonal, local ingredients and each season's freshest catches and products. The bar is home to a wide selection of hand-mixed cocktails, liqueurs, local and imported beer, and an extensive wine list.
And inside Ave is Avecita, Seafire's "restaurant within a restaurant," a dining experience that "encourages interaction between chefs and diners, giving patrons a behind-the-scenes look into the kitchen artistry that goes into each and every meal." The menu consists of tapas and small plates prepared right in front of diners at the kitchen counter, and many dishes are prepared on a wood fired grill and plancha.
Coccoloba meanwhile, located right on the sands of Seven Mile Beach, is designed as a place "where Mexican street food meets Caribbean seafood, with local ingredients and island flair." Here you'll find tacos and tostadas served on house-made tortillas, daily ceviche offerings, a signature mexi-poutine, and homemade popsicles perfect after a day in the sun. Of course fresh fish from the surrounding sea is also a standout.
Other parts of the property that are a strong draw include The Spa at Seafire, with over 8,500 square feet of sybaritic relaxation space featuring an indoor-outdoor tropical garden retreat with a Jacuzzi, waterfall, grand soaking tub, and the island's only Hammam; and the Beachfront Bungalow Suites, just steps from the sand and "cloistered" between tropical swimming pools, each housing six separate suites, many with kitchens, and each sited for the utmost privacy.