These Stylish Bottle Displays Raise A Glass To Wine-Centric Interiors
Uncork your love of wine with custom cellars, coolers and displays.
Wine storage is coming out of the cellar and into the forefront of home decor.
Interior designers are seeing a surging demand for custom bottle displays by wine-loving clients who want to showcase their collections in chic storage areas that double as striking visual centerpieces.
Paul Kropp, Head of Operations for custom cabinetmaker Bakes & Kropp, says his firm has recently seen a 25 percent uptick in demand for bespoke wine storage. "Gone are the days of simple wood racks," Kropp says. "We're seeing homeowners gravitate to more dramatic wine storage options. Glass and metal play a major role in these more elaborate designs."
Most of his wine storage projects fall under three categories. The most popular option is a storage area for about a case of wine–12 bottles–that is readily accessible in a kitchen or home bar. There's also a rising demand for eye-catching wall displays that can accommodate 100 to 300 bottles and full-fledged cellars that hold more than 300 bottles. A climate-controlled storage area–whether it's a wine fridge or cellar–is a must, particularly to preserve prized bottles for longer periods.
Here, Kropp and other interior experts uncork examples of custom storage areas built for design-savvy wine and spirits collectors.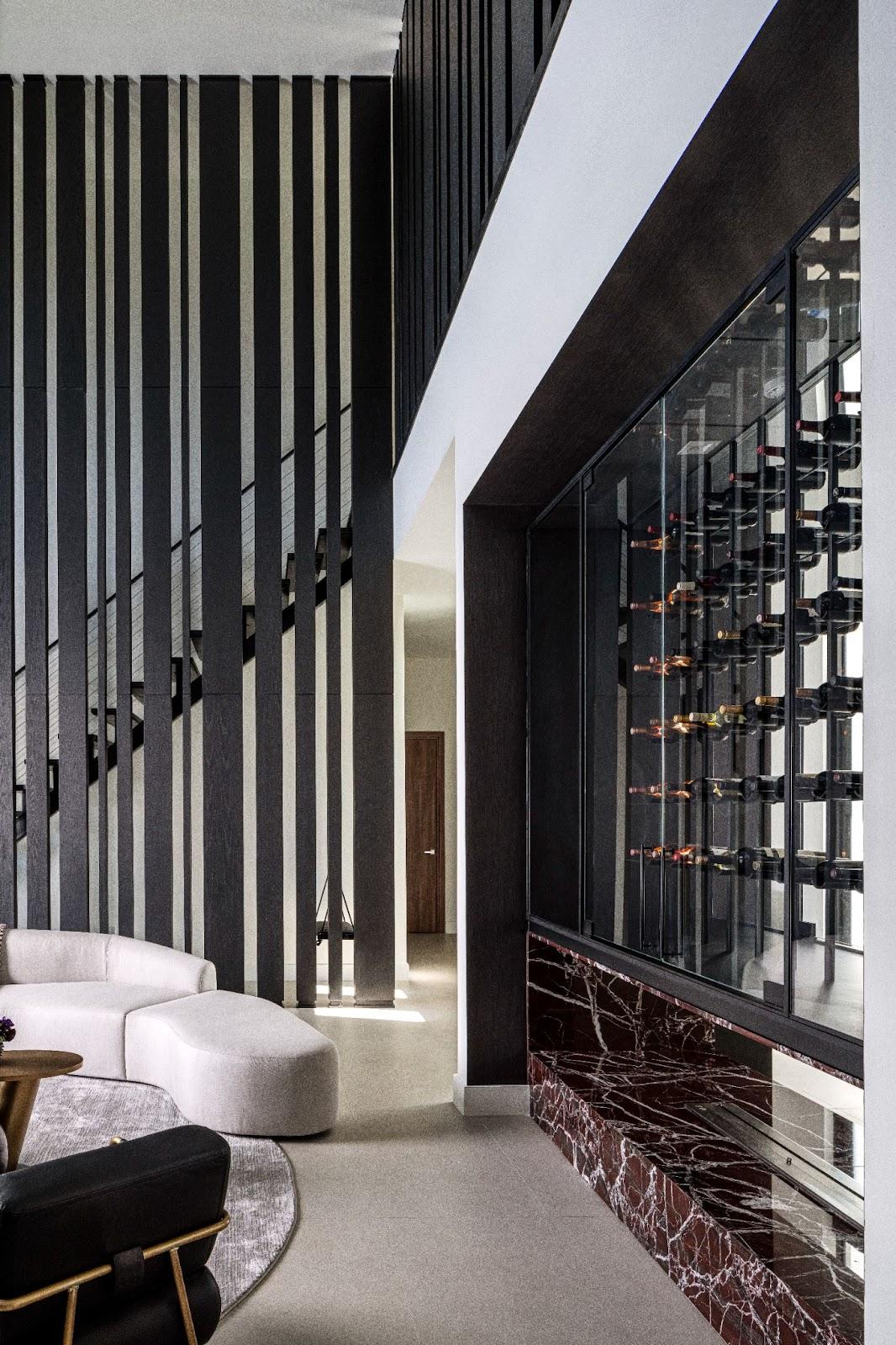 "This custom-designed floating wine display came to be as a clever way to create a division between the dining room and formal living room. The client and his wife are avid travelers and like to remember their trips by bringing home a bottle of wine. This front-and-center display is a reminder of all the great adventures they've had, and inspires them to continually add to their growing collection."—Eilyn Jimenez, Founder and Creative Director of Sire Design
"We designed these wine storage towers to provide easy access to the client's wine collection from their wet bar. The custom-designed columns give the sense of walking into a fine wine cellar, with glassware and decanters right at hand. The display of the bottles gives this kitchen a celebratory atmosphere that's always ready to entertain friends and family."–Geddes Ulinskas, Principal and Founder of Geddes Ulinskas Architects
"As all wine enthusiasts know, a 50-degree cellar deep in the ground is the ideal environment for wine. When that's not possible, many mistakenly place their wine rack above the fridge. Instead, we've designed these small pullout wine drawers low in the room where they're stored horizontally and remain within arm's reach and still stay relatively cool. The drawers serve as a staging area where the wine will be in for a week or two to keep chilled and easily accessed when needed."—Paul Kropp, Head of Operations, Bakes & Kropp
"This aesthetically-interesting accent piece–which is a functional wine cooler–is definitely a centerpiece to the apartment. It's made of custom, finished blackened steel frames and insulated tempered glass, and was built to be a functioning wine cooler that holds a desired temperature of roughly 55 degrees.
"A custom designed horizontal, blackened steel racking with recessed LED strip lights hold and illuminate the nearly 400 bottle collection, while custom offset pivot hinges allow for access to the wine storage from the kitchen side.
"Being a floor-to-ceiling cabinet and located in a New York City apartment, the entire cabinet had to be built in a shop, disassembled, and re-assembled on site. The client also has a custom barcoding system where he tags each bottle that goes in, and scans it in to a database on his phone so he always knows where and what each bottle is in his cooler." —Matthew Miller, Principal and Founder at StudioLAB
"We designed this whiskey display for this client's impressive collection of rare spirits. We took a complete inventory of each bottle's size and shape to create a display system where the horizontal spacing of the bronze panels would accommodate individual spirits within the collection.
"The bronze panels are varied and placed in a random rhythm not only to display the differing heights of the bottles but also to create sensible visual interest. The colors of the labels, glass and spirits were also composed in a way to celebrate the diversity of the collection."—Geddes Ulinskas, Principal and Founder of Geddes Ulinskas Architects