Why Heaven Hill's New 17-Year Whiskey Is Among 2022's Most Coveted Bourbons
Don't be surprised to see this high-proof bourbon selling for $1,000-plus…if you can find it.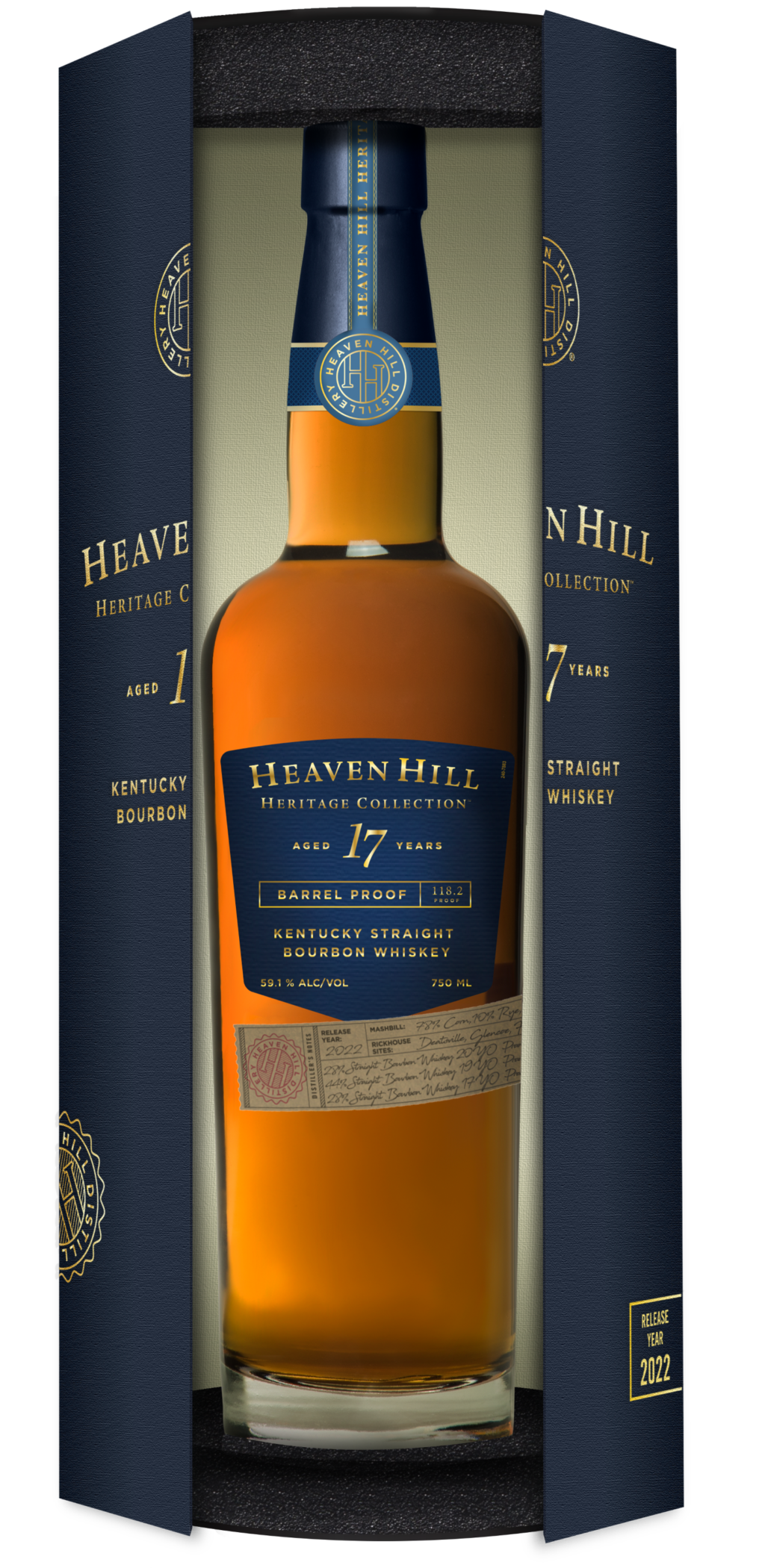 Heaven Hill is not only the largest proudly independent distiller in America, it's also easily one of the finest.
It's nabbed so many elite awards it's tough to list, but recently Heaven Hill Distillery was named the 2019 San Francisco World Spirits Competition Distillery of the Year (and Best in Show Whisky), 2020 Whisky Advocate Whisky of the Year (Heaven Hill Distillery's second Whisky of the Year in the past four years) and 2016 Whisky Magazine Distillery of the Year, just to name a few.
With labels like Elijah Craig, Larceny, Old Fitzgerald, Rittenhouse Rye and Parker's Heritage under its crown, it's not hyperbole to suggest whiskey nerds across the world begin salivating and speed-dialing their local rare allocator whenever Heaven Hill drops one of its limited edition whiskies. It's fair to say this debut Heaven Hill Heritage Collection will be hunted like the treasures of Tutankhamun.
The Bardstown distillery's new ultra-premium Heaven Hill Heritage Collection's inaugural edition boasts an extraordinary blend containing its youngest bourbon aged 17-years (it's actually 28% 20-year-old, 44% 19-year-old and 28% 17-year-old) pulled from their Deatsville, Glencoe, Schenley and Bardstown rickhouses.
But this edition is just the beginning — every spring this annual highly limited release will blossom like multichromatic tulips highlighting some of Heaven Hill's oldest whiskies — each year singling out one of the six traditional mashbills they produce (making Heaven Hill the only heritage distillery to produce this range). For 2022 Heaven Hill shows off its 78% corn/10% rye/12% malted barley mashbill, bottled at barrel proof (59.1% ABV).
"Over many years, we have been quietly aging some exquisite whiskeys to be introduced under a new collection within our Heaven Hill Distillery portfolio," explains Max L. Shapira, Heaven Hill President. "Of our 1.9 million barrels resting across six rickhouse sites, our master craftspeople have kept watchful eyes on this limited stock of special barrels and we are finally ready to release the first edition."
Making some of the best brown in America since 1935, expect nothing short of excellence — Heaven Hill Heritage Collection 17-Year-Old offers whiffs of caramel, oak and leather with a luscious viscosity and dark amber color, coating your mouth with notes of tobacco and dark cherry. Simply superb.
While the SRP for this bottle is officially $274.99, don't be surprised if you already see it fetching quadruple digits in the secondary market.  
Follow Nicolas on Instagram at @nickstecher and @boozeoftheday.