The Best Traditional American Bourbons and Whiskeys of 2021
Toast 2022 with a pour from one of these incredible American whiskeys.
Over the past week we've shined a light on all the very Best New American Whiskey we tried in 2021. So far we've covered rye, American single malts; double-barrel finishes; and innovation.
But it's not just all about revolutionary flavor profiles, unique mash bills and evolutions in barrel aging— how about simple bourbons and straight whiskies? There's no reason to ignore the basic foundation of American distilling traditions, is there.
So here below for our final chapter in this year's best new American whiskies we've collected our favorite bottles in the world of classic whiskies and bourbons — from widely available small batch wonders to aged browns fetching ten-times their SRPs, these are the best traditional whiskies of 2021.
Widow Jane 'The Vaults 2021'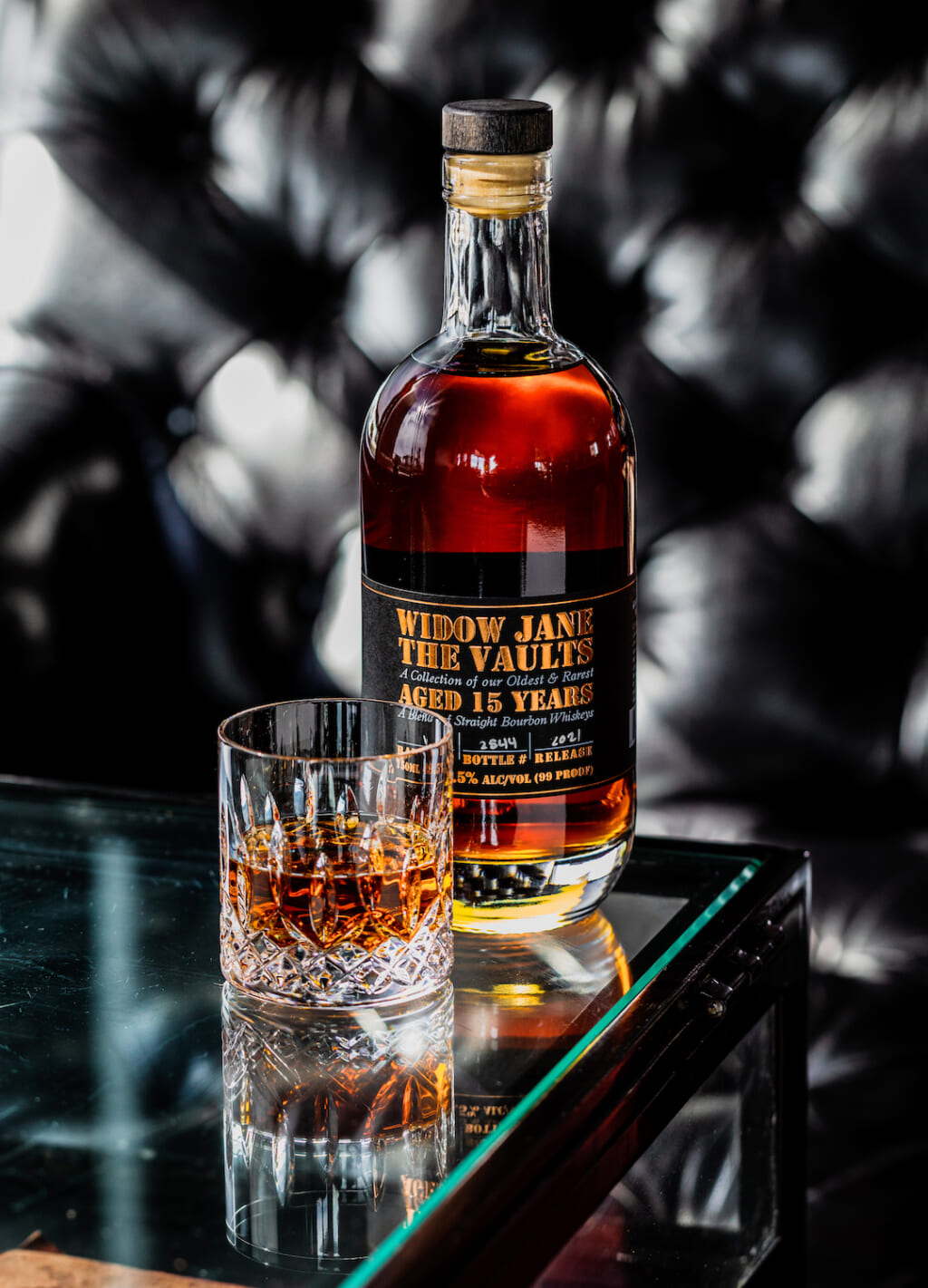 Widow Jane Pres and Head Distiller Lisa Wicker releases the third edition of her label's 'old-and-rare' whiskey collection. As usual for The Vaults 2021 Wicker herself walked the Brooklyn rickhouse floors and carefully handpicked barrels to marry — in this case all 15–17 year-old bourbons from Tennessee and Indiana.
The next step is what separates Widow Jane from the pack, as Wicker then marries the blend in unique Adirondack oak casks: air-seasoned outdoors for 42 months in Red Hook, the wood is then constructed into casks via a French method which creates tighter seams than the American style.
The casks are then heavily toasted and given a 3.5 level char. When the blend is finished second-aging for a few months in the Adirondack oak the bourbon is then proofed with pure limestone mineral water sourced from the Rosendale Mines, located just 100 miles north of the Widow Jane distillery.
As rare as the 2019 and 2020 versions, just over 3,000 bottles of The Vaults 2021 will be released into the wild with a SRP of $225. A great addition to the ever growing Empire State whiskey collection. $400 / 49.5% ABV
Wild Turkey 'Master's Keep One'
The sixth limited-edition release in the Master's Keep series aims to pay tribute to the generational talent and skill in the Russell family's legacy. Together Master Distiller Eddie Russell and his father, the previous MD Jimmy who led the foundational American distillery through the dark 80s that claimed numerous whiskey makers, share over a century of distilling experience.
For this edition they combined mid-aged bourbons (eight to 10 years) which are the latter Russell's preference with the complexities that can be found in older bourbons, which are Eddie's preference. So Eddie hand-picked a 14-year-old whiskey to blend with younger barrels preferred by Jimmy — and then marry them in specially toasted and charred new oak barrels. Finally, they were laid to rest in one of Eddie's favorite timber rickhouses.
Every year one of Wild Turkey's most coveted releases, Master's Keep One, keeps the tradition flowing that started in 2015 with the original Master's Keep 17-Year Old. $600 / 50.5% ABV
Four Roses' 2021 Limited Edition Small Batch
Fresh for autumn, Four Roses' 2021 Limited Edition Small Batch features four different hand-selected batches (aged 12 to 16 years) representing a quartet of the Lawrenceburg, Kentucky distillery's 10 distinct Bourbon recipes.
Master Distiller Brent Elliot combines two mash bills with five proprietary yeast strains and then tests countless test batches to mingle the best blend — and for 2021 he selected two 16-year-old bourbons, a 14- and a 12-year-old.
Only 14,500 hand-numbered bottles of this limited edition bourbon will be sold in the USA with a SRP of $150 — but knowing the market for Four Roses Small Batch offerings you'll be lucky if you even find it for double that price. If you do, shake the hand of the bodega owner for keeping it real. $700 / 57.1%
Michter's 10 Year Single Barrel Kentucky Straight
Although originally gaining fame for their ryes, Michter's 10-Year Single Barrel Kentucky Straight Bourbon was dubbed 'Best American Whiskey' by Food and Wine magazine. Aged for a decade in new charred American white oak barrels, this Kentucky juice is so coveted a private barrel if Michter's sold at auction last year for over $200,000 in London, making it the most expensive bourbon barrel ever sold.
While the whiskey was sourced elsewhere, Master Distiller Dan McKee handpicked the barrels and oversaw the aging, where Michter's heat-cycles their warehouses in order to perfect maturation.
While the whiskey was sourced, Master Distiller Dan McKee handpicked the barrels and oversaw the aging, where Michter's heat-cycles their warehouses to perfect maturation. The 20-year-old bottle might be better, but we haven't tried it so we're just grateful to taste Michter's famed caramel, white chocolate and vanilla notes. Let's just say the $150 SRP is unlikely. $400 / 47.2% ABV
Grand Teton Private Stock Straight Corn Whiskey
Founded in 2011 under the looming peaks of the Grand Teton, the eponymous distillery celebrates its 10-year anniversary with the first in their Private Stock series: a Straight Whiskey distilled from 100% local Idaho corn.
Located some 6,500-feet in elevation the Grand Teton distillery also crafts vodka with Idaho potatoes, but for this special release they've hand-picked only nine barrels from the first whiskey they ever milled and distilled.
Aged now for six-and-a-half years in used American white oak Colter's Run bourbon barrels, head distiller John Boczar took their longest-aged spirit, proofed it down to 50% ABV with pure mountain water, and bottled it in hand-numbered glass (both barrel and bottle numbers). $80 / 50% ABV
Eagle Rare Antique Collection 2021
Somehow we were lucky enough to get our greedy paws on samplers of each of Buffalo Trace's Antique Collection, and every year the package beams golden rays like that scene in Pulp Fiction where Vinnie Vega opens Wallace's stolen briefcase.
Arguably the most coveted American whiskey collection every year, you could easily name all the Antique Collection on this list: William Larue Weller, Thomas H. Handy Sazerac Rye, Eagle Rare 17-Year-Old, and Sazerac 18-Year-Old Rye (alas this year the 15-year-old George T. Stagg was not included because the 15-year-old barrels did not meet Buffalo Trace's strict taste standards).
But after sampling all four we'll select our favorite: the Eagle Rare 17-Year-Old. Allegedly losing 73% angel's share and bottled at 101-proof, you can imagine how rare this expression is — all but guaranteeing you won't find it anywhere at its $99 SRP. Aromas of spearmint and red cherry are fortified with tasting notes of cedar, tobacco and more cherry. A truly wonderous spirit. $2,000 / 50.5% ABV
Garrison Brothers Small Batch Texas Straight Bourbon Whiskey
Located amongst the hills of Hye, Texas, every expression of Garrison Brothers bourbon is proudly handcrafted one barrel at a time. Distilled 'corn-to-cork' from a sweet mash of premium food-grade corn, locally farmed soft red winter wheat and two-row barley in their Texas Hill Country ranch, Garrison Brothers join their fellow Texan distillers in making some quality bourbons. $80 / 47% ABV
Old Fitzgerald Bottled-In-Bond 11-Year Old Fall 2021
When is the right time to pop open the Fall 2021 edition of Old Fitzgerald Bottled-In-Bond? Today. Produced in the spring of 2010, the Heaven Hill Distillery's superb Straight Bourbon Whiskey aged 11 years in Kentucky is the 8th in Old Fitzgerald's Bottled-in-Bond legacy.
Released twice annually (in spring and fall), Old Fitzgerald Bottled-In-Bond has quickly developed into one of Heaven Hill's most sought after expressions. Some might prefer the Spring 2021 Edition BIB that pulled 8-year bourbon from three different rickhouses, but this 11-year old (75% corn, 20% wheat, 5% malted barley mashbill) seems targeted for the season with autumnal notes of cinnamon stick, baking spices and baked apples. $570 / 50% ABV
Jack Daniel's 10-Year-Old
Some whiskey nerds look down on the great Jack Daniel's, largely because of the sheer volume of the Tennessee Whiskey they distill every year. But the fact that you can find JD's classic #7 recipe in nearly every cocktail temple, dive bar, cantina, rum shack, pub, booze joint and dubious watering hole across this giant planet of ours — and every single drop is crafted from their Lynchburg distillery and spring — shows a level of consistency and quality control few can fathom.
To this day, still one of our go-tos when in a pinch. New for 2021 comes the iconic brand's first 10-year aged-stated Tennessee Whiskey in more than 100 years. This 10-Year with embellished dry fig and sweet tobacco notes is a welcomed premium option for Jack fans who have ascended tax brackets. $400 / 48.5% ABV
Sweetens Cove 2021 Tennessee Bourbon
In case you were unaware, the Sweetens Cove name is an homage to an almost mythical 9-hole golf course in Tennessee's Sequatchie Valley, where players normally knock back a shot of whiskey before their first swing.
Last year Sweetens Cove launched with a highly lauded 100-barrel stash of exquisite 13-year old bourbon expertly blended by Kentucky's first female Master Distiller since Prohibition, Marianne Eaves (formerly of Woodford Reserve and Castle & Key).
For the 2021 edition Eaves blends 4-, 6- and 16-year juice for what she's dubbing "the Pappy Van Winkle of Tennessee," as they expand Sweetens Cove's reach from just Georgia and Tennessee to a handful of other states.
Allegedly Eaves sampled more than 260 barrels to trim down to three different ages sourced from different locations, and blended them to craft a bourbon with notes of graham crackers, honey and brown sugar. $225 / 56.9% ABV
Distillery 291 Bad Guy
You could name nearly any of Distillery 291 founder Michael Myers' whiskies here, but we'll go with this year's batch of 291 Bad Guy. Only Myers' third recipe, 291 Bad Guy is a wheated four-grain bourbon created as an experiment back in 2011 packing a solid Rocky Mountain right hook (nearly 120 proof) loaded with flavors.
Credit not only the unique mash (corn, malted wheat, malted rye and beech-smoked barley) but also Meyers' habit of throwing Aspen staves into his oak barrels for additional wood notes. For a villain, this Bad Guy gives more than he takes — offering a luxurious mouthfeel and washes of caramel and brown sugar. $108 / 57.8% ABV
Parker's Heritage Collection 2021 '11-Year-Old Heavy Char' Wheat Whiskey
One of Heaven Hill's most anticipated releases for autumn is the 2021 limited edition Parker's Heritage Collection '11-Year-Old Heavy Char Wheat Whiskey.'
As noted in the name, the 15th edition of Parker's aims to experiment in the way a heavier char affects aging, so Heaven Hill charred 75 barrels for a minute and a half (Level 5), as opposed to Heaven Hill's traditional 40 seconds (Level 3). It was then aged for 11 years on the 6th floor of Rickhouse Y.
Not only is the char special, but it is only the second time Parker's Heritage Collection uses Heaven Hill's wheat whiskey mash bill (51% wheat, 37% corn, 12% malted barley), and the first since 2014.
As usual with the Parker's Heritage Collection — named after Heaven Hill's Master Distiller Parker Beam, who died of ALS (aka Lou Gehrig's disease) — proceeds from each bottle will go to the ALS Association. Quite unlikely you will find it for the SRP of $140, but worth seeking. $1,500 / 61% ABV
Kentucky Owl Wiseman Straight Bourbon
Kentucky Owl's aptly named Wiseman marries the Kentucky distillery's own 4-year old wheat and high-rye bourbons with 5 ½-year and 8 ½-year-old bourbon sourced from the nearby Bardstown Bourbon Co.
Founded in 1879 and resurrected in 2014, Wiseman is the first Kentucky Owl bottle offered under $100. Master Blender John Rhea — who earned his whiskey stripes leading the renowned Four Roses label and was inducted into the Kentucky Hall Of Fame in 2016 — blends the soft wheat brown with spicy rye for a bourbon designed to drink neat, on the rocks or in a cocktail. $43 / 45.4% ABV
FEW 10th Anniversary Straight Bourbon Whiskey
Paul Hletko founded FEW Spirits in 2011 on the ethos of "defiance and a refusal to accept the status quo," building his distillery in the Chicago suburb of Evanston. Since then he's made a slew of innovative whiskies and spirits, like a limited edition whiskey aged in tequila barrels with Alice In Chains' Jerry Cantrell (a plan concocted after a night of heaving agave drinking, apparently).
To celebrate a decade of operation Hletko recently crafted an extremely limited-edition bourbon aged six years in American White Oak, selling only 650 cases. The four grain bourbon (Corn, Rye, Barley, Wheat) teases flavors of spicy cinnamon. Since the Anniversary Straight Bourbon was only sold in Illinois, Hletko also offers a more widely released four-year-old Bottled-In-Bond Bourbon to celebrate his decade in action. $55 / 46.5% ABV 
E.H. Taylor, Jr. 'Warehouse C' Bourbon
Some 125 years ago, Colonel E.H. Taylor, Jr. led passage of the Bottle In Bond Act, aimed at legitimizing bourbon and ensuring that only authentic ingredients and processes were used in crafting the American spirit.
In honor of the Colonel, this spring Buffalo Trace released a one-time only edition E.H. Taylor named after the rick house Taylor built way back in 1885. The six-story building is considered one of the best aging environments in the Frankfort, Kentucky campus and was the final piece in what Taylor dubbed his "model distillery" — the brick and limestone surviving floods, blizzards, 100 degree Fahrenheit days and even a tornado in its 136 years.
All barrels for the E.H. Taylor, Jr Warehouse C Bourbon aged for 10 years in the 2nd floor and 5th floors, acquiring a aromas of cherry cobbler with a hint of oak, and a palate of cherry cola, vanilla bean and toasted oak. $3,500 / 50% ABV