Play On ANY Console With Genius New ALL Controller Universal Gaming Remote
It's the only gaming controller you'll ever need.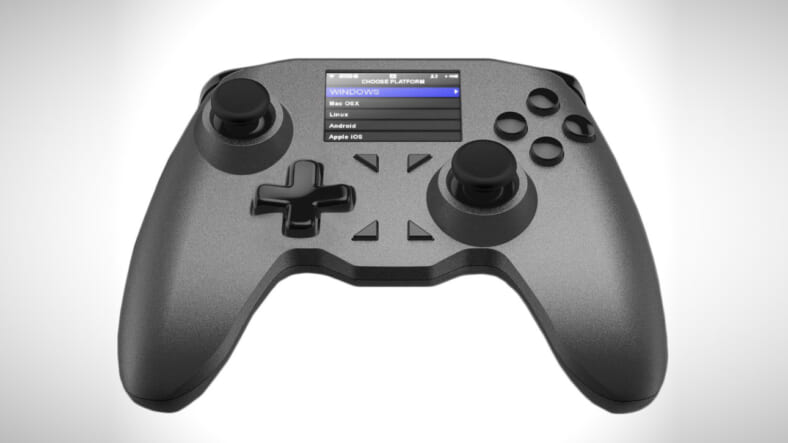 Credit: ALL Controllers
Currently getting over-funded on Kickstarter, the ALL Controller has gamers salivating over the idea of a single controller for all of your gaming needs. 
According to their Kickstarter page, the ALL Controller is a third-party video game remote control with a built-in screen that offers high-customizability and compatibility with almost any gaming device out there, from consoles like PS4 and Xbox One to PCs and Macs to mobile devices like iPhones and Android smartphones.
It's a clever and streamlined solution to the problem of every gaming platform requiring its own controller, leaving casual and hardcore gamers alike with a mess of battery-powered plastic that won't play nice with anything else. 
The end result is a controller that you can rely on at home, in VR or even on those long trips when you're looking to your iPhone for your gaming fix.
Its versatility, compatibility and price ($55 for wired, $80 for wireless) make it tempting for casual gamers but the hardcore will definitely appreciate its unprecedented customizability, where nearly every component on the controller – from buttons to thumbsticks – can be changed, adjusted, refined or swapped via the screen and saved as a preset for whatever game or platform you're playing. 
That means adjusting trigger pressure, thumbstick sensitivity, remapping buttons and much, much more.
As with any Kickstarter, we'll follow it closely until it makes it into gamers' hands. Until then, we'll dream of a day when we can eBay the pile of controllers we're forced to keep lying around. 
Check out this video from ALL Controller's kickstarter page for a deep dive into the game-changing gamepad.