'The Boil Boss' Is The Only Gadget You Need For Perfect Shrimp, Crab and Crawfish Boils
Making a scrumptious seafood boil just got a whole lot easier.
Courtesy
Much like barbecue pit masters, seafood boil bosses are a competitive lot–purists who assert they're the kings of the crawfish, shrimp or blue crab boil. 
They brag that their standing among their ranks can be attributed to their secret seasonings, the timing of when they toss in the ingredients (potatoes, garlic, corn cobs, sausage, among others) or, ultimately, the texture and consistency of the boil once it's been laid out on backyard fold-up tables and docks to pick, suck, extract, and hammer.
Yet temperature management is what makes it all come down. Enter The Boil Boss, a new contraption–invented by a native of New Orleans (the crawfish boil capital)–which takes the guesswork out of the soaking process, while making shellfish like shrimp more taut, consistent and easier to pick and peel.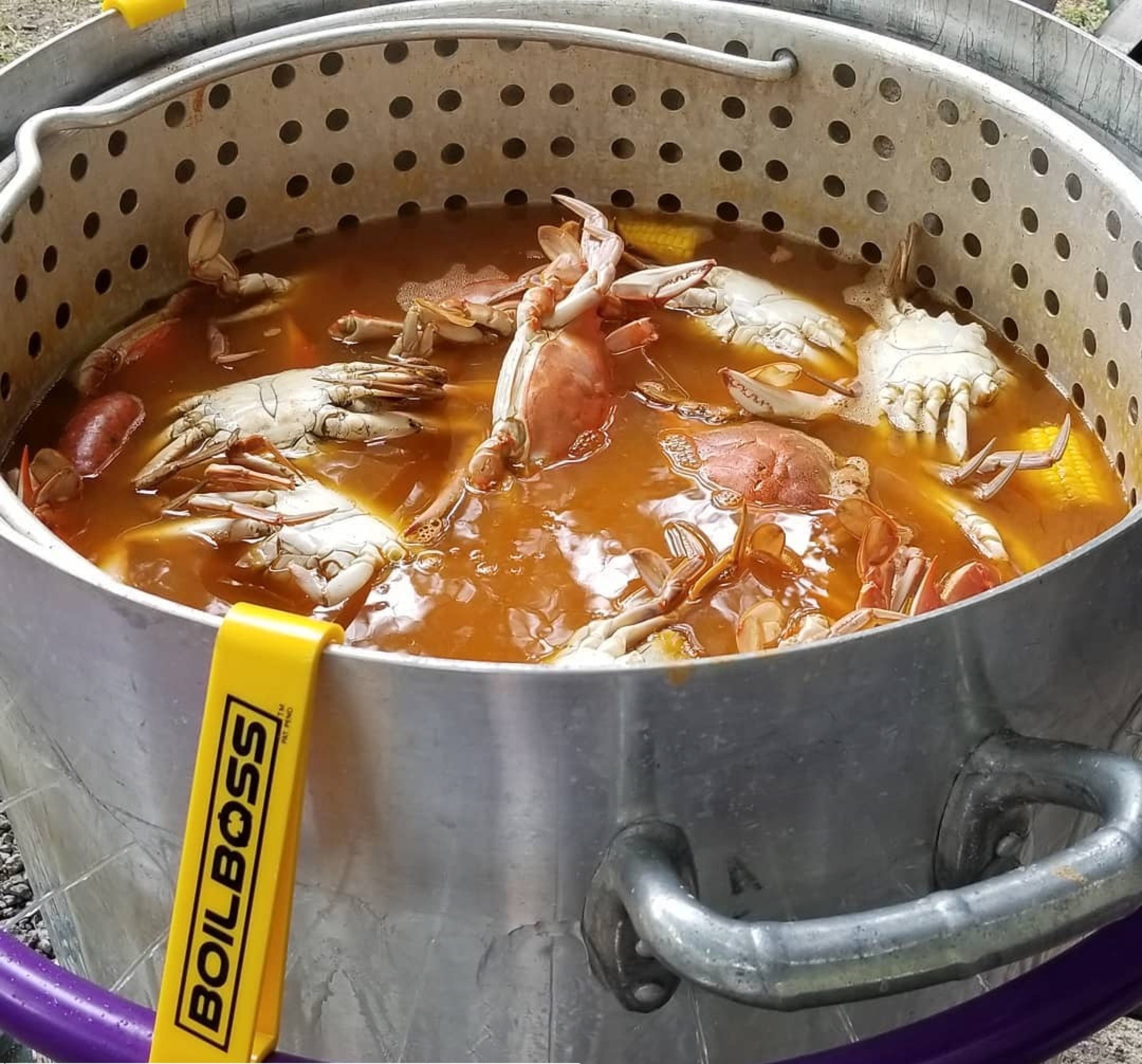 A heat-resistant, adjustable hard-plastic ring that snaps (with rotating brackets) around a boil pot, the Boil Boss connects to any standard garden hose, acting as a sort of sprinkler system and temperature gauge. 
Faster and more accurate than the old school process–that is, time-held instincts–the Boil Boss showers the outside of the pot with water, dropping the temperature of a boil from about 212 degrees to 150 (the boil stop) in approximately 3 minutes and 30 seconds. 
The rapid decline in temperature helps prevent overcooking the seafood. A speedy reduction in temperature not only halts the cooking process, but shocks the shellfish, forcing it to absorb as much seasoning and juice as possible. 
"Most everyone cooks to time and ignores the most important variable: temperature," says Boil Boss inventor and founder Robert Lapeyre, a hunter and fisherman who has boiled since his youth.
Some may call it cheating. Who cares, really, during this sweltering high season for seafood, when everyone around the table wants to be fat and happy, not sadly shellfish bereft?
The Boil Boss comes in four colors: purple and gold (a nod to LSU), black and gold (Saints), all black, and red. The pot and burner are not included in the system. The ring adjusts to a wide range of pot diameters. The standard size retails for $59.99; the large, $64.99.