Exclusive First Look at Cabot Guns 2020 Pistol-Of-The-Month Collection
This stunning, 12-pistol set of custom 1911-style handguns is a dream come true for luxury gun collectors.
Cabot Guns
Cabot Guns is giving high-end firearms collectors the chance to receive a custom Colt 1911-style pistol every month of 2020, and Maxim.com has your exclusive first look. 
The Pennsylvania-based gunmakers, best known for crafting ultra-luxe takes on the iconic sidearm from over-the-top materials like Damscus steel and 4.5 billion-year-old meteorite, is rolling out The Cabot Elite Gun of the Month Club for true 1911 connoisseurs. Each 12-weapon set is valued at over $70,000, and only 20 will be produced.
"If you are a true aficionado and a passionate admirer of John Browning's enduring design, the club is an amazing opportunity to assemble a scarce collection of 1911's in a short period of time," Rob Bianchin, CEO of Cabot Guns, tells us. "By offering you a wide variety of designs and styles, we enable you to appreciate the many nuances of the 1911 in your own personal collection."
From the impossibly refined to the decidedly decadent, see each of Cabot's incredible 2020 Gun of the Month offerings below: 
January – The Demon GT
.45 ACP
Based on company's popular Gran Torino SS, Cabot took their muscle car-themed sidearm to devilish new heights with "Red Chatoyance" carbon fiber grips, murdered-out hardware and a two-tone finish.   
February – The Son of Drako
.45 ACP
A refined evolution of Cabot's dragon-inspired Drako Garra 1911 that was first launched in 2017, the Son of Drako is an imposing Colt Commander-size pistol with black "Ebony Fibonacci" grips, a swooping-style rear sight, gold bead front sight, and a muted black-and-carbon fiber finish.  
March – Golden Joe
9mm
Cabot's star-spangled American Joe Commander goes gold with titanium nitride-treated upper and lower receivers, contrasting black components, and black ebony grips in a glossy finish. 'Murica. 
April – Case Color 1911
.45 ACP
No great gun collection is complete without a color case-hardened piece. Cabot used the time-tested heat-treating process on this 1911's upper and lower, then added a high-polish stainless steel barrel, trigger, and safety controls. A gorgeous hardwood grip cut from an American Holly tree rounds out this tastefully crafted pistol. 
May – Prospector ICON
.45 ACP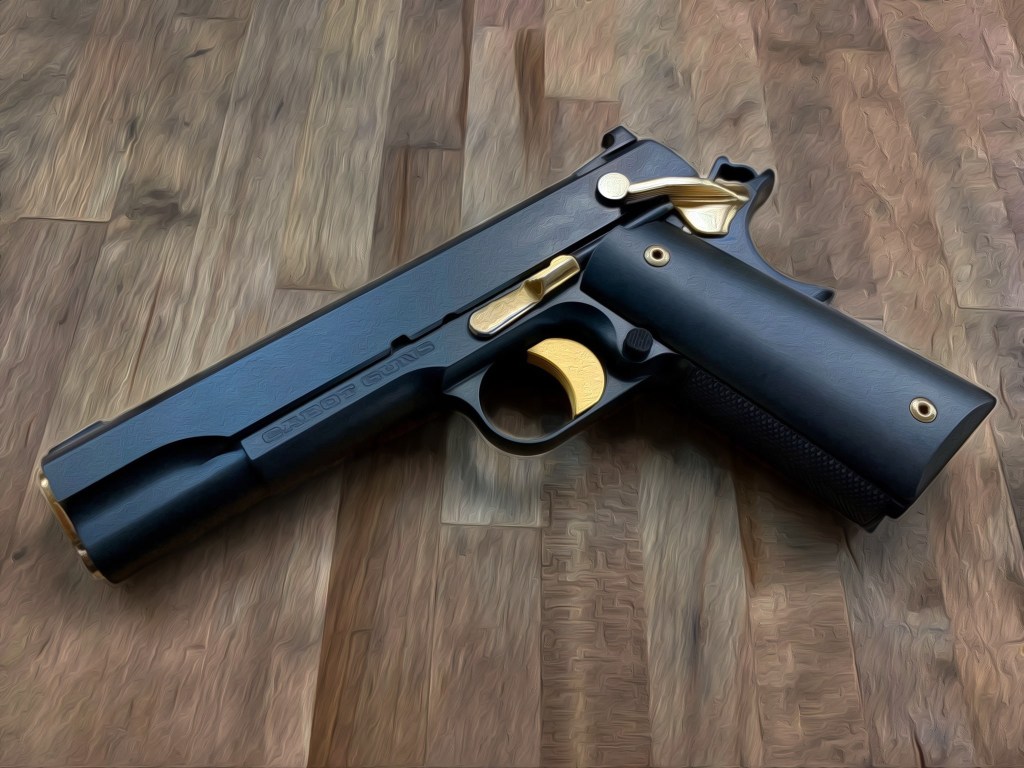 Cabot says that the Icon serves as a "representation of modern minimalism design applied to the 1911 platform." A black, diamond-like carbon coating was applied to the bulk of this all-stainless steel build, while a gold titanium nitride trigger, slide lock, and front sight add a flavor of flash and luxury. 
June – Belligerent Gentleman
.45 ACP
If Cabot's top-selling Gentleman's Carry 1911 is a sleek supercar, the Belligerent Gentleman 1911 is a hot rod that's missing a muffler. Constructed from a block of stainless steel, this decidedly garish gun boasts a gold titaniuim nitride barrel and trigger, as well as glossy ebony grips. Don't forget your ears and eyes when you whip this bad boy out at the range.  
July – Damascus Tornado
.45 ACP
Perhaps the most intricately patterned 2020 Gun of the Month, the Damscus Tornado once again exemplifies Cabot's venerable expertise in utilizing the ancient metal-working technique. An ultra-intense layering of winding Damascus stainless steel layers on the slide is meant to hark to the swirling winds spawned by a tornado. Complementing the upper is set a skeletonized steel grip, making this 1911 truly unique. 
August – Rhone
9mm 
Master gunsmith Rob Schauland took the reigns to build Cabot's first-ever 1911 with a heavy, recoil-reducing bull barrel. Tactical rear sights and a glow-in-the-dark tritium front sight ensure users can line-up in dimly-lit scenarios, while a flat serrated trigger improves tactility. The frame has also been specifically tooled to lower the bore axis, further reducing kick. Good luck finding a more carry-worthy 1911 than this.
September – Rebellion VC
9mm
Cabot talks a big game in describing the Rebellion VC, saying that it "incorporates the most significant mechanical innovation in the 100 year-plus history of John Browning's iconic design" thanks to a redesigned case extraction system that improves reliability. While that lofty claim will be proved on the range, the combo of a blacked-out stainless steel frame, glistening barrel and trigger, and Cabot's "Vintage Classic" finish sure look slick. 
October – Valley of Darkness
.45 ACP
All we know about this menacing-sounding piece is that it's chambered for .45 ACP and was born of a collab with Las Vegas' Dark Alliance Firearms, which specializes in machining weapons with tattoo-like designs and patterns. Infer what you will from the blurred-out image above.  
November – Cabot Safari
10mm
Thanks to a stunning Damscus steel muzzle brake, red dot sight and extended magwell, shooters can unload a plethora of powerful, high-velocity 10mm rounds quickly while maintaining a proper sight picture. An integrated frame rail also makes the Cabot Safari a great candidate to trick out for home defense. 
December – NERO Damascus
9mm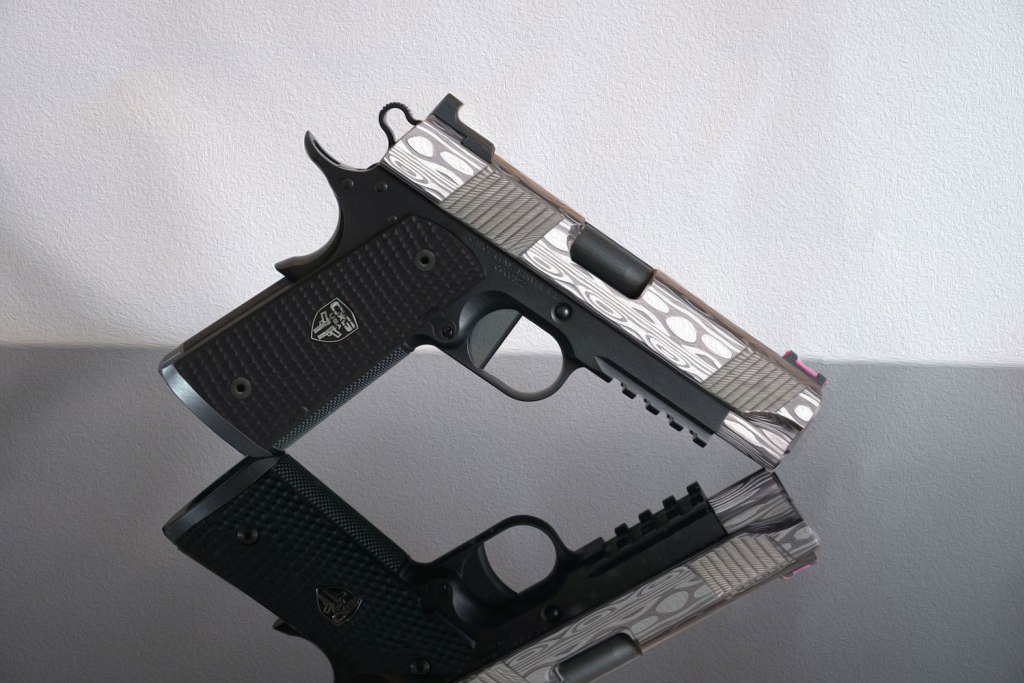 Cabot's final Gun of the Month boasts a shining Damascus steel upper with slide serrations to aid in the cocking process, a flat trigger and a murdered-out frame and grips, all in a Colt Commander-size package that fires a smaller 9mm round. Another ideal everyday carry option, if you ask us.