The Cobra RX Adder Is the World's First Tactical Repeating Crossbow
It's about damn time.
EK Archery
If vampires were real, the Cobra RX Adder crossbow would be the vampire hunter's super weapon. It would just be a matter of dropping in the middle of a gathering of bloodsuckers with a Super Soaker full of holy water and this puppy loaded with hardwood bolts and firing away.
Sure, that sounds fun, but vampires aren't real. In case that changes—or in case you just like hunting with crossbows and want to try something new—EK Archery is bringing in the Cobra RX Adder Tactical Repeating Crossbow to help you gear up for whatever's around the corner.
German crossbow designer Joerg Sprave really puts the Adder through its paces in the video above, making note of features like:
Picatinny rails
A red dot sight
Foregrip
A slick detachable sling shoulder mount
An adjustable stock inspired by AR-15 design
A top-loading magazine which can hold as many as 5 carbon bolts
The bolts load by cocking the 'bow just as you would with a repeating long gun.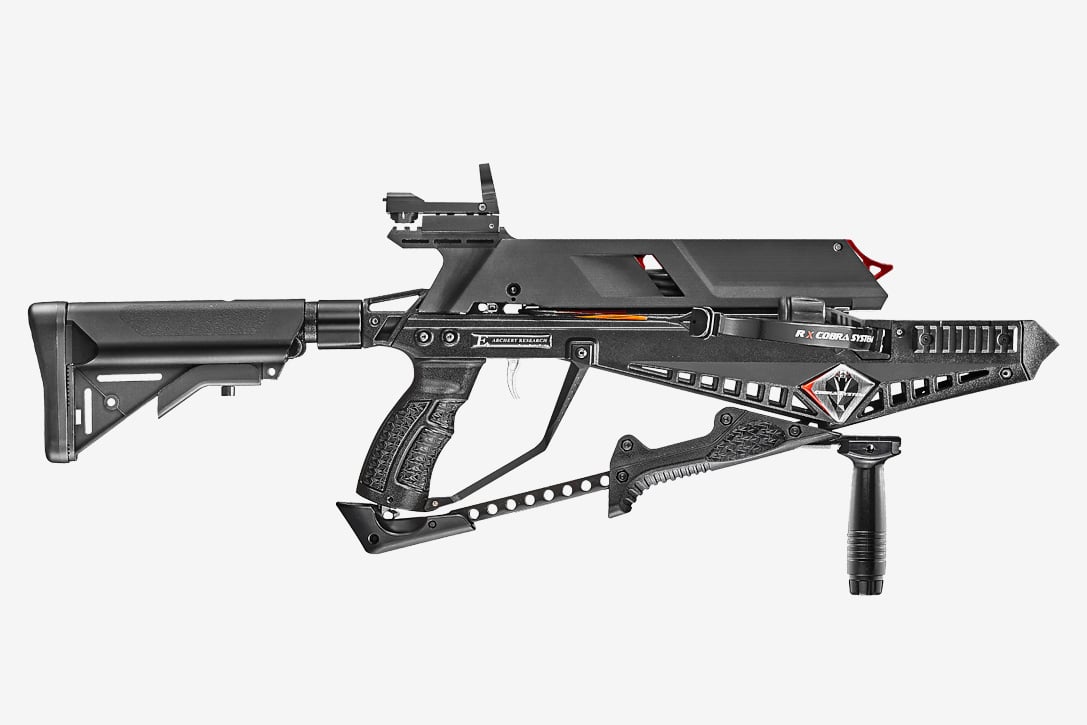 Bolt speed on this baby is a cracking 270 fps, propelled by 130-lb draw weight.
Joerg Sprave seems excited about this badass 'bow, if you watch his video. If you share that excitement, you don't have all that long to wait to get your own.
The Cobra RX Adder Tactical Repeating Crossbow is $396 and is available for order here.