Elon Musk Is Now Making $600 Flamethrowers, For Some Reason
Say hello to the tech billionaire's little friend.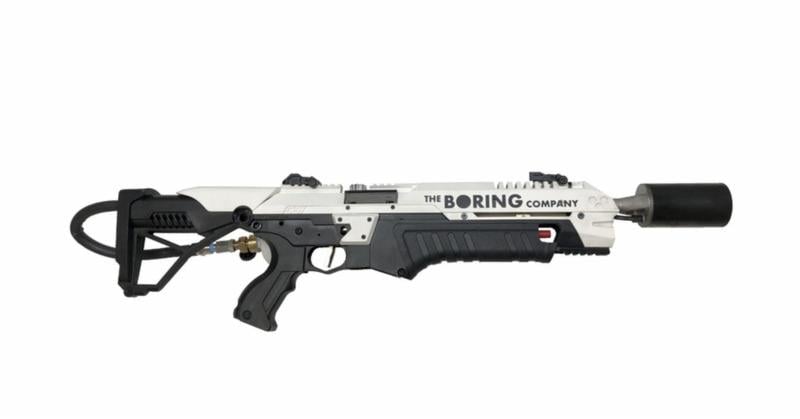 Photo: The Boring Company
If you don't have $200,000 to shell out for the ludicrously quick Tesla Roadster, maybe Elon Musk's less expensive flamethrower will be more up your alley.
The billionaire tech tycoon promised a fire-spewing weapon from his deceptively-titled The Boring Company—Musk's infrastructure and tunnel construction firm—would arrive following the sellout of much dorkier branded hats in December. 
After 50k hats, we will start selling The Boring Company flamethrower

— Elon Musk (@elonmusk) December 11, 2017
I know it's a little off-brand, but kids love it

— Elon Musk (@elonmusk) December 11, 2017
This week, snoopy Redditors were able to get past a password prompt that redirects to the flamethrower's web page by typing "flame." 
The password has since been changed, but screengrabs indicate that the fiery $600 gadget is available for preorder.
The listing reads, "Prototype pictured above. Final production flamethrower will be better." 
Is this too good—or ridiculous—to be true? Popular Mechanics doesn't think so. 
Flamethrowers have been for sale for years, and are legal in most states though there's always the possibility of more local, municipal bans.


There's nothing to prevent Musk from selling his flamethrowers the way other companies already are: by simply avoiding sending them to areas where they are regulated.  
Hmmm, good to know. Between being the inspiration for Iron Man's Tony Stark, dating Amber Heard and launching giant rockets into space, Musk didn't even need to start selling flamethrowers to be a total badass. But it certainly doesn't hurt. 
h/t: High Snobiety