Get Fired Up With Some Of The World's Most Expensive Guns
From Alexander Hamilton's "Founding Father War Pistols" to Napoleon Bonaparte's gold-encrusted garniture of arms.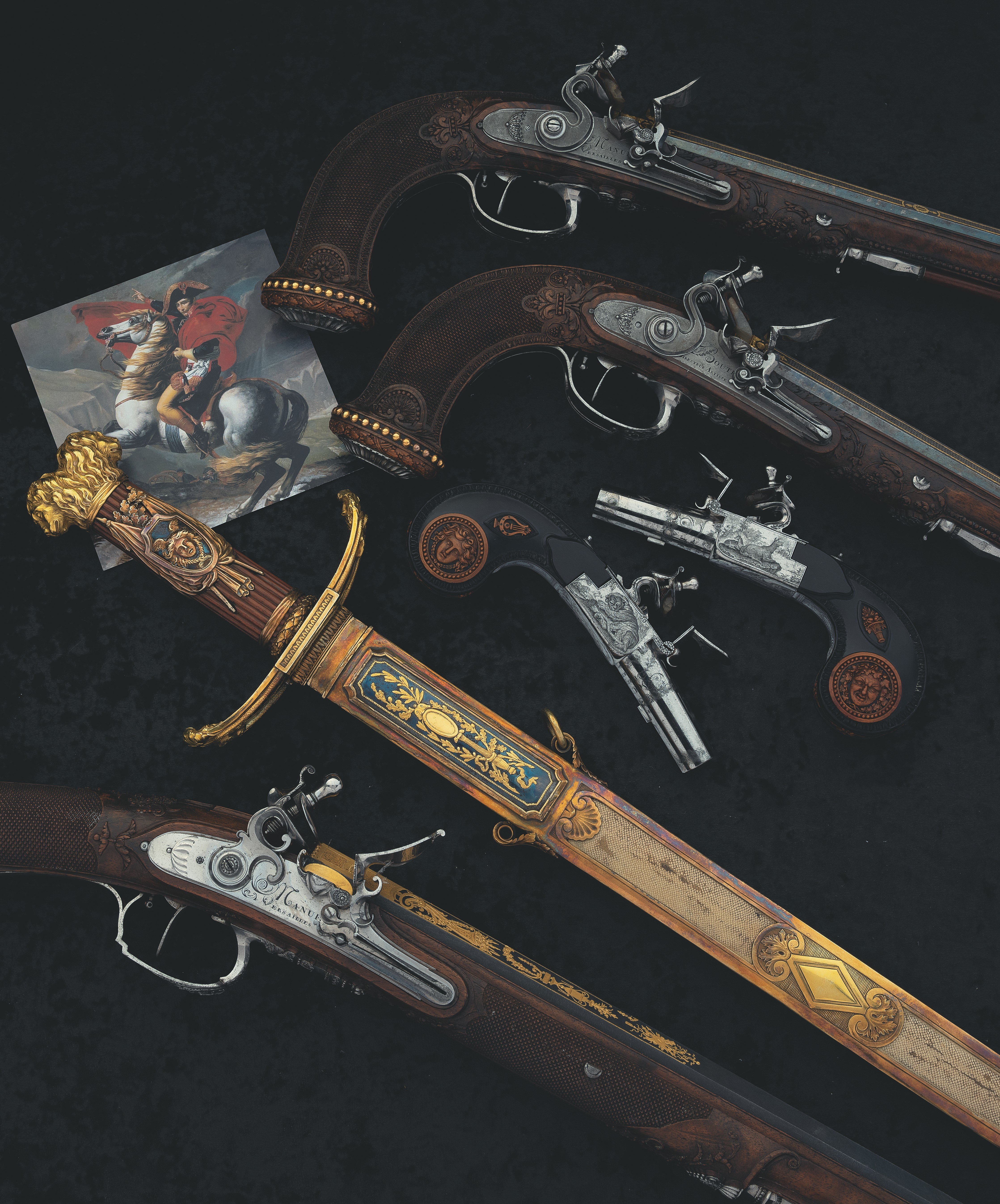 The most expensive car ever sold at auction was a one-of-two 1955 Mercedes-Benz 300 SLR prototype that fetched an exorbitant $143 million at a 2022 RM Sotheby's sale. The priciest watch ever to cross an auction block was a 2015 Patek Philippe Sky Moon Tourbillon featuring one-of-a-kind craftsmanship so desirable, the final bid hit $5.8 million at a 2023 Christie's event. In both cases, it was ultimately a combination of quality, brand recognition and extreme rarity that resulted in record prices.
But in the realm of fine firearms collecting, the X factor that often pushes values into the stratosphere is provenance. Consider the most expensive gun ever sold at auction: the Colt Single Action Army used to kill notorious American outlaw Billy the Kid, which exceeded expectations by more than double when it sold for $6.03 million in 2021. Or just take a look at the many million- and multimillion-dollar firearms that have fallen under Rock Island Auction Company's hammer.
Founded in 1993 in Rock Island, Illinois, the esteemed weapons specialist has set and shattered many of its own industry records, among them being history's highest-yielding firearms auction ($30 million, set in May of 2021), the highest-yielding year of a firearms auction house ($121 million, set in 2021), and the second-most expensive firearm ever sold at auction (more on that below).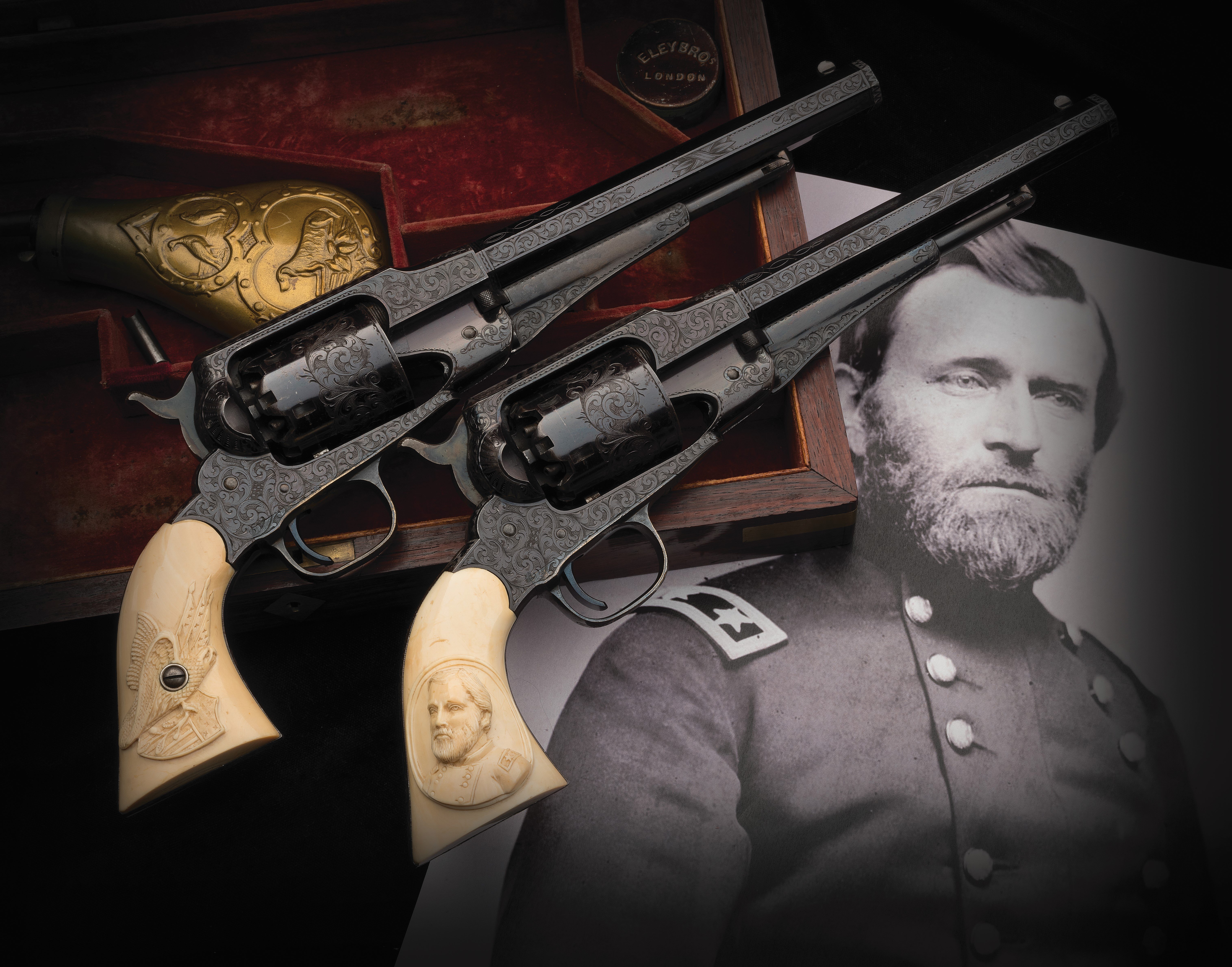 "If a gun has made it on to the list of most expensive guns sold by Rock Island Auction Company, it most likely possesses a multitude of desirable traits that send collectors clamoring," writes Joel Kolander, RIAC's Interactive Production Manager. "They may be beautiful, rare, historically significant, belonged to someone famous, or they may be an unusual version of a very popular and beloved gun. Nearly all are so incredibly well-preserved that their condition defies belief."
Ian McCollum, who serves on the National Firearms Act Trade & Collectors Association's Board of Directors, has noted on his excellent Forgotten Weapons YouTube series that, historically speaking, the most collectible guns are "Winchester lever-action [long guns]; Colt, S&W and Remington revolvers; Mausers; and Luger pistols."
Of the 17 most expensive guns ever sold by RIAC, seven are Colt revolvers, five are Winchester long guns, a pair of revolvers are Remingtons, and one is Han Solo's BlasTech DL-44 Heavy Blaster from Star Wars: A New Hope… which is based on a Mauser C96 "broomhandle" pistol.
"One thing they undoubtedly share," continues Kolander, "is a unique story: how it began, how it became extraordinary, and how that exceptional nature resulted in an enviable price point at auction."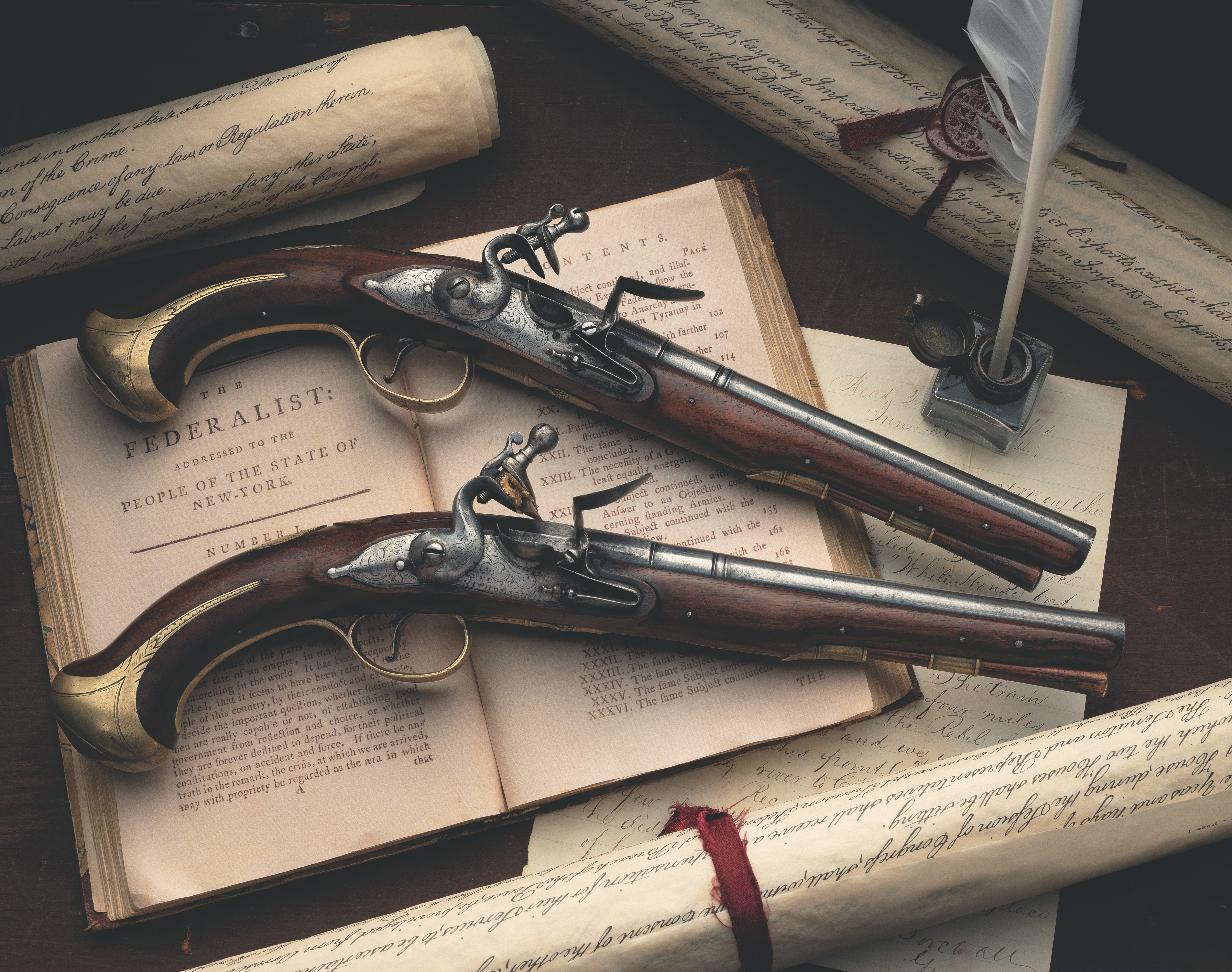 The best stories of course come from the most detailed and exceptional provenances. For instance, the most expensive firearm sold by RIAC—and the second most expensive firearm ever sold at auction— is actually a pair of Remington New Model Army revolvers presented to Ulysses S. Grant, Commanding General of the Union Army during the American Civil War and subsequently the 18th President of the United States. Though RIAC was sure of the wheelgun set's stately ownership, the ivory grips carved with Grant's portrait by master 18th-century engraver L.D. Nimschke sealed the deal.
"[The Remington Revolvers] were likely presented to Grant after he captured Vicksburg on the Fourth of July in 1863 and thus secured the length of the Mississippi River for the Union," Kolander notes. "Currently, these firearms constitute the most elaborate and historically significant known set of revolvers manufactured during the Civil War." Grant's New Model Army Remington revolvers fetched $5.17 million at RIAC in May of 2022.
Fewer than six months prior, RIAC sold its second most expensive lot for nearly $2.9 million: a gold-encrusted garniture of arms owned by Napoleon Bonaparte. The "glaive"-style sword and scabbard; rifled carbine; pair of rifled carriage pistols; and pair of pocket pistols were gifted to Bonaparte in 1797 while he was still forging his reputation as a great military leader of the French Republic.
"The set is among the most significant set of arms from the French Revolutionary Wars and Napoleonic Wars in private hands," writes Kolander. "The arms, covered with amazing engraving and embellished with Greco-Roman symbolism and other scenes, came from the renowned Versailles [Arms] Manufactory led by Nicolas-Noel Boutet… Following the Battle of Waterloo and the final defeat of Napoleon, the weapons went on display in London in 1816 and set the clear provenance to Napoleon."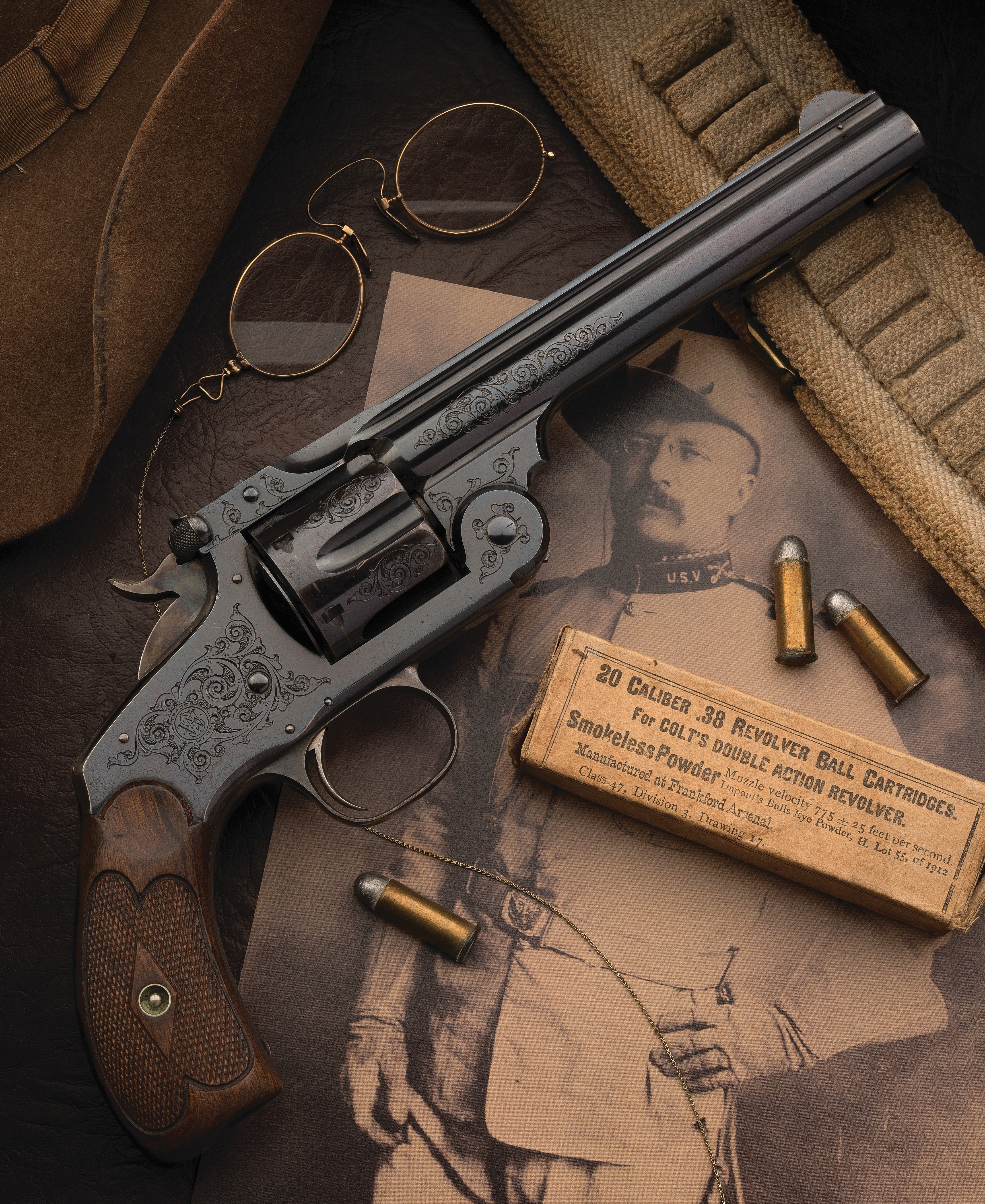 Two firearms connected to Theodore Roosevelt, 26th President of the United States, appear on RIAC's "most expensive" list, the more valuable being a Colt Single Action Army that sold for just under $1.47 million in December of 2020, blowing past the top end of its $350,000-$550,000 pre-auction estimate. Featuring ornate reliefs from muzzle-to-grip by Colt Master Engraver Cuno Helfricht, Roosevelt is said to have purchased the weapon four days after he survived an assassination attempt in 1912 and vowed never to leave home unarmed.
"Its significance is further amplified by the impeccable documentation placing this specific revolver in the hands of Theodore Roosevelt late in his 1912 presidential campaign for the 'Bull Moose' Party," Kolander points out.
And the moniker "Founding Father War Pistols" were rightfully assigned to a pair of Alexander Hamilton's flintlock pistols, which RIAC sold for $1.15 million in May of 2021. Paired with his officer epaulettes, the first U.S. Secretary of the Treasury and American Revolutionary War veteran is believed to have carried the sidearms into the Battle of Yorktown in 1781, where, as a Colonel, he led three battalions in a swift capture of a British fortress.
As made apparent by these recent sale dates and rising prices, it's clear that the fine firearms collecting market is growing as quickly as flame ignites a powder charge. Our advice: don't get lost in the smoke—get your own collection started right away
This article originally appeared in September/October 2023 issue of Maxim magazine.