MB&F's First-Ever Chronograph Does Things No Other Luxury Watch Can
This $180,000 mechanical marvel is making history with a "Twinverter" chronograph pusher.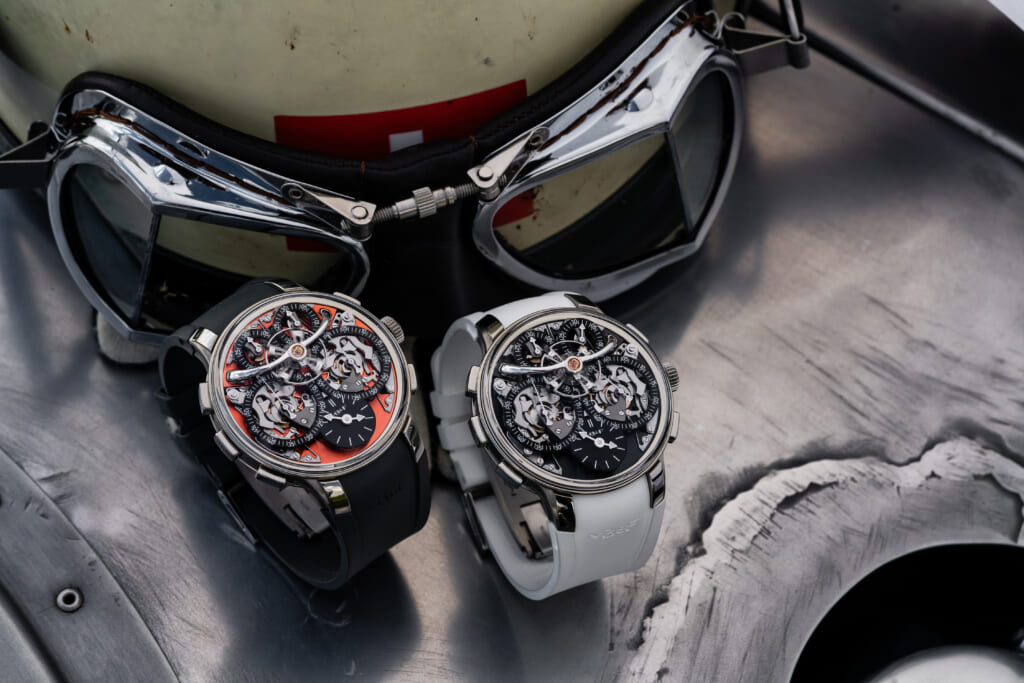 MB&F's latest mechanical marvel isn't just its first chronograph, but one that does things even the most advanced competing chronographs can't.
The Geneva-based manufacturer of luxury watches often gets press for their complex-but-unconventional designs, which draw from wild inspirations ranging from a panda bear to twin jet engines.
Without taking anything away form the transfixing mesh of ticking componentry, the LM Sequential EVO stands out because of its functionality. There are two chronograph displays—one shows seconds at 9 o'clock and minutes at 11 o'clock, the other shows seconds at 3 o'clock and minutes at 1 o'clock. Each display can be started, stopped, and reset independently using the start/stop and reset pushers on their respective sides of the case.
The first-of-its-kind piece is a fifth pusher dubbed the "Twinverter" at the 9 o'clock position. This is a binary switch that inverts the stop/start status of each chronograph simultaneously. If both chronograph displays are stopped), pressing the Twinverter will cause both of them to start simultaneously. If they are both running, they'll be stopped. If one is running and the other is stopped, the Twinverter stops the one that is running and starts the one that is stopped.
This single function enables four different modes: Independent mode measure the duration of multiple events with separate starting points and end points; Simultaneous mode measures the individual durations of two events that start simultaneously but have different end points; Cumulative mode measures the individual cumulative durations of two discontinuous events; Sequential (Lap) mode measures the individual sub-durations of a single continuous multi-phase event.
MB&F put forth use cases for each that are oriented around both sporting and everyday life events:
Simultaneous mode is used for example in a race involving two competitors, starting simultaneously. The Twinverter allows to start both chronographs at exactly the same time, but the different end points can be easily recorded by pressing each chronograph's individual start/stop pusher. To note, the durations of the events can exceed 60 seconds, which is the limit for the vast majority of split-second chronographs on the market.

Cumulative mode occurs frequently in the work environment, where you might want to know how much time you spend on two separate projects as you switch between them throughout the day. By starting one chronograph when you begin working on one task, and then using the Twinverter when you shift focus to the second task (switching again when you go back to the first), you can easily track the amount of time you cumulatively spend on each task.
Sequential mode (or lap mode) has its greatest relevance in competitive sports, where it can be used to measure individual lap times. Starting one chronograph at the beginning of an event and using the Twinverter upon the completion of a lap instantly launches the second chronograph in order to time the next lap, while the first chronograph is stopped, allowing ample time for the timing result to be noted down. The stopped chronograph can then be reset to zero, ready to be relaunched with the Twinverter for the following lap. Thanks to its minutes totalisers, LM Sequential EVO can be used effectively in sporting events with average lap times of over a minute (which includes the vast majority of lap-racing sports).

Independent mode can be used for instance in the preparation of a meal, where different things need to be cooked for different periods of time, at different points in time. You would operate the two chronograph mechanisms via their respective pushers — for instance, starting one when you put your pasta into boiling water and starting the other when the vegetables go in the oven. In fact, this application of LM Sequential EVO comes in handy in all areas of personal productivity. At the gym, for example, when trying to optimise your physical workout routine, one chronograph can be set to time your entire session whilst the second is used to record your time at each station, or the downtime in between.
As always, MB&F has also made provisions to ensure the LM Sequential EVO's complex movement stays working by placing it in a Zirconium case with 80 meters of water resistance and implementing a FlexRing internal damping system.
Available in atomic orange or coal black, the MB&F LM Sequential EVO will go on sale for $178,000. Click here to join a wait list.