This Arcade Coffee Table Lets You Play Classics Like 'Mortal Kombat', Surf the Web And Stream Netflix
Now THIS is a piece of furniture.
Image: Surface Tension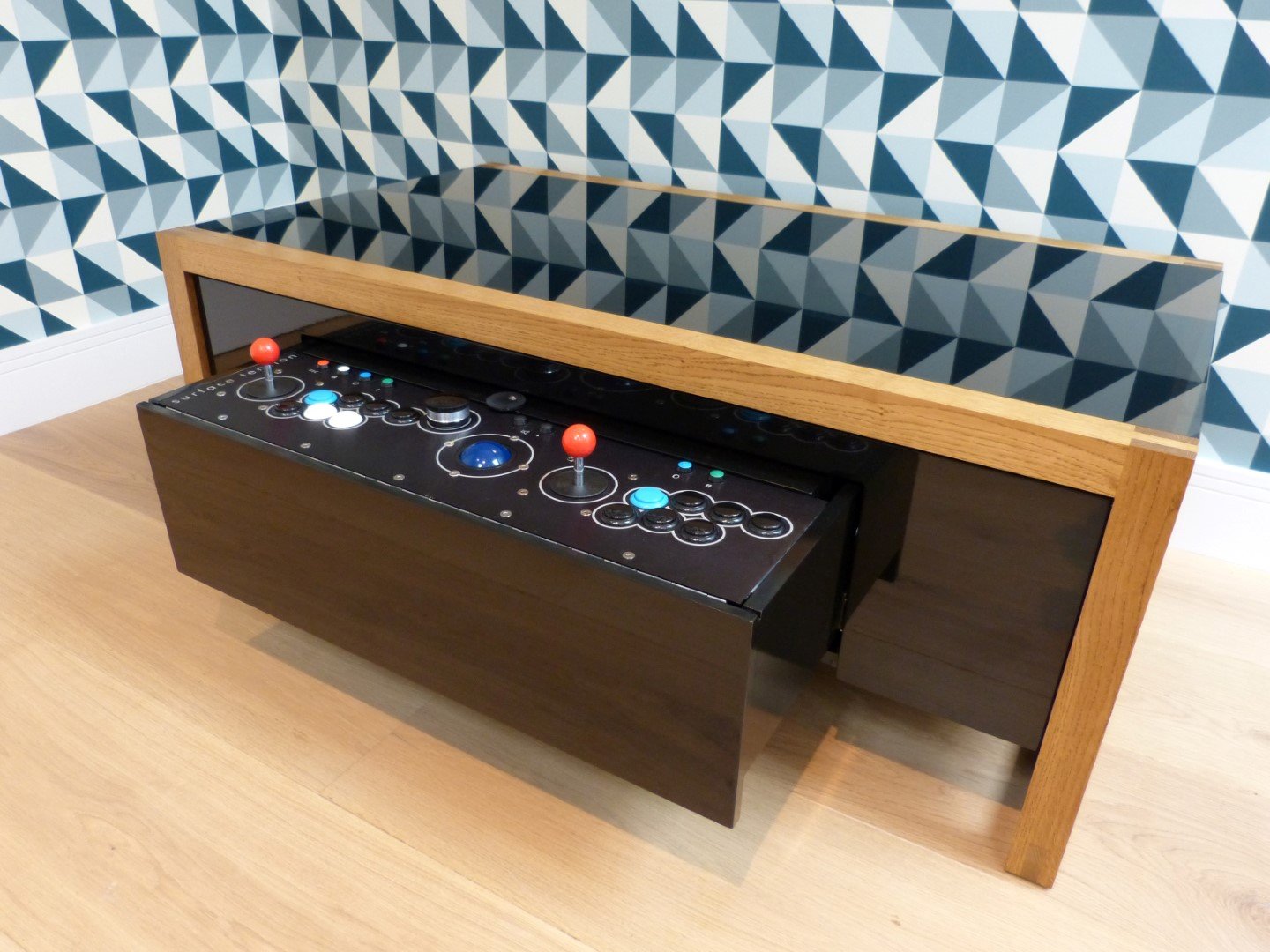 Move over, Sobro—we've just found our new favorite coffee table. 
From UK-based furniture designer Surface Tension, the Nucleus Arcade Coffee Table packs everything the nostalgic gamer could want into a coffee table… and a whole lot more. 
A hideaway drawer slides out to reveal a panel with genuine arcade joysticks and controls capable of withstanding abuse from the most vigorous button mashers.
Over 100 titles spanning different generations of retro games come pre-installed on the unit, including Mortal Kombat, Space Invaders, and Pong.  
And that's just the tip of the iceberg. An on-board Windows operating system with WiFi connectivity lets you browse the web, play music or stream Netflix like you would on a computer using a wireless keyboard and the arcade control panel's built-in mouse.  
Crisp audio and visuals are delivered via two 30 watt speakers, a 130 mm woofer, and an ultra-wide 32″ LCD display embedded into the unit's tinted glass top. An HDMI-out port can also connect to your living room television.  
All of this awesomeness is contained in a real wood frame, available in solid walnut, solid oak and birch ply with gloss black side panels.
Prices start at $3883. Get the Nucleus Arcade Coffee Table from Surface Tension's website now, and check out the full list of pre-loaded titles below: 
Battle Shark
Bubble Bobble
Colony 7
Continental Circus
Electric Yo-Yo
Elevator Action
Exzisus
Gladiator
Great Swordsman
Jungle Hunt
Ninja Kids
The New Zealand Story
Operation Thunderbolt
Operation Wolf, Phoenix
Plotting, Plump Pop
Rainbow Islands
Rastan
Return of the Invaders
Space Gun
Space Invaders
Space Invaders part 2
Super Qix
Thunderfox
Tokio
Tube It
Volfied
Zoo Keeper
Alpine Ski
Arabian Magic
Bonze Adventure
Cameltry
Chack'n Pop
Cleopatra Fortune
Crazy Balloon
Don Doko Don
Dungeon Magic
Elevator
Action Returns
The Fairyland Story
Football Champ
Front Line
Gekirindan
Grid Seeker: Project Storm Hammer
Growl, Gun Frontier
Insector X
KiKi KaiKai
Kuri Kinton
Legend of Kage
Liquid Kids
Lunar Rescue
Metal Black (video game)
Nastar Warrior, Puchi Carat
Puzzle Bobble
Qix
Raimais Space Invaders 95
Space Invaders DX
Super Space Invaders 91
Violence Fight
Wild Western
Bubble Symphony
Cadash
Pop'n Pop
RayForce  
Mortal Kombat
Mortal Kombat II
Mortal Kombat 3
Gauntlet II
Spy Hunter II
XybotsTM
NARC
APB
Cyberball 2072
Timber
Total Carnage
Pit
Fighter
Wizard of Wor
Xenophobes
Primal Rage
Arch Rivals
Rampage World Tour
Kozmik Krooz'r
Championship Sprint
Hard Drivin'
Wacko
Badlands
Hydro Thunder
Off Road Thunder: Mud, Sweat 'N Gears
Race Drivin, San Francisco Rush the Rock: Alcatraz Edition
San Francisco Rush 2049
S.T.U.N. Runner
Super Off Road
Asteroids
Asteroids Deluxe
Battlezone
Black Widow
Centipede
Crystal Castles
Gravitar
Millipede
Missile Command
Pong
Super Breakout
Tempest
Warlords  
h/t: Hi Consumption