The Newest Apple TV Is One of the Most Powerful 4K Sets Ever Made
Time to cut the cord.
Credit: Apple
The inevitable march toward 4K continues, and Apple's first major consumer product to leverage the extra pixels and high dynamic range of the latest TV sets is here in the form of an updated Apple TV. The Apple TV 4K is the most powerful, dedicated content delivery device Apple has ever made, able to, in conjunction with your 4K set, display some of the best looking content we've seen on 4K TVs and providing the impetus for studios to continue making more.
First and foremost, if this Apple TV is familiar, that's because it's largely a clone of last year's Apple TV with Apple taking the wise approach to not fix what wasn't broken. With on-board HDDs for storage, these iterations introduced a whole new UI for the aTV, one that includes an App Store so you can add portals to your favorite content even if it's not there when you first fire it up. 
That means streaming services from the likes of Netflix, Hulu, ESPN, BBC, NBA, MLB and much, much more (including Amazon Prime who have promised an aTV app in the near future) are all ready for streaming their UHD content.
Netflix, more than almost anyone, is pushing hard on the 4K+HDR frontier, having made 4K a standard for filming their own original content over a year ago, with HDR color joining the fray a few months ago (The Defenders and Glow, for instance, are filmed in 4K with HDR.) 
Apple, not a company to be left behind, has used its heavyweight status to push Hollywood studios to follow suit. As a result, lots of the content you may have bought on iTunes previously is getting a 4K makeover and you'll be getting it in its upgraded form for free.
Going from an HD Apple TV to an Apple TV 4K is an experience that harkens back to the first time we were presented with the difference between SD and 1080p. However, as we've noted before, it's not just the bump in resolution that makes the Apple TV 4K's content look better, it's the HDR color contrast that makes blacks blacker and colors brighter. In case you haven't figured it out for yourself yet, getting a 4K TV set without HDR capabilities is not worth your money. That said, if you do have a 4K TV with HDR, you owe it to yourself to snag an Apple TV 4K in order to squeeze the most out of the TV set and the content you own or stream.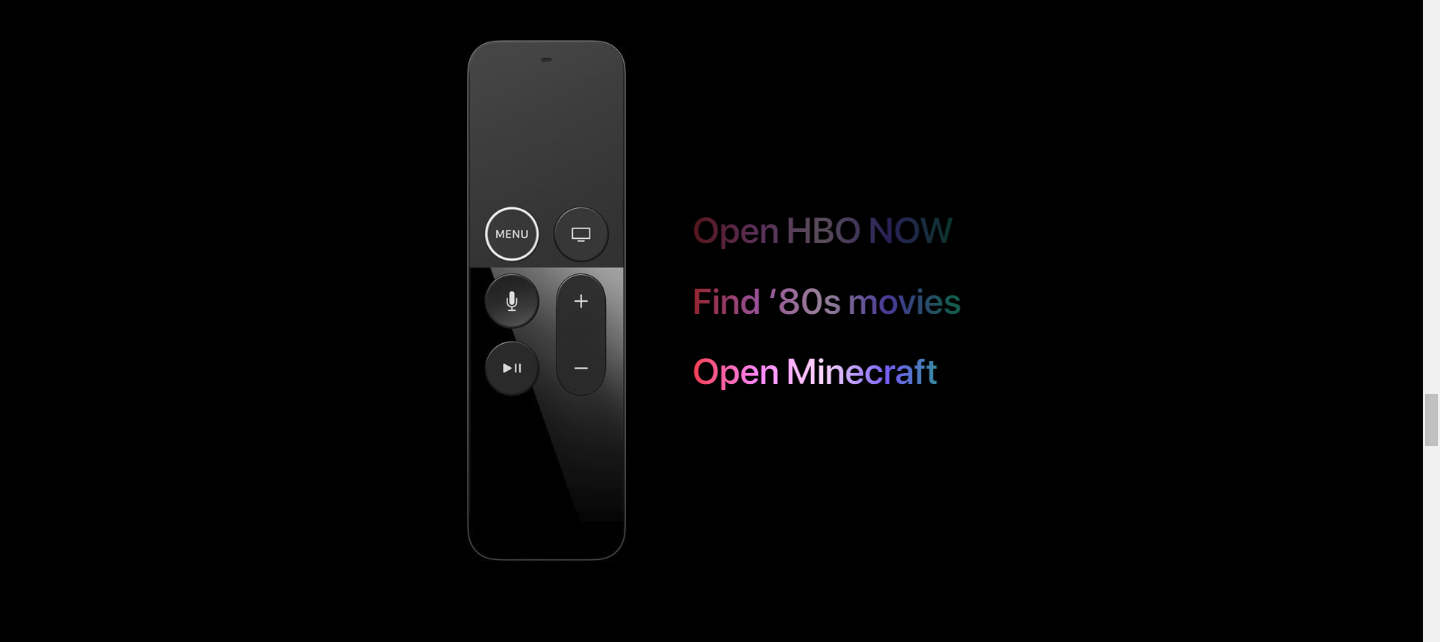 Rounding out the new-but-familiar box is an equally familiar remote control. As with all Apple products, the remote for the aTV 4K is a typically minimalist affair, sparse on buttons but quick to react to taps and swipes on its touchpad or takes voice commands via the integration of Siri in the remote itself. 
Astounding, rechargeable battery life, juiced up via the same wire as the one that charges your iPhone or iPad, means you don't have to pay much attention to the whole ecosystem; once it's set up, it just works. That's the point. Apple wants you to have a simple way to get at the highest quality content out there and that's exactly what the Apple TV 4K accomplishes.
Unlike the iPhone X, Apple TV 4K is available to buy right now without worrying about pre-orders or limited supplies. Grab it, plug it in and you're ready to see the world of 4K HDR without delay.