The Best Gear For Winter Adventures
From jackets and gloves to boots and speakers, these cold weather essentials are ideal for outdoor excursions.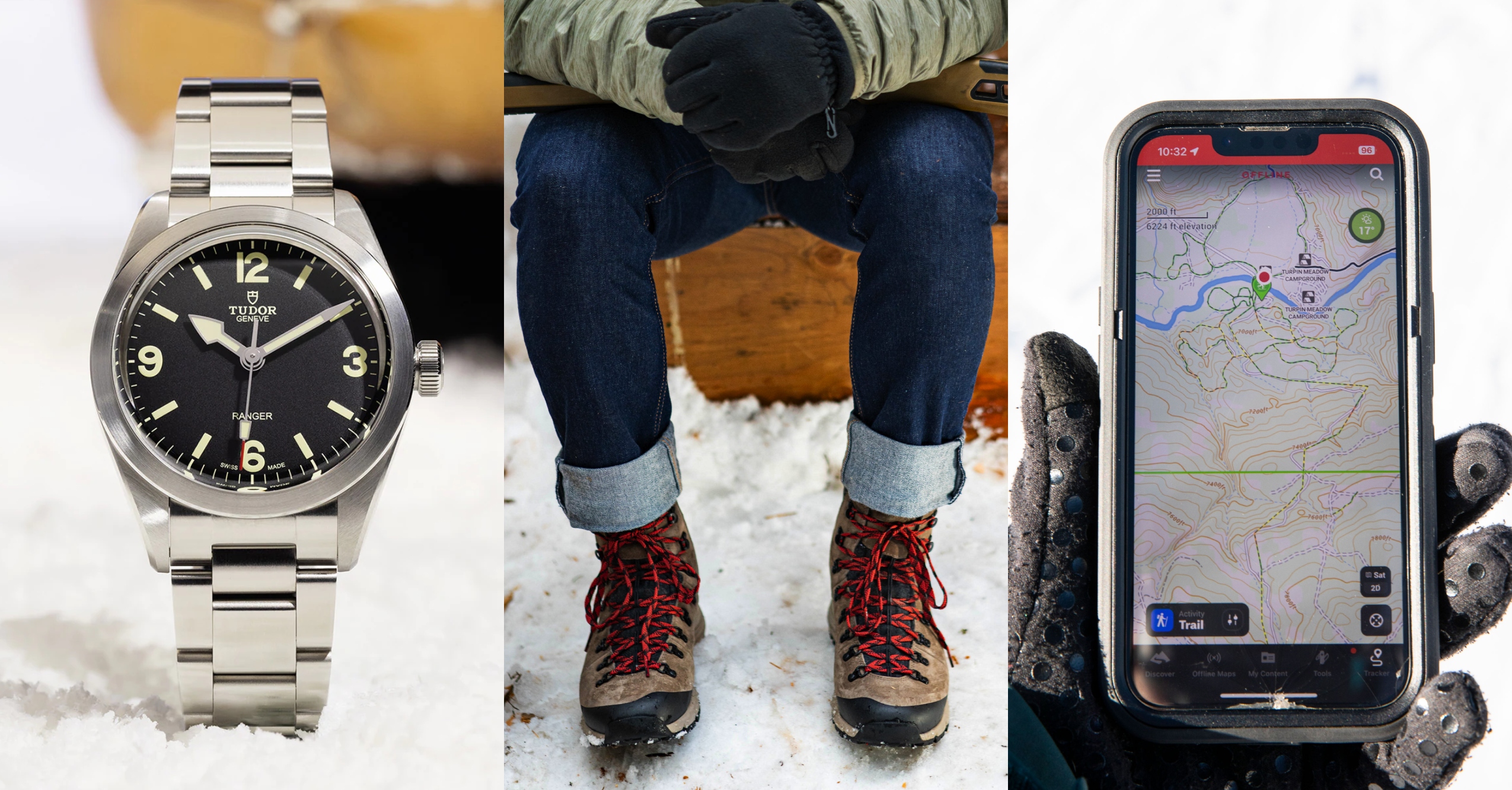 It's a great time to pick up new winter gear, with plenty of mountain days left and some new sales dropping that will help you get outfitted for this year and beyond. This is some the best of the best cold weather adventure gear you can buy right now.
GHURKA CLASSIC GLOVE
A pair of classic Ghurka gloves will last you decades or more. Hand stitched and lined in navy cashmere, they're warm enough for winter but not so warm that they can't serve you for early spring and late fall. $395
TUDOR RANGER
The Tudor Ranger has its roots in a 1952 Greenland expedition, and its newest incarnation is a classic field watch with cold weather adventure pedigree. At 39mm in diameter, it's large enough for legibility on the slopes, but not too chunky to wear to dinner at the lodge. $3,050
OBERMEYER RALLYE SUNGLASSES
The Rallye is a re-release of Obermeyer's iconic posh ski sunglasses of the 1960s and 1970s. Like the originals, these are made by hand in France. Each Italian acetate frame takes 300 manufacturing steps over the course of nearly 12 hours to make, before adding glass lenses made in Calvados, France. The final touch is the removable leather side covers. $500
DANNER ARCTIC 600 BOOTS
Danner Boots are my go-to in any climate, but their Arctic 600s are warm and waterproof and made of suede, while still being relatively light. The soles are designed specifically to maintain traction on icy surfaces, and when you're tromping in and out of places where you may want to leave them at the door, the side zip is incredibly useful for taking them off and on without having to re-tie the laces. $240
OVERLAND MEMPHIS LAMBSKIN JACKET
Overland is a family-owned company that has been making leather goods and apparel since 1973. Their designs range from Yellowstone vibes to more city-dwelling silhouettes like this waxed lambskin jacket. The removable collar and bib makes it instantly winter-ready but also lets you make the shift to spring. $495
SMITH NEXUS HELMET AND IMPRINT 3D GOGGLE
Smith's Nexus helmet is low profile and lightweight while still MIPS certified, which means it will protect your head from every angle. You can dial in the fit on the back, control the vents at a touch, and buckle it one-handed. It's also compatible with the Aleck audio system (below).
Smith's Imprint 3D Goggle use a frame that is 3D-printed to fit your face perfectly. The magnet lens mounts make it easy to switch between darker and lighter lenses based on conditions and sunlight, and the ChromaPop lenses enhance contrast and natural color so you can see every contour of the slope ahead of you. Helmet: $325, goggles: $450
NORRØNA IOFOTEN JACKET
Founded in Norway in 1929 by an outdoorsmen named Jørgen Jørgensen, after nearly a century of practice, Norrøna outerwear is uncompromisingly good. This is their staple waterproof ski and snowboard jacket, with signature touches like a keycard pocket on the arm for easy entry to chair lifts, and integrated hand gaiters––it's a perfect pairing with their Iofoten Pants for free-riding. $799
STIO ENVIRON PANT
Stio was founded in Jackson, Wyoming, and they maintain their ski-town connection by designing and testing at their Jackson HQ. The Environ pant is waterproof and breathable, with a sleek but comfortable fit that works great whether you stay at the resort or head to the backcountry. $356
ORTOVOX 185 ROCK'N'WOOL LONG SLEEVE
The German-based Ortovox began in 1980 making transceivers to locate avalanche victims and has since branched out into all kinds of winter gear and apparel. Everything they make has a striking design, and even their base layers stand out. This Merino wool long sleeve is the best base layer I've ever used; it's made of fine Tasmanian wool that regulates your temperature and neutralizes odor. $110
CAMELBAK ZOID HYDRATION PACK
An easy way to stay hydrated on the mountain, the Zoid is slim enough to wear while you're sitting in a chair lift. There's a small zip-pack for storing your wallet or keys, and the drinking tube is insulated to help it resist freezing for longer. $90
VSSL INSULATED FLASK WITH BLUETOOTH SPEAKER
This heavy-duty insulated flask will keep your martini cold or your toddy hot, entertain you with a Bluetooth speaker, and could even serve as a tactical self-defense weapon in a pinch. To make it smaller, you can remove the speaker and it comes with a bottom cap that creates a secret compartment to stash some post-whiskey Advil or a pre-proposal engagement ring. $150
MOUNTAIN HARDWEAR NEVADAN DOWN PARKA
Layers are great for the mountain, but for après-ski, or anytime you're going back and forth from cold weather into a warm interior, nothing beats a down parka. This everyday puffy is perfect for adventure or casual travel and will serve as your down pillow if your flight gets cancelled––trust me, I know. $325
OUTDOOR VITALS SATU ADVENTURE PANTS
These are some of the best travel pants I've ever tested––thick enough to wear in cold weather, breathable enough for warmer weather. They're also durable, they have an adjustable waist and hems if you're taking them on and adventure, and at the same time they're sleek enough to wear to dinner with a collared shirt. $130
ALECK OO6 WIRELESS AUDIO AND WALKIE-TALKIE HEADPHONES
These fit into any audio-compatible helmets, like the Smith Nexus above, and allow you to create a private walkie-talkie group for your friends on the mountain––with military-grade encryption. Using the app, you can see your friends' GPS position in real time on the mountain. When you're not using it for comms, it also streams audio and allows you to make calls on your phone with voice commands. $130
onX BACKCOUNTRY
This app is a like Waze for the backcountry––giving you continuously-updated maps for backcountry ski and snowboarding adventures with avalanche forecasts, snow conditions, and slope angles. If you know you'll be going outside of cell coverage, you can download interactive maps to use while you're offline. Subscribe
HYDROFLASK 32 WIDE MOUTH
Breaking a sweat at a high altitude in a dry climate makes for the best winter adventures, but it's a triple threat for dehydration. This 32-ounce bottle has you covered on that front, whether hot or cold, and the straw lid is leak-proof but makes for an easy grab and sipper. $49