The Cabot Moonshot 1911 Pistol Is Out Of This World
This lunar-themed .45-caliber pistol will set you back an astronomical $250,000.
Cabot Guns has unveiled a stellar "Moonshot" 1911 pistol encrusted with lunar meteorite fragments and a constellation of precious stones that celebrates the original moon landing.
The Pennsylvania-based gunmaker, which specializes in exotic custom versions of the iconic .45 caliber Colt 1911, designed the Moonshot as a celestial successor to their ultra-exclusive "Big Bang" meteorite pistols.
The heavenly handgun depicts planets and stars through the meticulous placement of stony meteorite shards along with tiny diamonds, rubies, sapphires and gold inlay.
The one-of-a-kind Moonshot also features grips etched with a 1969-era Apollo 11 lunar module and an astronaut planting an American flag on the moon. Both were cut and sculpted from steel plates and welded into place.
The Moonshot's space-black slide provides an otherwordly backdrop for planetary orbits, shooting stars, and meteorites, rendered in colored enamel by master engraver Lee Griffiths. Jupiter and Saturn appear next to each other as they did for the "Christmas Star" alignment of December 21, 2020.
Designers used a 4.5-billion-year-old iron meteorite to handcraft the Moonshot's front and rear sights, while the trigger was made from Eggerling Mosaic Damascus steel.
With the Moonshot, Cabot sought to connect the storied wartime legacy of the 1911 pistol, used by U.S. Armed Forces from 1911-1986, with the engineering achievements of the lunar landing and its legacy of adventure and exploration.
Cabot says the Moonshot–priced at an astronomical $250,0000–was designed as "an homage not just to the first moon landing in 1969 and other historic Apollo missions, but to adventurers, explorers, and heroes throughout time."
The gunmaker also collaborated with Parisian design house Les Ateliers Victor to create an exquisitely-crafted case that's nearly as impressive as the pistol itself.
The Moonshot case is crafted from a solid piece of Aerospace grade aluminum and etched with Egyptian hieroglyphs that include an ancient prayer to the stars and moon.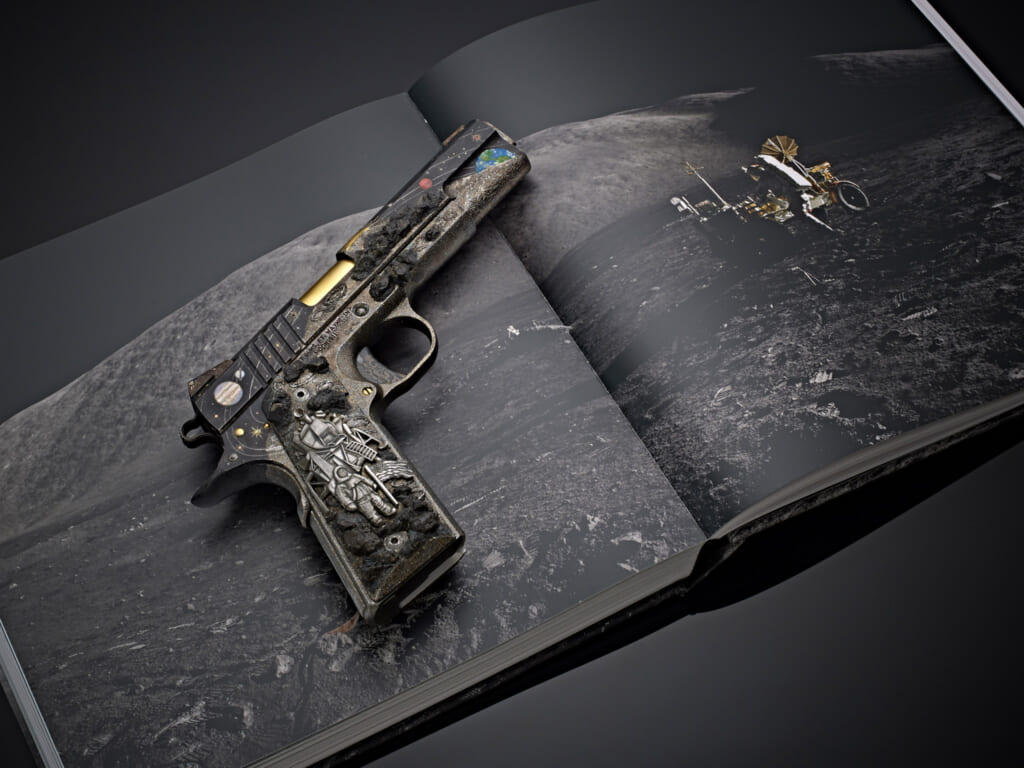 A special key is required to remove the star-flecked outer cover, while custom fasteners were created to resemble lunar modules and mimic those that secure space cargo.
Inside, there's a skeletonized solid titanium sliding lid secured by a combination lock of rotating planets. A code is required to gain access to the gun, which sits nestled in a luxe leather interior.
The case also includes a handsome Sandrin Torino knife with a polyhedral tungsten carbide blade and a custom grip designed to look like Earth when viewed from the moon's surface.
"With the Moonshot, we have pushed the boundaries as to the idea of mechanical art in the form of a pistol," said Cabot founder and CEO Rob Bianchin.
"The unique use of rare lunar meteorites and extra-terrestrial materials has never been employed in such a manner. It's a symbol of both an enduring American design and the accomplishments of America on a galactic scale."
Cabot, which celebrated its 10th anniversary last year, also plans to create an NFT of the Moonshot as the company launches a digital collection of Cabot 1911s on blockchain.