The Traeger Timberline Is A High-Tech Wood Pellet Grill Built For Foolproof Cookouts
A touchscreen controller, Bluetooth-connected induction cooktop and smartphone connectivity make Traeger's flagship grill a technological titan of the backyard cooker game.
Wi-Fi connectivity. An LCD touchscreen. Bluetooth-enabled accessories. These features are expected of ubiquitous devices like smartphones and automobile infotainment systems, but they're also now standard on Traeger's new top-tier Timberline series of wood pellet grills. It may be tempting to write off such a techy backyard cooker as a gimmick, but you shouldn't.
Two sizes occupy the flagship range. The Traeger Timberline boasts 880 square inches of space across three tiered grates—two 242-square-inch top grates, and one 396-square-inch main grate. That's enough room to fire nine chickens, eight rib racks, or six pork butts. Those with block party aspirations might consider the larger Timberline XL, which boasts 1,320 square inches of space to accommodate 12 chickens, 16 rib racks or 12 pork butts.
Both offer a maximum cooking temp of 500 degrees Fahrenheit and hoppers with 22 pounds worth of wood pellet capacity. Traeger makes eight pellet varieties with different protein pairing recommendations, but you can buy any brand.
This is the second Timberline generation, and existing members of the "Traeger-hood" will notice the shape has morphed drastically. Like every other full-size model that the storied wood pellet grill proprietor currently sells, the first-gen Timberline looked like a traditional smoker, with four legs supporting a barrel-shaped main chamber and a hopper/controller mounted to its right side. The new, second-generation Timberline has lost almost all aesthetic resemblance to a traditional smoker, save for a bulbous, half-barrel lid that ensures ample volume for smoke to fill.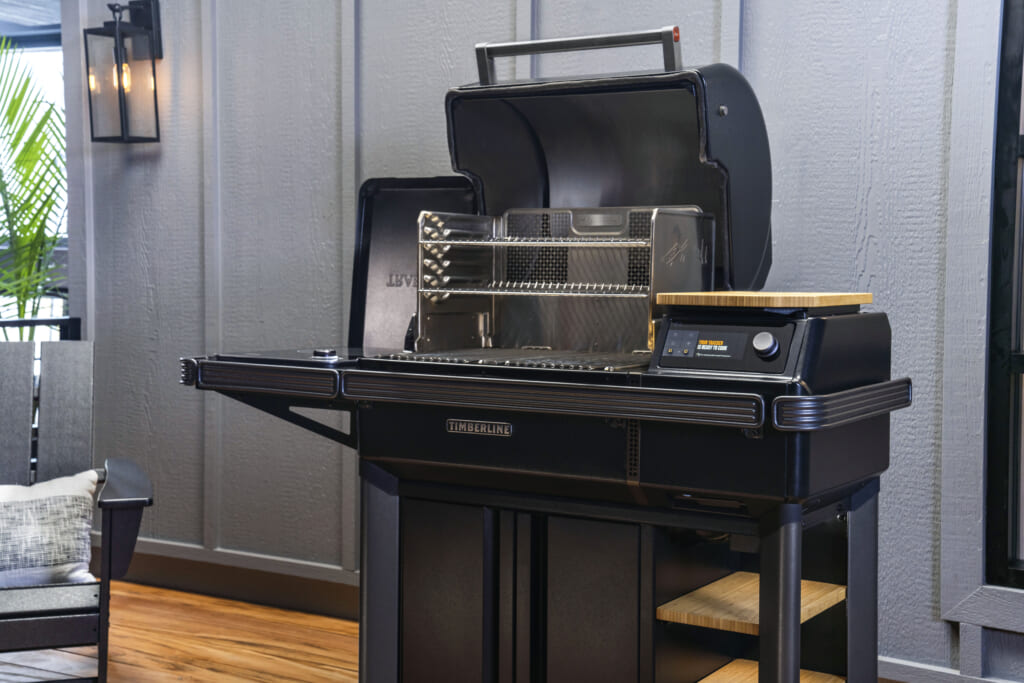 There's a fully enclosed cabinet underneath the smoke chamber, wooden shelving underneath the hopper/controller, a magnetically-secured cutting board on top of the hopper/controller, and an induction cooktop flanking the left side of the smoke chamber (more on that later).
The grill is also surrounded by a new "Pop-and-Lock" rail that takes a presently limited number of accessories, including plastic hooks from which to hang utensils and the most crucial accoutrement: a folding shelf that offers around 300 extra square inches of functional counter surface. These design additions are all functional and convenient.
But it's the three technologies listed in the lead of this article that make the Timberline a covetable backyard cooker. Those familiar with Traeger's premium models will know about WiFIRE—Traeger's Wi-Fi-enabled feature that effectively turns your mobile device into a mobile grill controller.
Most can merely 'gram their meat from their smartphone, but Traeger users can also run timed cook cycles, adjust heat levels, set internal meat temperature alarms using a probe, and run the shutdown cycle. The catchphrase "set it and forget it" is far better suited to the Timberline than the relentlessly infomercialized Ronco rotisserie oven that spawned that immortal slogan in the late '90s.
WiFIRE isn't new, but its stability is. I've successfully connected an older Traeger Ironwood model to the exact same home Wi-Fi network, but the feat required multiple troubleshooting sessions and reconnections over the course of a couple seasons. The Timberline has been connected exactly once, and the process took just a few minutes.
One certainly doesn't need an internet-connected grill and accompanying app, but it's awesome, especially for young novices. My pitmaster pedigree was non-existent before I began grilling on the Ironwood two years ago, so I scrolled through the free Traeger app to find my first recipes.
In my many hours spent using the Timberline, I still haven't strayed to a cookbook. From smoked midnight brisket to pulled pork and Cajun-brined smoked turkey breast, all of the 20-some recipes I've tried qualify for a repeat, and there are over 1,500 available. In fact, the app supplied my all-time favorite protein recipe—a pork tenderloin that's marinated in apple juice, honey, seasoning blend and fresh thyme, then smoked for about three hours. It's inexpensive, incredibly simple, fast (for a smoke-job), and yields succulent bites every time.
If you want to get off your phone in favor of a more 20th-century grilling experience, well, you're out of luck. The Timberline's controller has been upgraded from a button-based interface to an LCD touchscreen display aided by a single large dial. Making selections is easy enough, but more importantly, the display is more readable than its predecessors', being larger and angled upwards toward the eyes. If it sounds like I'm overanalyzing readability, this highly reviewed aftermarket controller angle mount for the first-generation Timberline implies otherwise.
The single most substantial change to Traeger's Timberline grill doesn't have anything to do with the grill, but the included, Bluetooth-enabled induction cooktop that mounts to its left side. These types of cooking surfaces are heated by electrical induction instead of thermal conduction, the latter being the process by which a flame heats a pot.
Cookware made of magnetic metals, such as cast iron or stainless steel, is required to use an induction cooktop, as the electrical current that heats the cookware is produced by a magnetic field. I'll avoid explaining further because I don't want to plagiarize more of this "How Does Induction Cooking Work" article.
The thing to know is that induction cooktops are the Cadillacs of their category. They regularly beat every other type of cooking range in Consumer Reports tests. They heat up faster—drop a cold pan of bacon on the Timberline's, and you'll hear a sizzle in under 10 seconds. Heat is also distributed evenly, eliminating hot/cold spots and ensuring all food on the cooking surface finishes at the same time. Induction cooktops are also safer than other ranges, as they only heat up after prolonged contact with cookware.
Traeger's inclusion of an induction cooktop on the Timberline vastly expands the cooking methods available to users. Boil water for pasta or veggies, sear a crust onto a steak, or simmer a homemade sauce without setting foot inside. And being a Bluetooth-enabled Traeger accessory, it can also be linked to your grill at the touch of a button and monitored from the Traeger app.
The Timberline series combines Traeger's time-honed pellet grill expertise with convenient technologies to make perfect cooks not just achievable but fool-proof, freeing users to spend less time tending to food, more time enjoying company, and zero time in the kitchen. A gimmick, it's not. From $3,499.99