Urwerk's Latest Luxury Watch Is Wrapped in 52 Carbon Fiber Layers
The $57,000 timepiece weighs 1/3 of an ounce and tracks Earth's revolutions around the sun.
The Urwerk UR-110V, noted for its ability to track Earth's solar orbit and a dinosaur-scaled T-Rex edition, is lighter than ever in a new carbon fiber edition.
The 41mm case is comprised of a titanium baseplate and 52 layers of high-resistance carbon compressed in an epoxy polymer resin, tipping the scales at just over 1/3 of an ounce.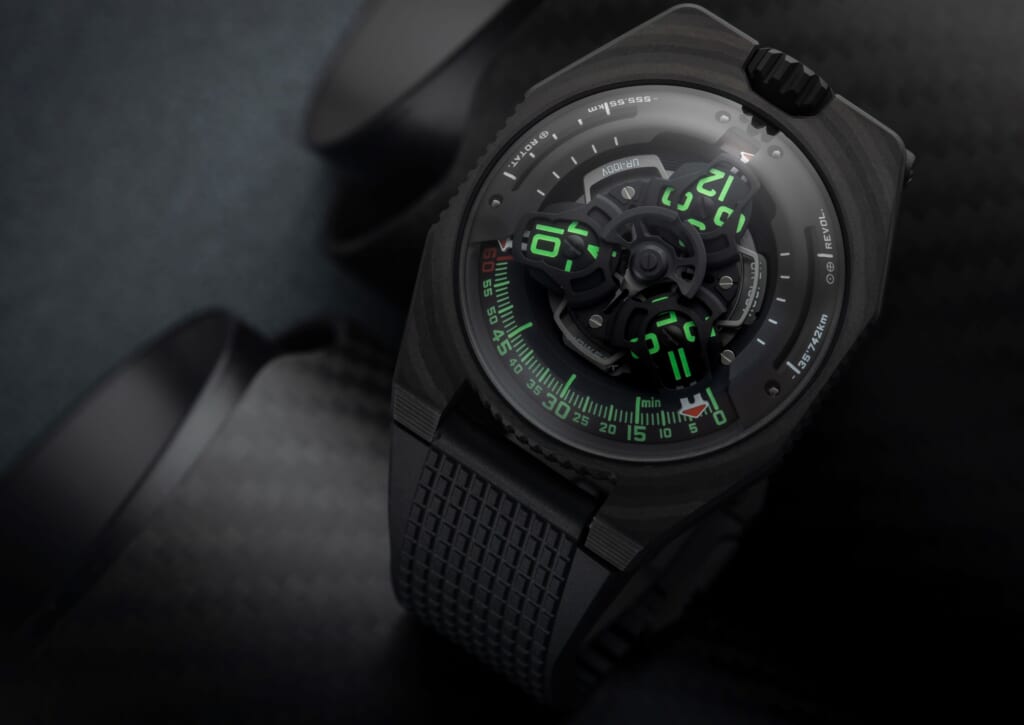 Those carbon layers serve a distinct aesthetic purpose too, as Urwerk co-founder Martin Frei explained in a statement.
"The [carbon layers'] curves enhancing the bezel of the UR-100V C52, tracing their way from the crown to the sides of the watch passing through the lugs, are a classic reference."
"We find this same motif on the ancient Greek columns. Striations drawn and dug in the stone almost 2500 years ago to channel rainwater and control its flow along these ageless pillars. This motif has become the symbol of classicism. With the new UR-100V, the circular case results from precision-cut 52 layers of carbon."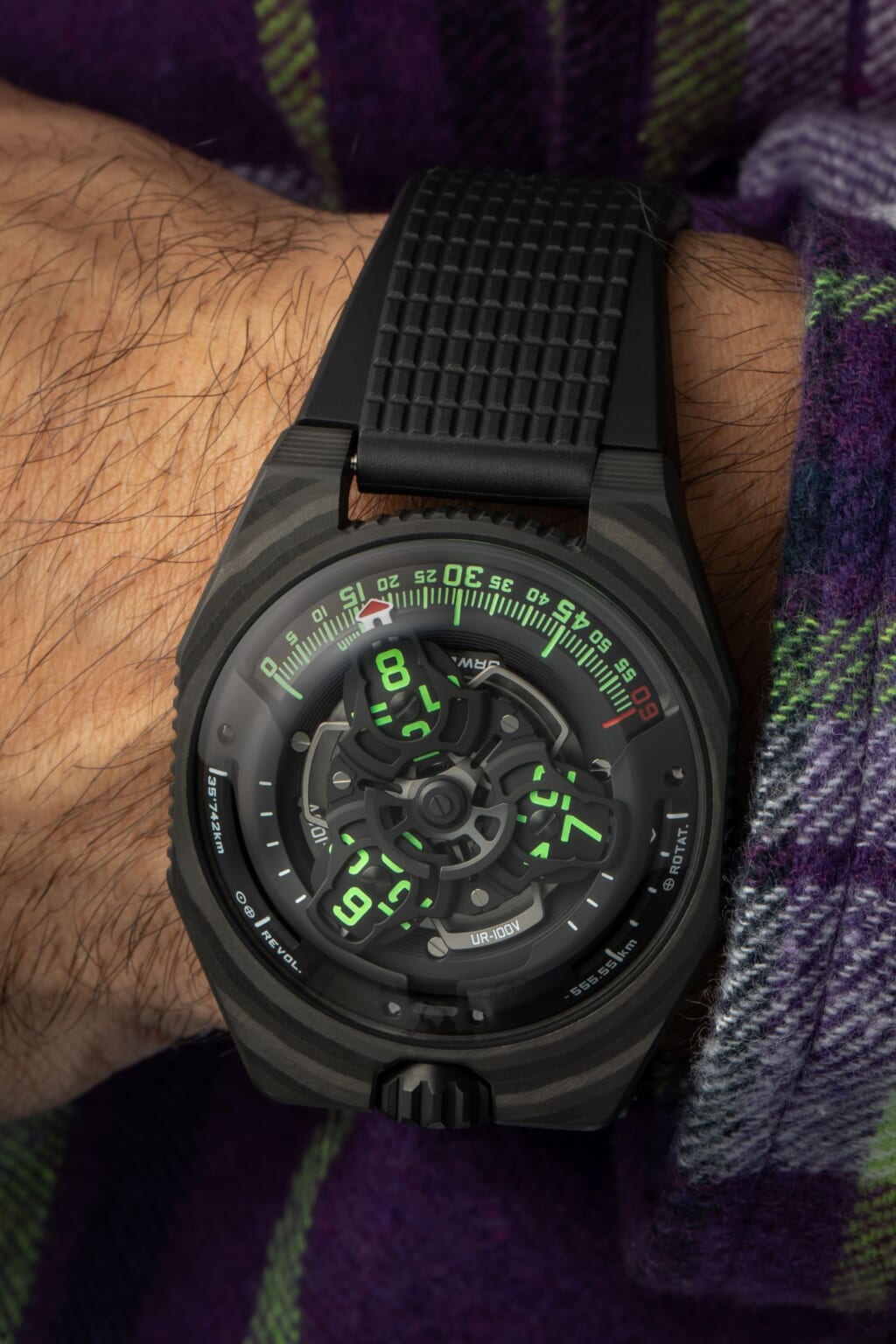 The bespoke rubber strap with a folding clasp also echoes the motif in texture, while an automatic-winding caliber with a 48-power reserve keeps the UR-110V ticking. And not only does the face display time, but the the speed at which Earth orbits the sun. Read more about Urwerk's intricate indications below:
On the UR-100V, the display of hours and minutes is via satellites. A minute hand (one of three), once past the 60-minute mark, disappears to then reappear as a kilometer counter. It illustrates the 555 kilometers we travel every 20 minutes on the surface of the Earth. 555 kilometers/hr is the average speed of rotation of the Earth at the Equator.

Opposite this indication, another displays the speed of the Earth's revolution around the sun, i.e., 35,740 kilometers in 20 minutes. On the face of the UR-100V, hours and kilometers share the same status, the same value. The hour and minute numerals indications are illuminated in highly legible incandescent green for easy ready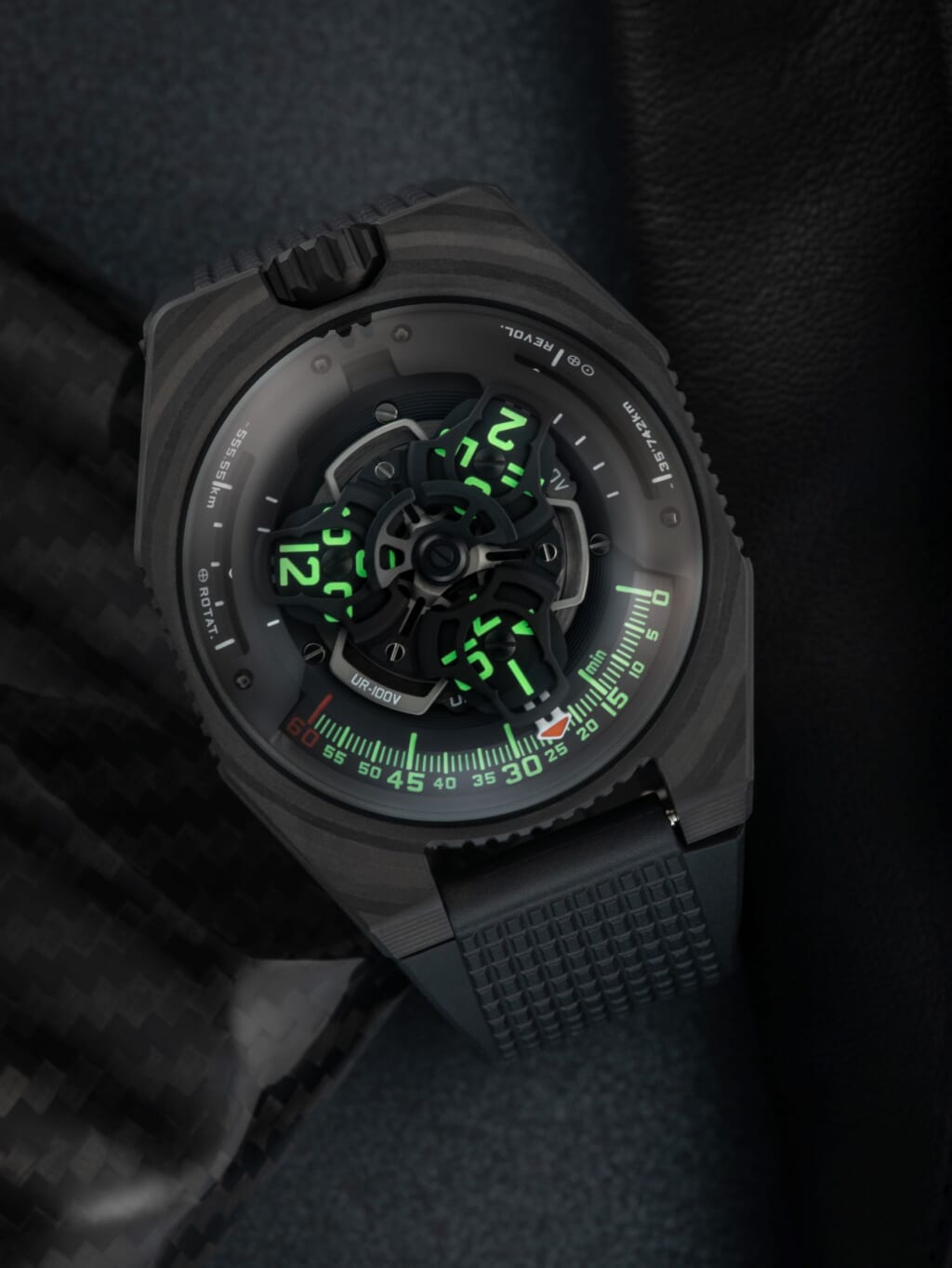 Priced at approximately $57,400, the Urwerk UR-100V C52 is available at select Urwerk retailers.