Former Google CEO Eric Schmidt on the Future of Artificial Intelligence
The billionaire tech visionary has been compared to fellow entrepreneurial icons Bill Gates, Jeff Bezos, and Steve Jobs.
During the information age of the last three decades, many innovators and entrepreneurs have contributed to the creation, adoption and now near-universal usage of computers and technology in our day-to-day lives.
Icons such as Bill Gates (Microsoft), Larry Ellison (Oracle), Jeff Bezos (Amazon), and Steve Jobs (Apple) certainly belong in that category, alongside the founders of Google, Larry Page and Sergey Brin.
Whilst each of these names, and associated companies, have played their role in the current technological state of the world, it can be argued that Google has had the most wide-ranging global impact with the diverse slate of services, products and industries it has come to dominate.
Whereas Amazon still largely sells goods (despite a recent move into cloud services), and Microsoft largely sells software, Google is in the business of information, in the information age. And while Page and Brin are the founders of the global behemoth that Google has become, it would be wrong to ignore the outsized impact that Eric Schmidt had on the company, and therefore the world, once he became Chairman and CEO in 2001—and continues to have in the age of artificial intelligence.
Schmidt, now a billionaire many times over, was raised in Blacksburg, Virginia, where his father was an economics professor at Virginia Tech. He himself chose Princeton University for college and began as an architecture student before, seemingly prophetically, switching his studies to electrical engineering, earning his degree there in 1976. He followed this by earning both his master's and doctorate in computer science at the University of California, Berkeley.
His early career included positions with a who's who of pioneering tech companies. A four-year stint at Xerox Corporation led to his move to the newly-founded Sun Microsystems, Inc. in 1983. He steadily climbed the hierarchical ladder at Sun, and by 1994 he was the company's Chief Technology Officer. Beyond his role in turning Sun into a global tech giant, he was also integral in the development, and usage, of the Java programming language; a milestone development in the coding and software development fields.
By 1997, his reputation in Silicon Valley was almost peerless, and as such he was approached by Novell, Inc. that year to become its Chairman and CEO. By 2001, Schmidt was more than ready for the enormous task about to be handed to him. It was in March of that year that he was appointed chairman of the board by Google, and then months later named the company's CEO.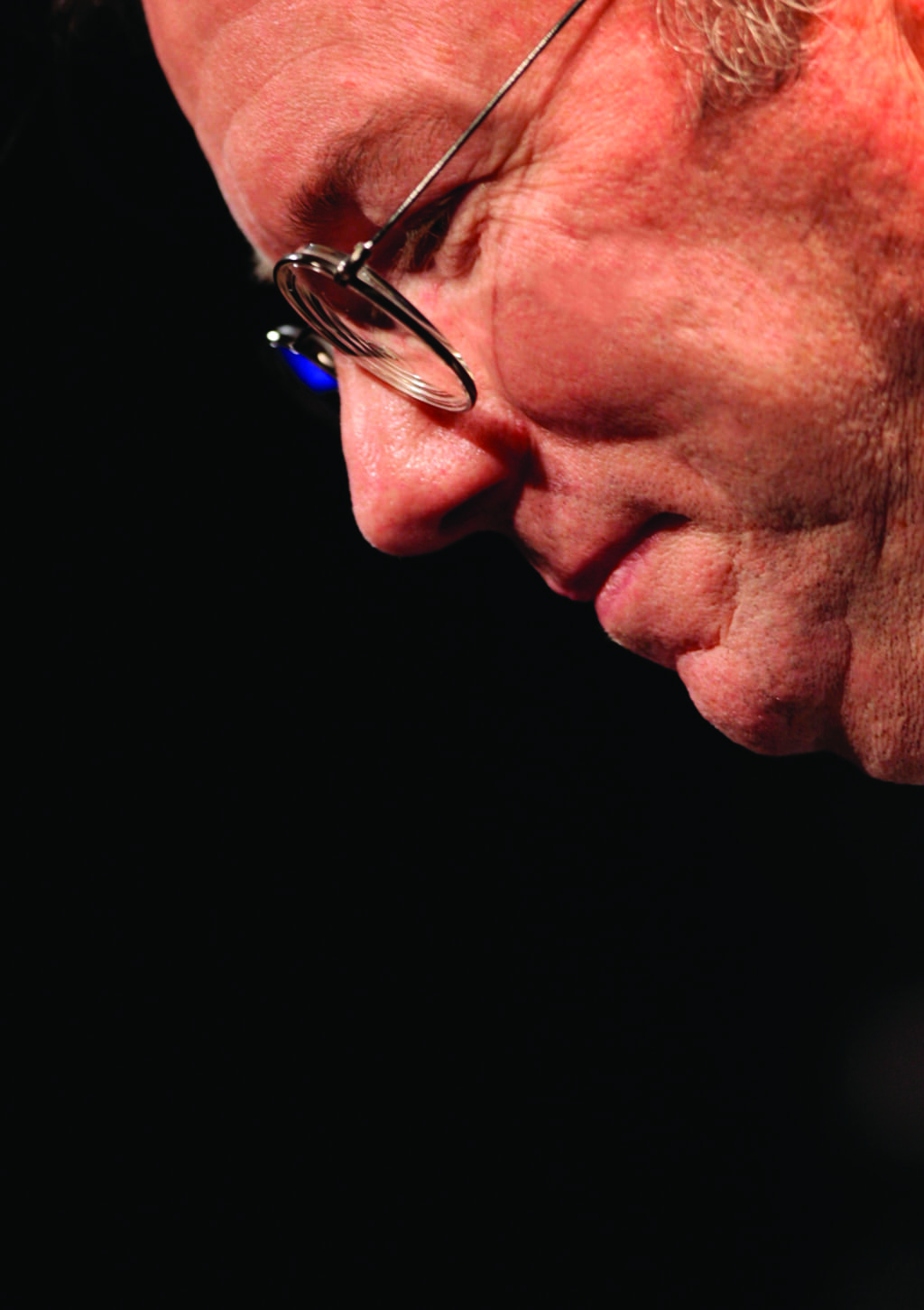 The company had grown to the point that founders Page and Brin needed help overseeing a rapidly expanding organization, and between his technical and business experience, Schmidt was the perfect executive to both continue their vision for the company and build the infrastructure and corporate resources needed as Google grew by leaps and bounds.
The term triumvirate dates back to the alliance created between the Roman leaders Julius Caesar, Marcus Licinius Crassus and Pompey the Great, forming a partnership that combined the most powerful political, military and economic men in all of Rome. One could view the trio of Brin, Page and Schmidt as a similar power structure at the top of a globally impactful organization. Each had strengths that could amplify. What came next will go down in technological history; due to the speed and size of the projects they initiated, executed and presented to the world.
Without hyperbole, it was a triumvirate with global power and influence that even Caesar and his colleagues likely never matched. It also cemented Schmidt as one of the most significant contributors to the rise of Google from a search engine into the diverse company it is today.
During his time, Google produced or purchased many of the pillars of their non-search business. Gmail, Google Books, Google Earth, Google News and Google Maps were all introduced during Schmidt's reign as CEO. He led the acquisitions of YouTube in 2006, and DoubleClick, which helped monetize the video platform as well as their search results, in 2007.
Of course, there would be his return to battling Microsoft, as he and Google did with the enormously successful Chrome web browser. And finally, the Android mobile operating system that holds a large market share of today's smartphone industry was also the result of Schmidt successfully facing off with other tech giants such as Apple.
In short, a large percentage of the services and products that have made Google a part of our daily lives around the world were created, developed and released under the leadership of Eric Schmidt.
Over his decade as CEO, Schmidt oversaw the growth of Google from a search engine into a ubiquitous part of our daily lives that impacts us through email, video, work platforms, advertising, data storage and an almost mind-blowing quantity of other advancements.
He oversaw the initial public offering of the company's shares in 2004. When Page took over the CEO role in 2011, Schmidt stayed on as executive chairman, continuing to push the company, and by extension, our society, even further into the technological and scientific future. When Google underwent corporate restructuring in 2015 and emerged as Alphabet Inc., Schmidt kept the same role. Even towards the end of his time with the company, stepping down as executive chairman at Alphabet in 2018, the tech industry icon continued his contributions, serving as a technical adviser to the company for another two years.
Forbes currently estimates Schmidt's net worth at $23.7 billion, putting him at #30 on the 2021 Forbes 400 list, and #96 on the 2021 list of the world's billionaires. In 2017 he began using his efforts outside of Alphabet to cofound Schmidt Futures with his wife Wendy. The goal of the philanthropic organization is to identify exceptional people making exceptionally positive impacts on the world, and provide them with the financial resources, personal connections and support needed to turn their projects and dreams into reality.
Forbes called it his "$1 Billion Moon Shot Plan" to fund promising teenagers around the globe, and thereby "make the world a better place." Forbes notes that the Schmidt family is also "passionate about environmental sustainability and has donated to various projects related to renewable energy and climate change," while he has also "toured some of the world's most tightly controlled regimes to promote open internet access, including in Cuba and North Korea."
Schmidt and his wife's Schmidt Family Foundation "focuses on sustainability and natural resources, and their Schmidt Ocean Institute has funded the construction of Falkor, an ocean research vessel used by academic oceanographers," Forbes adds.
In all, the magazine estimates, Schmidt's family have "publicly committed more than $2 billion to charity so far, with more than $600 million already being doled out." Schmidt also continues to be involved not only on corporate boards, but in academia, such as his role as an MIT Visiting Innovation Fellow and positions on several advisory boards at the university. He also has served the public, notably as Chairman of the Department of Defense's Innovation Board for four years, and currently acts as Chair of the National Security Commission on Artificial Intelligence.
Given his professional and financial successes, it would be easy to think Schmidt eventually moved along to a well-deserved retirement on a private island or megayacht. Instead, Schmidt has immersed himself in yet another technological revolution that is currently unfolding, and in doing so, stands to play a role yet again in the drastic, and rapid, changes that our world is experiencing.
The revolution unfolding is that of artificial intelligence (AI), and Schmidt again finds himself a leading figure in a cutting edge industry. The only problem? Neither he nor anyone else knows exactly what is going to unfold, when, or how. Quite a daunting proposition when considering something as potentially powerful and worldshaking as AI, and the process of machine learning.
It's with this balance of excitement and concern that Schmidt recently co-authored The Age of AI: And Our Human Future alongside iconic statesman and geopolitical giant Henry A. Kissinger, and Daniel Huttenlocher, inaugural dean of the MIT Schwarzman College of Computing and one of the leading academic and industrial minds in computer sciences.
Together, the three brilliant men spent years discussing the countless issues AI was bound to bring up, and eventually decided to distill what they had learned and concluded into text form and share it with the world.
The book, and Schmidt, don't attempt to provide many simple answers or obvious solutions to the potential shortcomings, complexities and contradictions that the AI-revolution is certain to produce. Rather, it provides the reader with the tools to ask the right questions moving forward as these issues arise, and the knowledge to recognize where AI is already making inroads into our daily lives, even when we don't realize it.
Schmidt, Kissinger and Huttenlocher are wise enough to know that they don't have many answers about how this will affect both small and large events. Instead, they focus on finding the right questions to ask of the most significant impacts (positive or negative) that may result from the expansion of AI. Examples include questions like "What do AI-enabled innovations in health, biology, space and quantum physics look like?", "What does AI-enabled war look like?" and "Does AI perceive aspects of reality humans do not?"
While these are certainly broad questions, they are absolutely vital as humanity experiences the dramatic changes that artificial intelligence is, and will, cause to our global society.
According to Schmidt and his co-authors, "While the advancement of AI may be inevitable, its ultimate destination is not. Its advent, then, is both historically and philosophically significant. Attempts to halt its development will merely cede the future to the element of humanity courageous enough to face the implications of its own inventiveness." Rather than focus on exactly how AI may be used, or misused, Schmidt's focus is on what he can foresee, such as AI's inevitability. In this case, he can envision that even if some reject the development of AI, this will only mean that development is solely conducted by those few who don't have philosophical or moral issues with such technology.
The book explains, "Humanity has experienced technological change throughout history. Only rarely, however, has technology fundamentally transformed the social and political structure of our societies. More frequently, the preexisting frameworks through which we order our social world adapt and absorb new technology, evolving and innovating within recognizable categories. The car replaced the horse without forcing a total shift in social structure….Only very rarely have we encountered a technology that challenged our prevailing modes of explaining and ordering the world. But AI promises to transform all realms of human experience."
Schmidt provides a plethora of examples of the ways AI has already been introduced into our society, technology and daily life, ranging from increasing power efficiency at server farms, to dogfighting military fighter jets, to making our online shopping more precisely tailored to our preferences. Most importantly, he asks open-ended questions that likely won't have answers for years, if ever. But just because there isn't a clear answer doesn't mean it's not vitally important for us as a society to question and evaluate the role AI is carving out for itself.
Artificial intelligence, the usage of machine learning and neural networks to advance these technologies, and the myriad of potential outcomes for our world are certainly exciting, yet formidable in their uncertainty. But it's good to know that the man who played such a huge role in shaping the modern information age and the underlying technologies, is putting his mind and resources to use to make sure that when the time arrives and these technologies force us to answer difficult questions, we'll at least have the technical and social understanding to ask the right questions and maybe, just maybe, find the right answers.
The Kissinger Connection
In addition to being his co-author, Henry Kissinger, 98, considers Eric Schmidt (in his words) "one of my best friends." As Schmidt told The Tim Ferriss Show podcast, "I am convinced that the secret to longevity is being a workaholic. The reason I say that is that Henry Kissinger, at the age of 90, knew nothing about the digital world, although he had a lot of opinions about it. But he has mastered the digital world and artificial intelligence with the alacrity and the speed of people who are just getting into it now."
It was Schmidt who first sparked his interest in the subject during his tenure at Google when he invited Kissinger to give a speech at the tech giant's HQ. At a 2019 National Security Commission on Artificial Intelligence Conference, Kissinger reportedly cited that as the beginning of their friendship. According to Time, Schmidt subsequently persuaded Kissinger to attend a lecture on Artificial Intelligence while at the Bilderberg conference in 2016.
"The technological miracle doesn't fascinate me so much; what fascinates me is that we are moving into a new period of human consciousness which we don't yet fully understand," as Kissinger told Time.
"I think the technology companies have led the way into a new period of human consciousness, like the Enlightenment generations did when they moved from religion to reason, and the technologists are showing us how to relate reason to artificial intelligence. It's a different kind of knowledge in some respects, because with reason—the world in which I grew up—each evidence supports the other."
However, the statesman points out, "With artificial intelligence, the astounding thing is, you come up with a conclusion which is correct. But you don't know why. That's a totally new challenge. And so in some ways, what they have invented is dangerous. But it advances our culture. Would we be better off if it had never been invented? I don't know that. But now that it exists, we have to understand it. And it cannot be eliminated. Too much of our life is already consumed by it."