10 Great Virtual Workouts To Stay Fit While Staying Home
Keep in shape with the best Instagram Live fitness feeds and workout apps.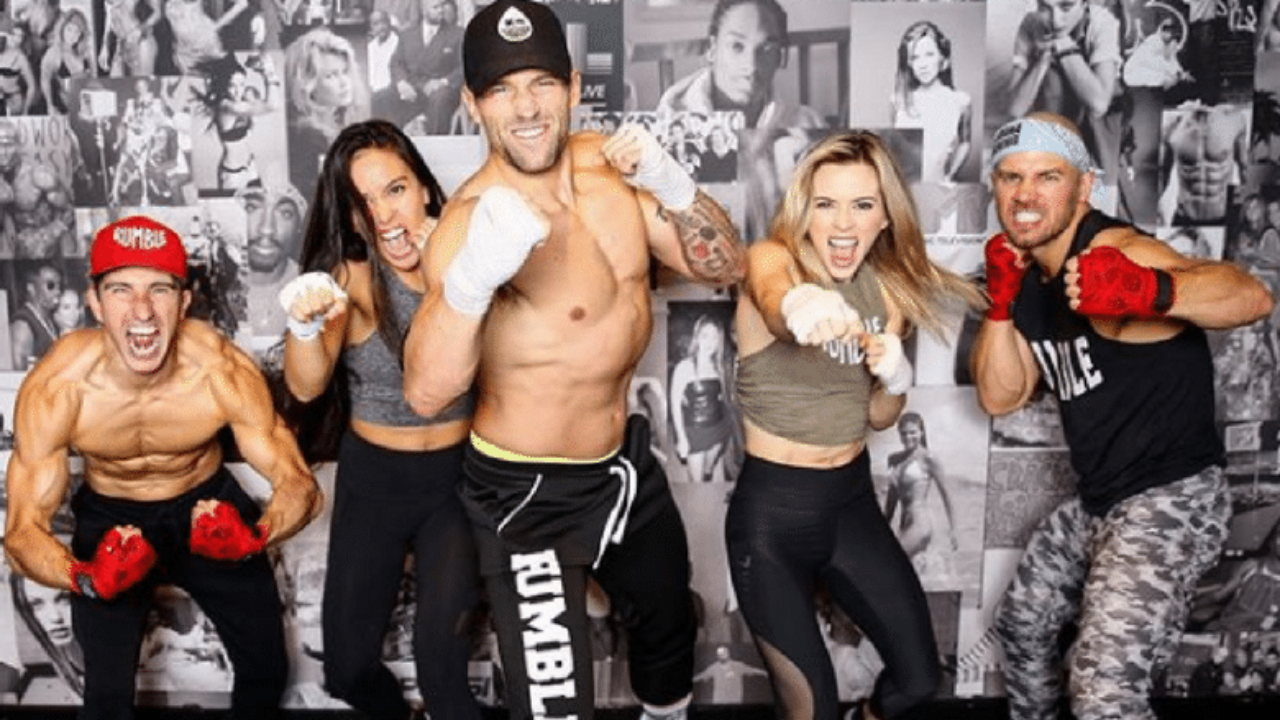 In this new reality of social distancing, which plays an critical role in slowing transmission of the coronavirus, many of us are searching for fun, familiar and effective ways to continue our daily workouts while we "shelter in place" that benefit both our physical and mental health. So if you're used to class workouts and instructors, don't sweat it. No gym? No problem.
Noah Neiman, co-founder of Rumble Boxing, explained how his Rumble Instagram Live stream can keep you physically and mentally fit. "Whether you roll up to Rumble bricks and mortar when we reopen, or tune in live on Instagram, you know you're going to get that positive energy," Neiman says. 
"You know you are going to get a challenging workout that will force that body to adapt, but more important than that, you know you're going to be able to live in the moment. No anxiety about the future, no depression about the past, for that live workout, you get to tune out all the bullshit and fear-mongering that's so prevalent right now. You get to live in the present. Our trainers have been amazing in lending their talents, knowledge, and energy to the world at this time."
Megan Roup, founder of The Sculpt Society, a favorite long and lean workout among many major supermodels, says "the live component of my app has helped my community feel accountable and a sense of normalcy through this time. 
"I livestream on the TSS app every day at the same time and it's another great reminder that we are not alone, my community comes together and thousands stream live with me everyday from my apartment." If you look at Roup's Instagram The Sculpt Society, there's no denying the benefits of bending and moving your body. 
There are lots of workout options, from Instagram Live streams and apps to custom workout content. Here's a rundown of some of our favorite fitness options while we shelter in place.
Rumble Boxing Instagram Live
https://www.instagram.com/p/B-Crelnn78q
One of the first to get on the Instagram Live programming since the pandemic providing a weekly streaming schedule is Rumble. "The most important distinguishing factor about Rumble on Instagram Live is us. It's our voice. It's our delivery. It's our crew. It's our music. Everything about it is naturally unique, because we have always stayed true to one principle; be us. Our trainers are not just incredibly knowledgeable on what workout to deliver, but they are the best in the world at how they deliver it. Everyone can cue you up in a squat; but can they galvanize across an entire digital world? We're honored to be able to deliver insanely great workouts with the vibe the world has come to expect from Rumble," says Neiman. 
The Sculpt Society App
https://www.instagram.com/p/B-Cnh3sJ86i
Celebrity trainer Megan Roup brings simplified dance cardio and sculpting to lengthen and strengthen at every level. Key highlights include on-demand and live workouts ranging from five to 55 minutes, videos with her celebrity clients, and a four-week program to keep you on track—no equipment required. You can sign up for a free 14-day free trial or get 50 percent off a yearly membership here.
Nina Agdal App
https://www.instagram.com/p/B94k0M2BdG4
Maxim cover beauty and top model Nina Agdal launched her treadmill, workout and nutrition app just five days ago. The app is designed to build a badass, uplifting community that encourages one another to live healthier and happier lives. Agdal's timing could not have been better. Check it out here, with special $1 pricing for the first 30 days.  
Melissa Wood Health Platform
https://www.instagram.com/p/B9y43egFLNu
According to the site, "the MWH Method sculpts beautiful long lean lines throughout your entire body using precise, low impact movements. But this practice isn't just about building a body you desire; it's about building a better, stronger relationship with yourself." From workouts and nutrition advice to recipes, mindfulness tips, special guests and more, Melissa Wood provides a one-stop destination for all your health and wellness needs. Begin a free seven-day trial by subscribing here.
Box and Flow Instagram Live
https://www.instagram.com/p/B94BHtHJlIp
Part boxing cardio and part yoga, Box and Flow brings the best of both worlds to your heath and wellness routine. Founder Olivia Young and her expert team are currently providing daily Instagram Live programming. See the weekly schedule here.
Bandier Streaming
https://www.instagram.com/p/B-AIIpQggcO
Activewear destination Bandier is no stranger to top fitness programming.  In addition to the debut of a new website, Bandier is offering at-home workouts streamed live on Instagram everyday at 4 p.m. EDT.  
Carbon38 Instagram Live
https://www.instagram.com/p/B-CznRvjrZi
Performance fashion site Carbon38 provides supremely stylish but functional fashion as has launched Work (Out) From Home, a new Instagram Live series that brings classes from their top C38 brand ambassadors. See the daily schedule here.
Fitplan App
https://www.instagram.com/p/B8o-kzji30a
Personal training app Fitplan is offering reduced pricing to new customers around the globe. Click here to see the rate based on your geographic territory. 
Exhale On Demand
https://www.instagram.com/p/B1FAcB6Fawm
Exhale's popular barre and cardio classes are available on Exhale On Demand with a free 30-day trial. Click here for more info.
Variis by Equinox On-Demand
https://www.instagram.com/p/B-C5Ui3J7Vw
Variis by Equinox is a new streaming platform from the fitness powerhouse that "brings together the best brands in fitness – now on demand." Brands include Equinox, SoulCycle, Precision Run, Pure Yoga, Headstrong and Myodetox.