Guy Fieri Raised Over $20 Million To Help Unemployed Restaurant Workers
All hail the Mayor of Flavortown.
The Mayor of Flavortown is a badass. 
That's right, we said it. Guy Fieri—restaurateur, author, Emmy Award winning host of classic food-related reality shows like Diners, Drive-Ins and Dives and Maxim editor spritzer (see below)—is not exactly who he seems to many with just a passing familiarity of his work.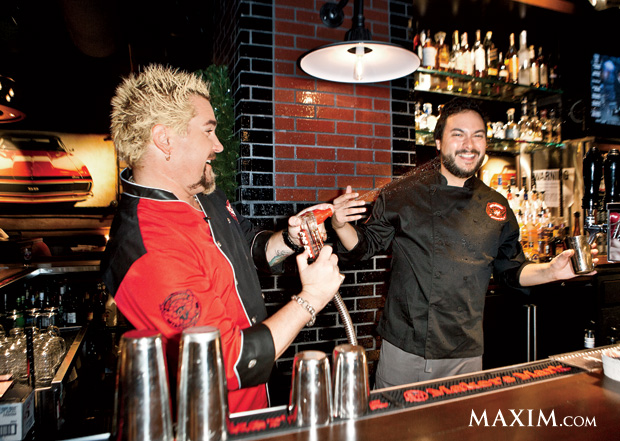 He's been parodied and satirized as the ultimate bro-friendly food dude, and even if he is some of those things, he also cares about his people and uses his fame and privilege to help. The proof is after the dollar sign: $20 million.
CNN reports on Fieri's joint effort with the National Restaurant Association Educational Foundation (NRAEF) to aid food service workers left unemployed by the novel coronavirus pandemic:
[With] many restaurants closed due to social distancing measures, the food industry is one of the hardest hit.

That's why celebrity food personality Guy Fieri partnered with the National Restaurant Association Educational Foundation to raise money for the foundation's Restaurant Employee Relief Fund. And in under two months, Fieri, known as "The Mayor of Flavortown," has helped the fund raise more than $20 million, according to the foundation.
If this has you realizing you've slept on Fieri—who to his credit seems to take most aspects of his fame in stride, including parodies—you are not alone. Twitter reactions to news of his service have been telling.
https://twitter.com/Allan22Smith/status/1258950021795454979
The Mayor of Flavortown has basically done more to provide direct assistance to out-of-work restaurant industry workers than any elected politician https://t.co/b8SqTXCmmX

— Kim Kelly (@GrimKim) May 8, 2020
https://twitter.com/johnsemley3000/status/1258936679022366721
Adulthood is realizing that Guy Fieri is an absolute king

— DJSCheddar (@DJSCheddar) May 9, 2020
Regarding Fieri's role in raising enough money to send $500 grants to up to 40,000 people who need it, NRAEF president Rob Gifford said in a statement (via CNN) that "With Guy as our champion and the support of so many generous companies, we can help get our family of restaurant workers back on their feet."
So rethink any assumptions you had about Guy Fieri. In a time when famous folks with means think an off-key cover of "Imagine" is helping somehow, the guy who puts his fame and money to work in the name of helping others is the definition of a real man who gives a damn—and it shows.