What Gyms Might Look Like When They Reopen After Coronavirus Lockdown
Reopening gyms will have to take social distancing–and cleaning–more seriously than ever before.
While there is debate as to when it should happen, the fact is businesses are reopening in places where the coronavirus pandemic shows signs of abating. Among the first wave of businesses to open their doors again: gyms. 
Men's Health did a deep dive into how everyone's experience at the gym is about to change post-COVID-19. Because like it or not, working out is about to be a very different experience for those who run fitness facilities and for their customers.
Men's Health noted that a spokesperson for the U.S. Surgeon General said that gyms are allowed to open as long as "they adhere to strict physical distancing and sanitation protocols." 
To that end, gyms at all levels with different customer bases and setups have put some plans in place, Men's Health reports:
Equinox, SoulCycle, and other gyms will require members to be scanned by a thermal thermometer to ensure they're not running a fever, one of the many symptoms of COVID-19.

Xponential Fitness—the parent company of Pure Barre, YogaSix and Club Pilates—is among the chains that will make members sign new waivers of liability specific to the coronavirus. Gold's Gym corporate-owned locations (which are managed differently than locations owned by franchisees, notably) and 24 Hour Fitness will close at least once during operating hours to disinfect.

OrangeTheory will require members to wear masks to work out.
Other measures reported by Men's Health include the following:
24 Hour Fitness plans to institute hourlong blocks followed by 30-minute closures to clean. Gold's corporate locations will close at 1 pm local time each day for an hour to disinfect, something the gym chain is calling an "intermission."
Equinox and SoulCycle will have UV-C phone sanitizers available for patron use
OrangeTheory will require staff members to wear personal protective equipment (PPE) and coaches most wear non-surgical masks.
Gold's Gym, Life Time and 24 Hour Fitness are among the chains that will train employees on how to approach members who don't properly social distance or wipe down equipment.
OrangeTheory has removed all furniture in the lobbies.
Gold's Gym has ordered 250,000 surgical masks. Those will go to markets where face coverings in public are mandated, but solely for those members who forgot their masks at home.
Contactless check-in will become universal at major gyms and fitness studio chains.
The novel coronavirus is a danger in great part because it is just that—new to human experience. Coronaviruses are a known class of pathogen and do cause the common cold—this particular kind was never seen in humans prior to late 2019. Science still doesn't have a handle on its long-term effects or just how damaging it is to survivors, though it seems there are spooky developments daily. 
The measures described above are aimed at stopping the virus spread, and it appears you can't be too thorough. WebMD lists how long COVID-19 lasts on various surfaces, some of them found in every gym:
Metal
Examples: doorknobs, jewelry, silverware
5 days
Wood
Examples: furniture, decking
4 days
Plastics
Examples: packaging like milk containers and detergent bottles, subway and bus seats, backpacks, elevator buttons
2 to 3 days
Stainless steel
Examples: refrigerators, pots and pans, sinks, some water bottles
2 to 3 days
Cardboard
Examples: shipping boxes
24 hours
Copper
Examples: pennies, teakettles, cookware
4 hours
Aluminum
Examples: soda cans, tinfoil, water bottles
2 to 8 hours
Glass
Examples: drinking glasses, measuring cups, mirrors, windows
Up to 5 days
Ceramics
Examples: dishes, pottery, mugs
5 days
Paper
The length of time varies. Some strains of coronavirus live for only a few minutes on paper, while others live for up to 5 days.
Some gyms have already opened in Georgia, though LA Fitness reportedly backed off a previously planned return to business on May 1st for its locations. 
Facilities that do go ahead and resume operations are required to follow a slew of new rules, including not allowing "patrons exhibiting a temperature greater than 100.4 degrees Fahrenheit, cough, shortness of breath, or other respiratory symptoms" to enter at all. 
Regarding questions of safety in large corporate vs. smaller, independent gyms, Men's Health asked Duke University School of Medicine immunology professor Dr. Michael "Dee" Gunn if there was a difference.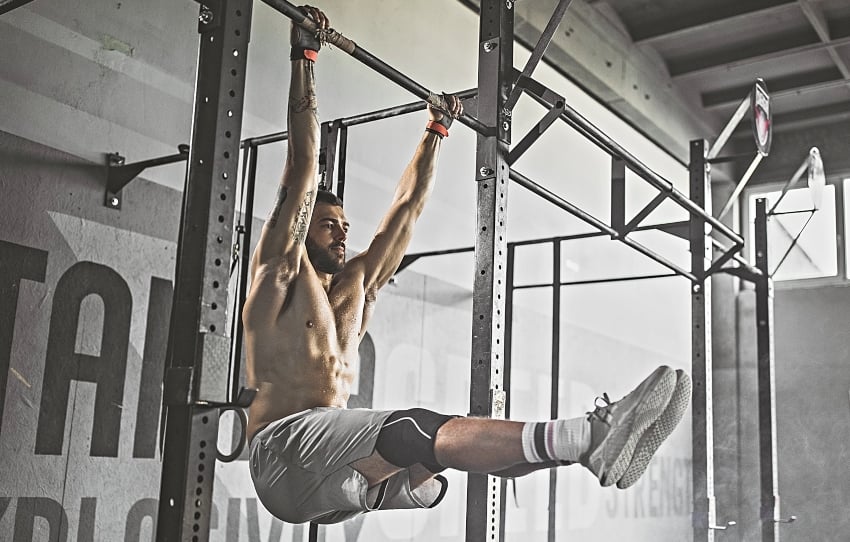 Dr. Gunn was succinct. "We don't exactly know and that's part of the problem." 
"Cleaning protocols" like wiping down the station after each use are good, Gunn said, but "especially at non-chain gyms outside major cities, these are the kinds of regulations that rarely wind up enforced or obeyed."
Gunn went on to say he worries the most about "being in an enclosed space where the air is stagnant." 
"If someone just coughs," he continued, "there's an aerosol that can hang out there for hours and you can inadvertently walk into a cloud of coronavirus."
"I'd feel much more comfortable being outdoors," Gunn said, "One thing that maybe should be considered is, can you open these buildings up to a greater extent and bring in exhaust fans to create more air movement?"
If stinking up the living room as you sweat through a bodyweight or bands workout is about to drive you (and loved ones) crazy, fear not—your preferred "iron paradise," to use The Rock's term, will be available again before you know it.
But just like so many other things in daily life, the novel coronavirus has ensured it will be a totally different experience.