This New Dating App Reveals What Single People In Every State Hate, And the Answers Are Hilarious
Find out what daters in your state absolutely can't stand…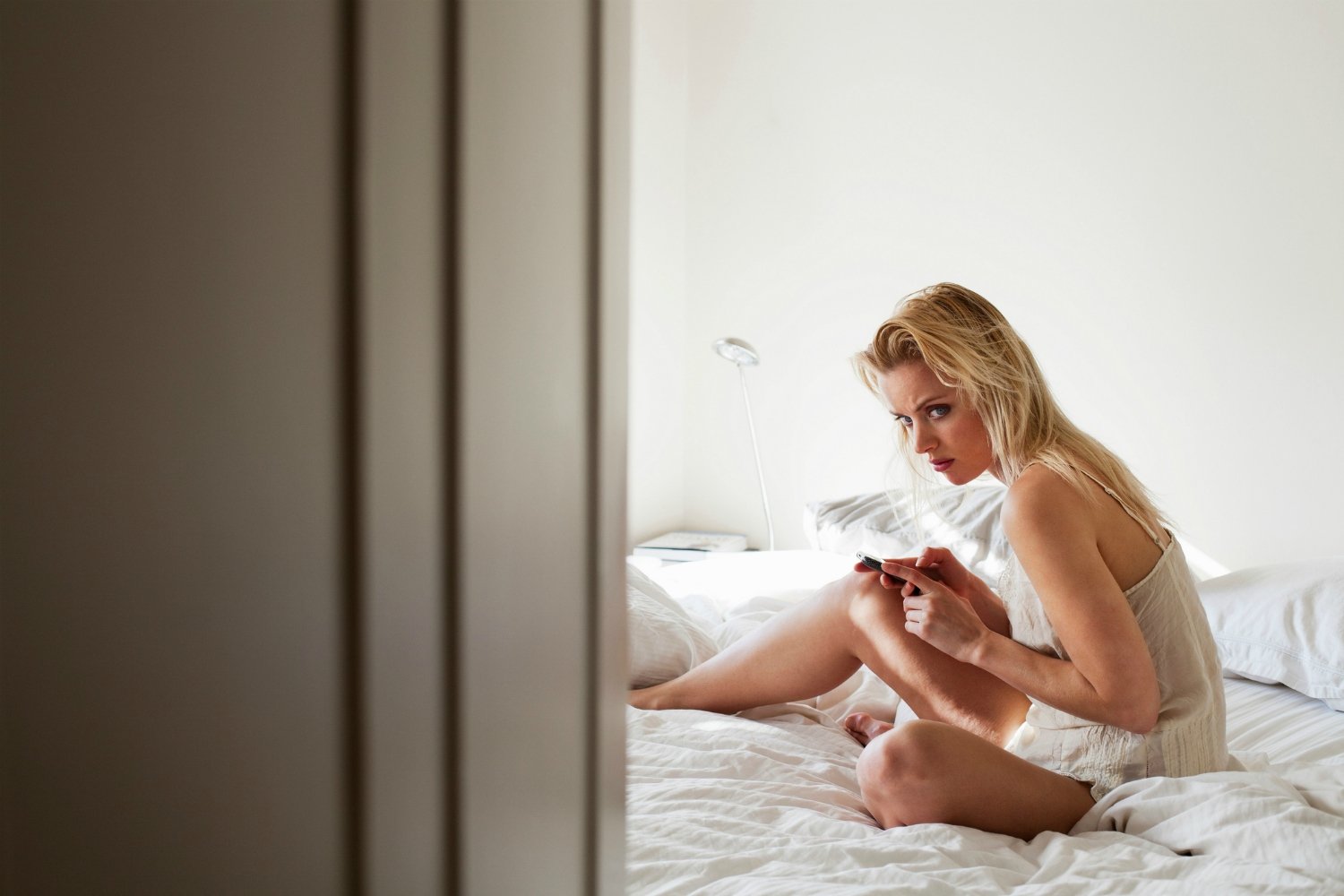 You know how conventional dating apps match singles based on mutual likes and the subsequent compatibility? Well, that's cool and all, but you know what's even better than liking the same things? Hating the same things. 
That's exactly the mentality behind the new dating app Hater, which matches you with potential lovers based on things you both hate. Aww, so romantic. 
You might be thinking that a relationship based on mutual hate can't be too healthy, let me put your worries to rest. Studies show that people who hate the same things actually have stellar chemistry, which is quite nice. 
Anyway, Hater recently analyzed data from its users all across America to figure out what the most hated thing in each state is, and then put it all together to create a magnificent map of the United States of Hate.
See all of the hate below: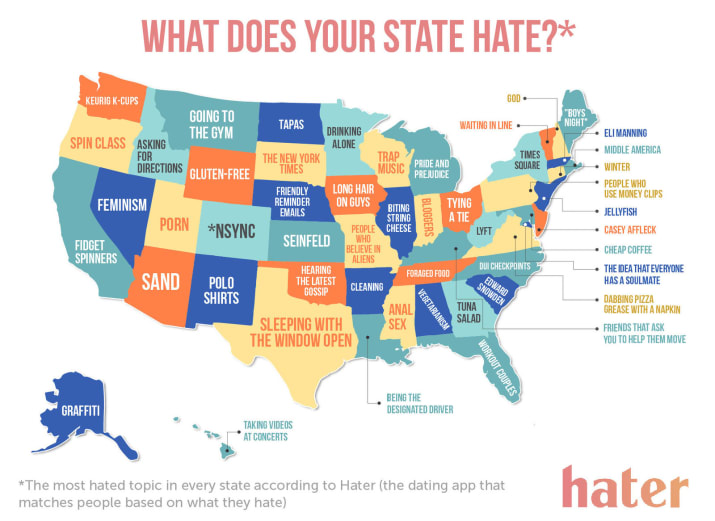 As you can see on the map, some states hate things that are pretty understandable. For instance, Oregon hates spin class. I totally understand why. Spin class is stupid.
Other states, however, hate some pretty ridiculous things, like Georgia does. Tuna salad? Really, Georgia?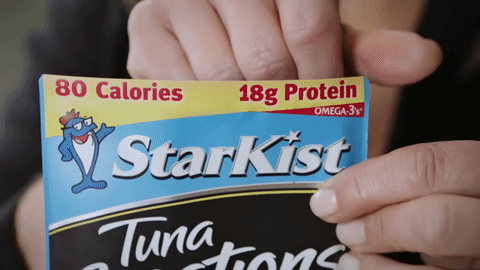 Um, let me speak directly to the tuna-haters in Georgia for a minute: what did tuna salad ever do you??
In case you prefer to read instead of look at a visual map, please see the list below, where I've listed the most hated stuff in all 50 states in alphabetical order:
Alabama: Vegetarianism
Alaska: Taking videos at concerts
Arizona: Sand (haha)
Arkansas: Cleaning
California: Fidget spinners
Colorado: *NSYNC
Connecticut: Winter
Delaware: Casey Affleck
Florida: Workout couples
Georgia: Tuna salad
Hawaii: Graffiti
Idaho: Asking for directions 
Illinois: Biting string cheese
Indiana: Bloggers
Iowa: Long hair on guys
Kansas: Seinfeld
Kentucky: Friends that ask you to help them move
Louisiana: Being the designated driver
Maine: "Boys night"
Maryland: Cheap coffee
Massachusetts: Eli Manning
Michigan: Pride and Prejudice
Minnesota: Drinking alone
Mississippi: Anal sex
Missouri: People who believe in aliens
Montana: Going to the gym
Nebraska: Friendly reminder emails
Nevada: Feminism
New Hampshire: God
New Jersey: Jellyfish
New Mexico: Polo shirts
New York: Times Square
North Carolina: DUI checkpoints
North Dakota: Tapas
Ohio: Tying a tie
Oklahoma: Hearing the latest gossip
Oregon: Spin class
Pennsylvania: People who use money clips
Rhode Island: Middle America
South Carolina: Edward Snowden
South Dakota: The New York Times
Tennessee: Foraged food
Texas: Sleeping with the window open
Utah: Porn
Oh, come on, Utah. 
Vermont: Waiting in line
Virginia: Dabbing pizza grease with a napkin
Washington: Keurig K-cups
West Virginia: Lyft
Wisconsin: Trap music
Wyoming: Gluten free
What do you think? Did your state get it right?
H/T: Mashable