Jeff Bezos' Fiancée Lauren Sanchez Inspired Figurehead On His $500 Million Superyacht
A likeness of Sanchez now adorns the world's biggest sailing yacht.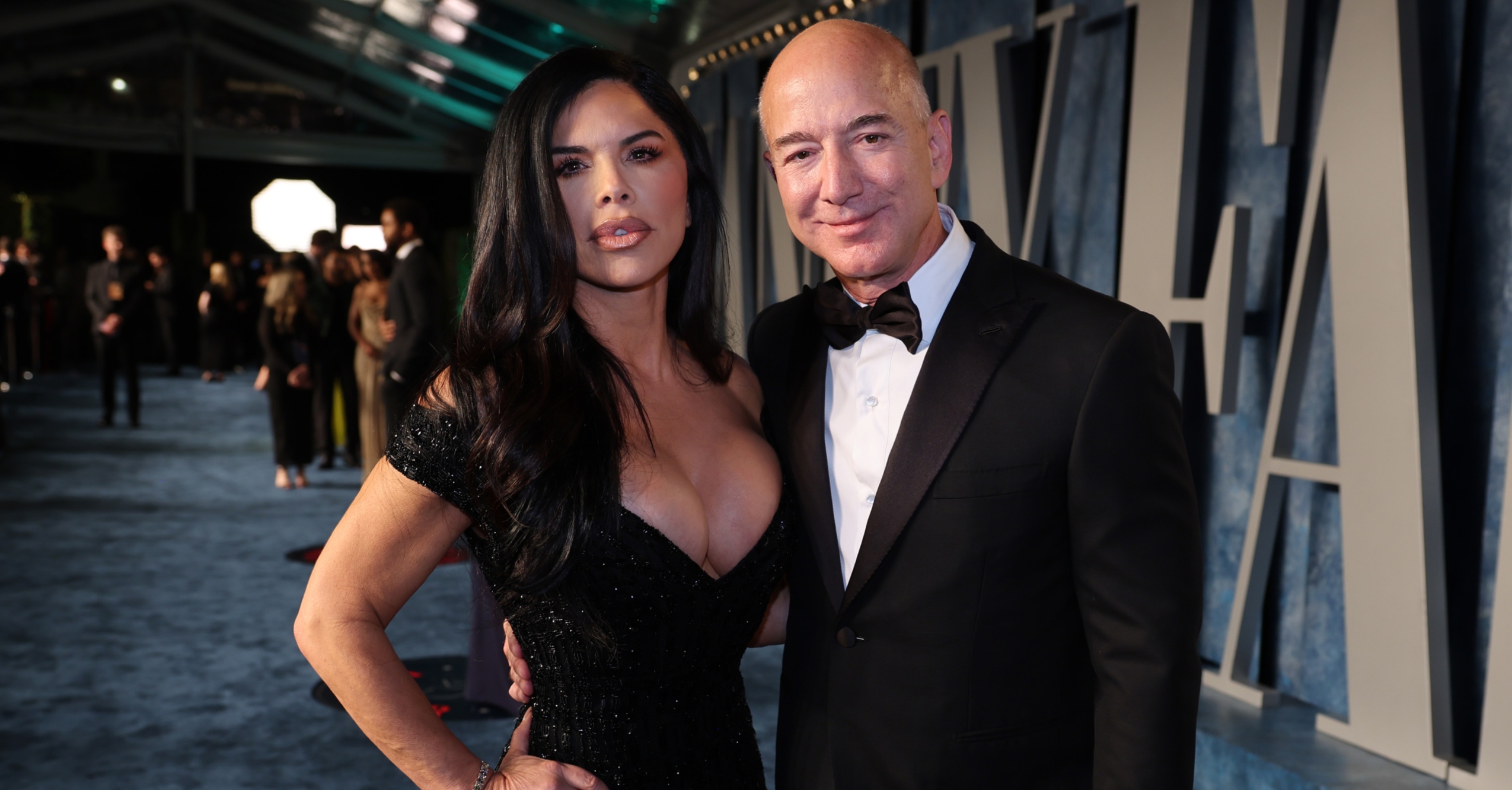 (Cindy Ord/VF23/Getty Images for Vanity Fair)
Jeff Bezos is honoring new fiancée Lauren Sanchez in a way that only multibillionaire could—by featuring a figurehead carved in her likeness on his $500 million sailing yacht.
The wooden sculpture leads Koru, a 417-foot vessel constructed by the Netherlands' Oceanco that's believed to be world's largest sailing yacht. While Bezos has yet to confirm that the figurehead was indeed inspired by Sanchez, the similarities are undeniable.
People.com, which published a clear photo of the figurehead here, reports that its necklace's pendant is a Koru—a Māori word for loop or coil that symbolizes new beginnings. The symbol is also apparently dear to Bezos, who referenced it in a New Year's Day Instagram slideshow.
"The new year is also a great time to take stock and focus on personal growth, renewal, rebirth, and paying careful attention to each moment of your life," he wrote. "The good and the bad. All of it. Celebrate and grow."
Page Six, citing an "insider close to the couple," first broke the news yesterday that Bezos and Sanchez are now engaged. The scoop came as the couple were vacationing in the South of France. Over the weekend, the pair were photographed attended the premiere of Apple Original Films' Killers of the Flower Moon at the Cannes Film Festival.
They were also snapped aboard the Koru, where Sanchez wore an "absolute monster" diamond engagement ring that one jewelry expert estimated at 20 carats and "roughly $2.5 million."
Sanchez, 53, an Emmy-winning former Good Day LA co-host and occasional helicopter pilot, reportedly started dating the Amazon and Blue Origin founder in the summer of 2018.
Bezos, 59, later announced in January 2019 he and his wife Mackenzie were divorcing after 25 years, while Sanchez finalized her split from her ex-husband, Endeavor talent agency boss Patrick Whitesell, later that year.
Before popping the question to Sanchez, Bezos notched another big win when the Koru seized the world sailing yacht size record. The record-breaking megaboat was reportedly designed in the style of Oceanco's 350-foot-long Black Pearl.
In addition to the Sanchez-inspired figurehead, Koru features a black hull, white superstructure, classically styled exterior lines that hark back to the 19th-century seafarers, a large pool on the aft deck, a seating area on the bowsprit, and several lounging areas across its outdoor decks, Boat International notes.
Koru is so gigantic that the Netherlands' historic Koningshaven Bridge had to be dismantled to to launch the towering yacht into the sea last February. Bezos and Sanchez were later seen aboard the Koru was they sailed around the stunning Spanish island of Mallorca.
Aside from all that yachting, Bezos says he'll be continuing his world-class philanthropic efforts.
During a joint interview with Sanchez last November, Bezos told CNN he plans to give away most of his $124 billion fortune in his lifetime, focusing primarily on climate change and supporting those who can help heal the national divide over social and political issues.
"The hard part is figuring out how to do it in a levered way," he said of his philanthropic strategy. "It's not easy. Building Amazon was not easy. It took a lot of hard work, a bunch of very smart teammates, hard-working teammates, and I'm finding — and I think Lauren is finding the same thing — that charity, philanthropy, is very similar."
Sanchez added that the newly-engaged couple are "really great teammates."