Justina Valentine Is Maxim's July/August Cover Star
She wowed us on "Wild 'N Out," and now Justina Valentine is making her mark on the entertainment world at large.
When it comes to fierce talent, electrifying energy, and a blazing head of hair that outshines a supernova, there's one name that effortlessly dominates the scene: Justina Valentine.
This unstoppable powerhouse has conquered the realms of American television hosting, spitting rhymes, belting out tunes, and most notably, stealing our hearts on Nick Cannon's wildly-addictive sketch comedy and battle-rap game show, Wild 'N Out.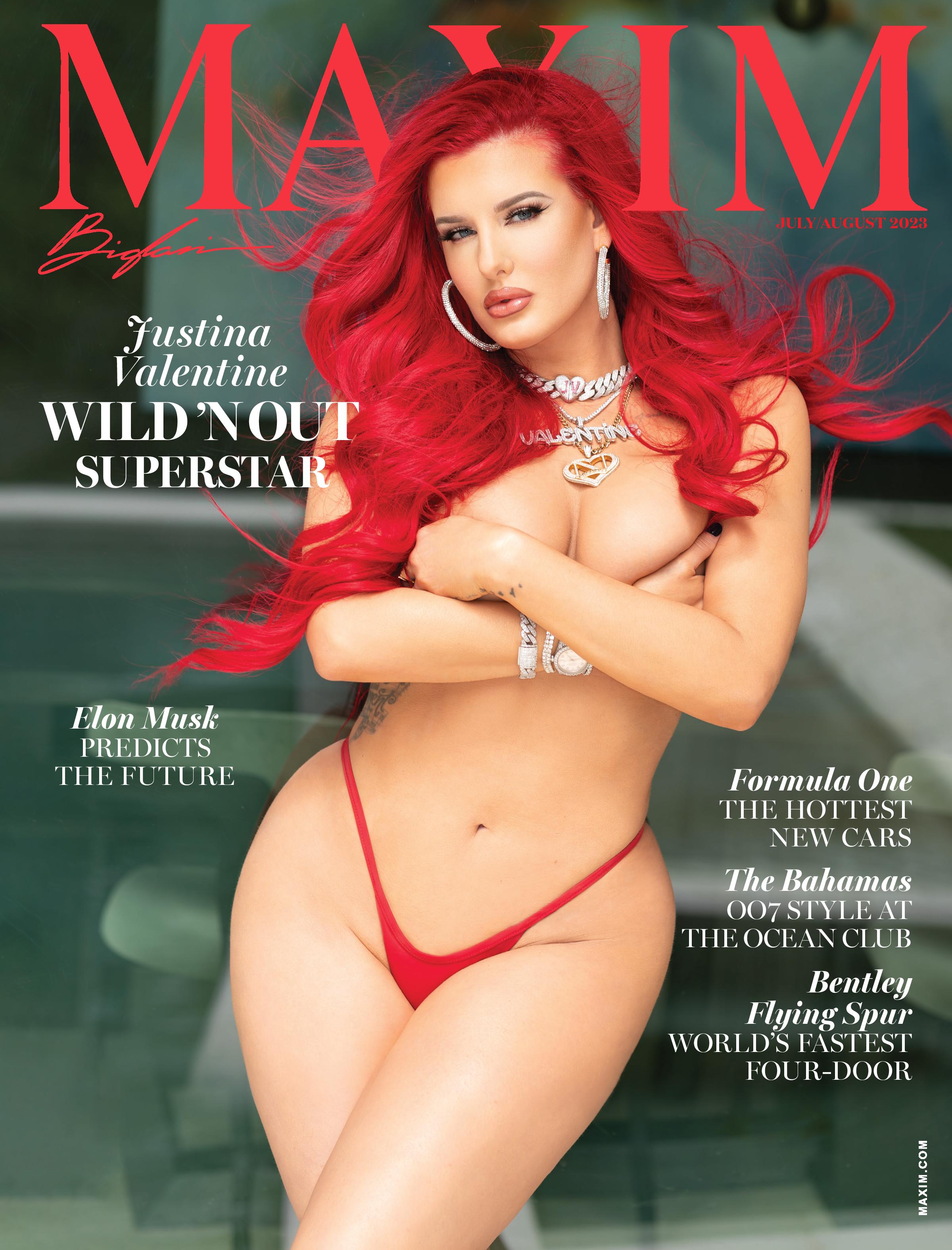 Armed with her razor-sharp wit, lightning-fast comebacks, and the ability to illuminate any space, she's not only a fan favorite, but also the secret sauce that fuels the show's triumph.
"A lot of my best moments on Wild 'N Out have been rebuttals that I freestyled after I heard my opponent's bars," the fiery redhead explains. "I'll size up the other sideduring the episode, see what everyone has on and what they're looking like, and take a mental note of what happened during that episode. I stay ready so I never have to get ready!"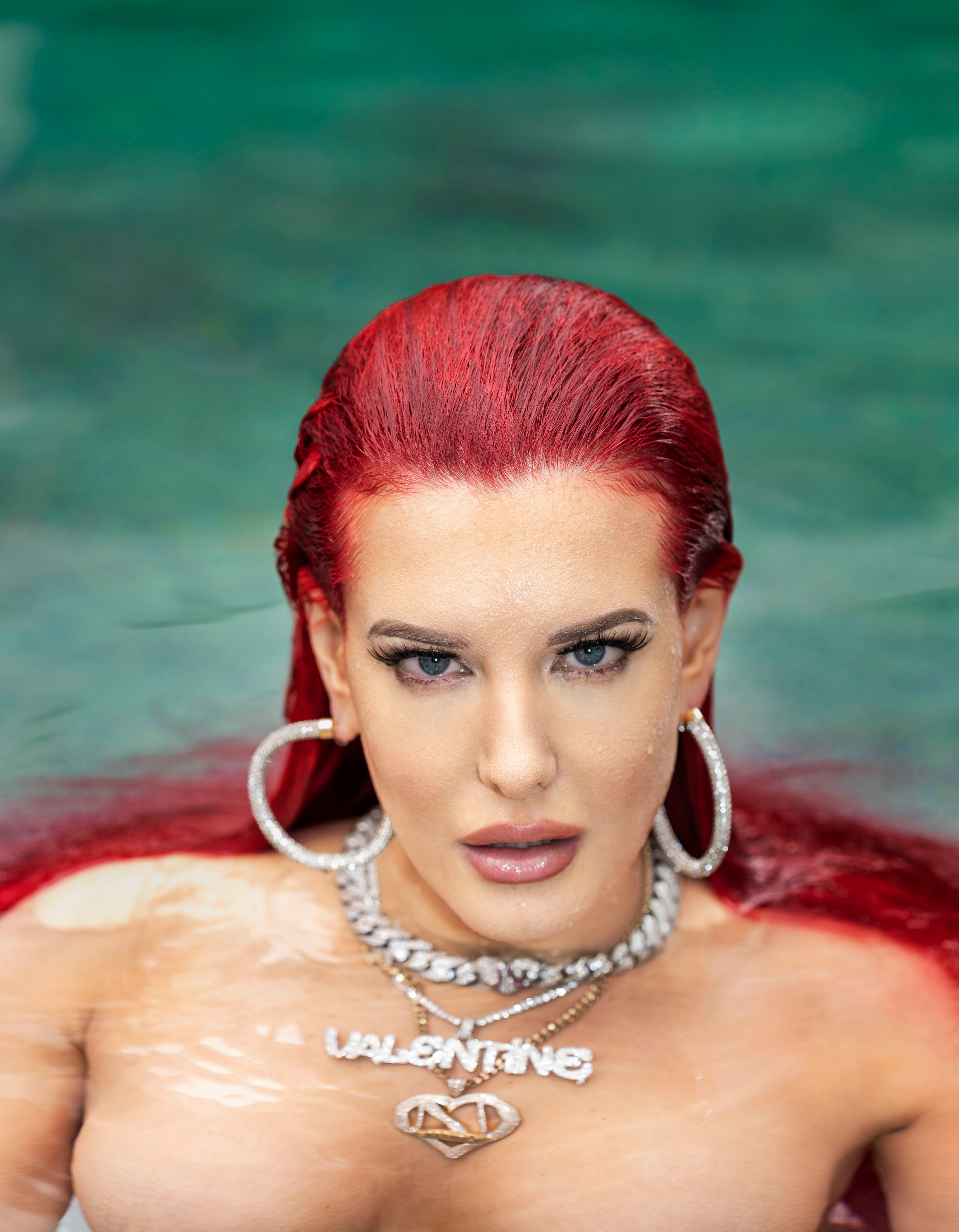 Behind every clever line, her mind is working at warp speed, dissecting the situation, finding the perfect angle, and delivering a knockout blow. She possesses more than just a vast lexicon and a knack for cunning wordplay; she understands the nuances of language, the art of storytelling, and the power of comedic timing. In other words, Justina's rap battles are a masterclass in wit.
And it's not just about intelligence—it's also about confidence. Justina exudes a self-assuredness that allows her to fearlessly take risks and deliver lines that hit with maximum impact. She knows her worth, and it shines through in every verse. She expertly navigates the intricacies of a rap battle, turning words into weapons and transforming the stage into her playground.
"I've always been an entertainer since I was a kid. I loved performing for whoever was around and making them laugh. I found my unique path in entertainment through my real 'off the top' freestyles. Being able to put words together in the moment has been a distinctive gift that impresses people and makes me stand out," she says.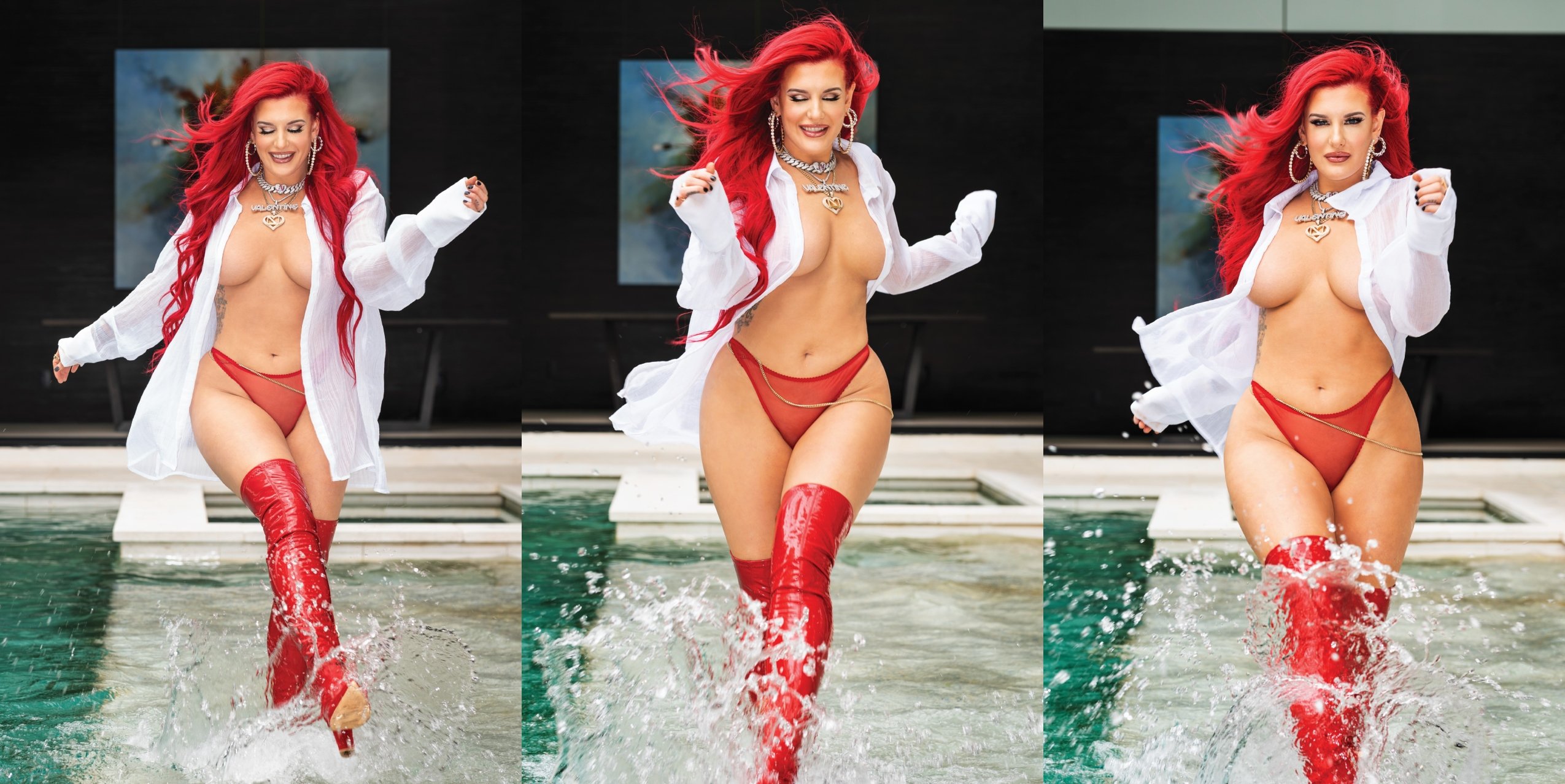 And speaking of standing out, this dynamo takes it to a whole new level. Her success is like a lightning bolt of brilliance, leaving no doubt that she pours enough passion into her performances to make her idols take notice and say, 'Wait, who's this powerhouse stealing the spotlight?'
"Some of the most memorable moments for me have been being able to meet legends that I grew up on and them knowing who I am. When I met Jadakiss and he told me I was cold, I almost fainted!" she says.
"Another memorable moment was setting the Bullspittin' record on the Machine Gun Kelly episode. I held on to that bull for dear life and freestyled the most words that have ever been used in that game. Being a cast member on Wild 'N Out has kept me around some of the funniest and most talented individuals in the world. Being around such talented people brings out the best in you and gives you the opportunity to sharpen your sword and keep your skill tight."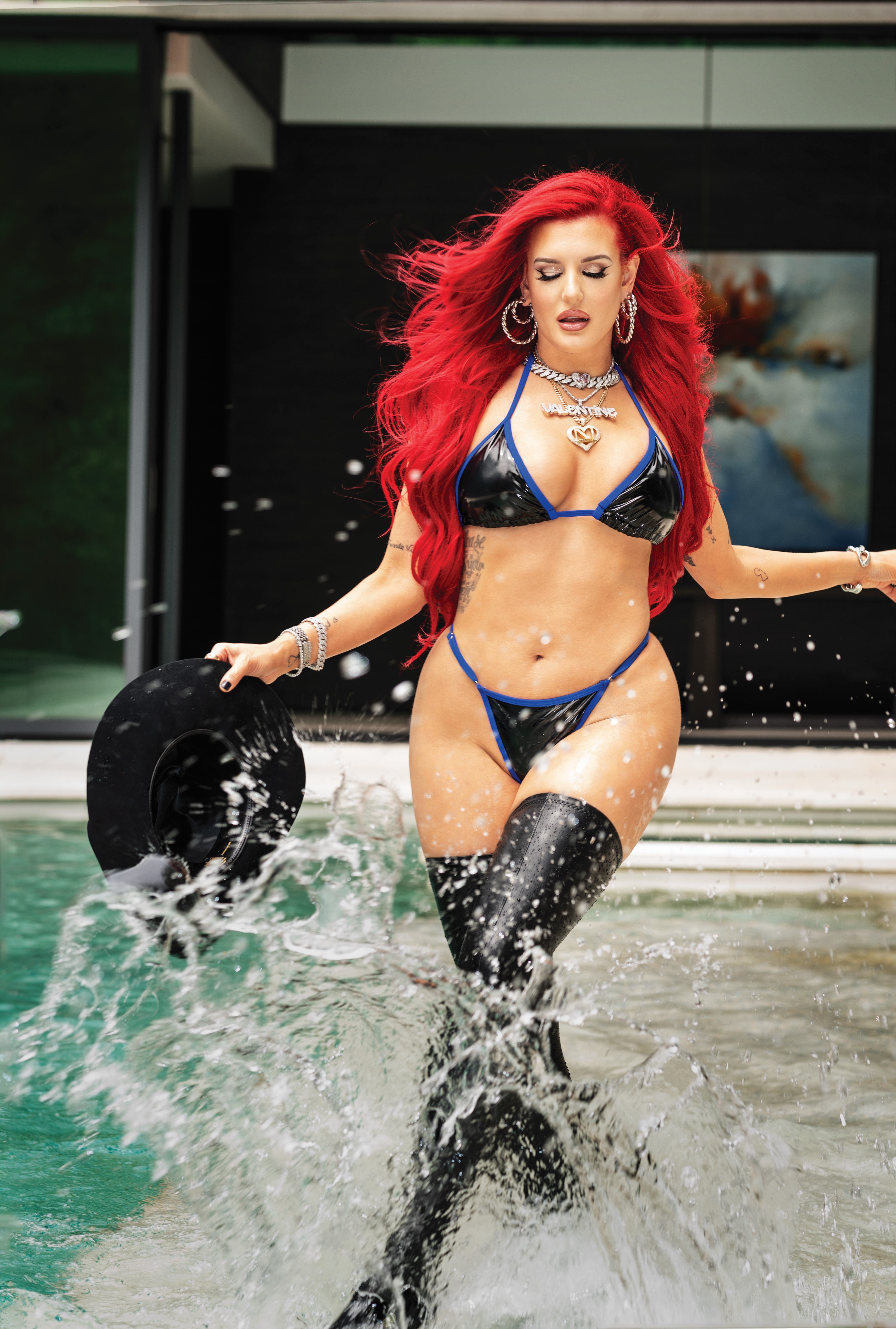 But Miss Valentine isn't just a gifted television host; she's a bona fide rapper and singer too, combining her love for rap, pop, and R&B into a unique sound that's as diverse as her personality. "I've always had an eclectic taste in music, with hip hop, of course, being at the center of it. People know me mainly for my rapping ability, but I sing as well. I'm not the most acrobatic singer, but I have a unique tone."
Despite her undeniable skills, though, the music industry proved to be an impregnable fortress that dared her to scale its treacherous walls. But like a noble emperor conquering vast lands, she refused to back down.
"The biggest challenge for me has been breaking through in the music industry. I think maybe people weren't ready to embrace a white female rapper; as we know, there are many white male rappers. The way I overcame that was to keep working and kicking these doors down. I never gave up. I couldn't get through that door, so God opened another one for me. That door was Wild 'N Out. When Nick blessed me with the platform, I was welcomed with open arms in the television world, which has been the biggest blessing."
What sets Justina apart from the crowd is her ability to seamlessly navigate between her various roles. On the show, she effortlessly slays with her comedic timing, serving up punchlines that would make even the most seasoned stand-up comedian green with envy. But don't be fooled by her playful demeanor—when it's time to drop bars, she transforms into a rap goddess, spitting rhymes with surgical precision.
"I love what I do so it's a blessing to be able to have multiple things to balance. When it's time to film, I'm in straight Wild 'N Out mode. When we wrap, it's back to hosting, writing, and working on my other ventures."
And clearly, dominating multiple industries takes determination and endless effort. "What's a hobby? I'm too busy building this legacy!" she laughs. "I'm usually always working. My grandfather taught me if you don't work, you die. I don't really unwind. I'm like a spinning top… a shark that doesn't stop moving. But I suppose I recharge when I sleep."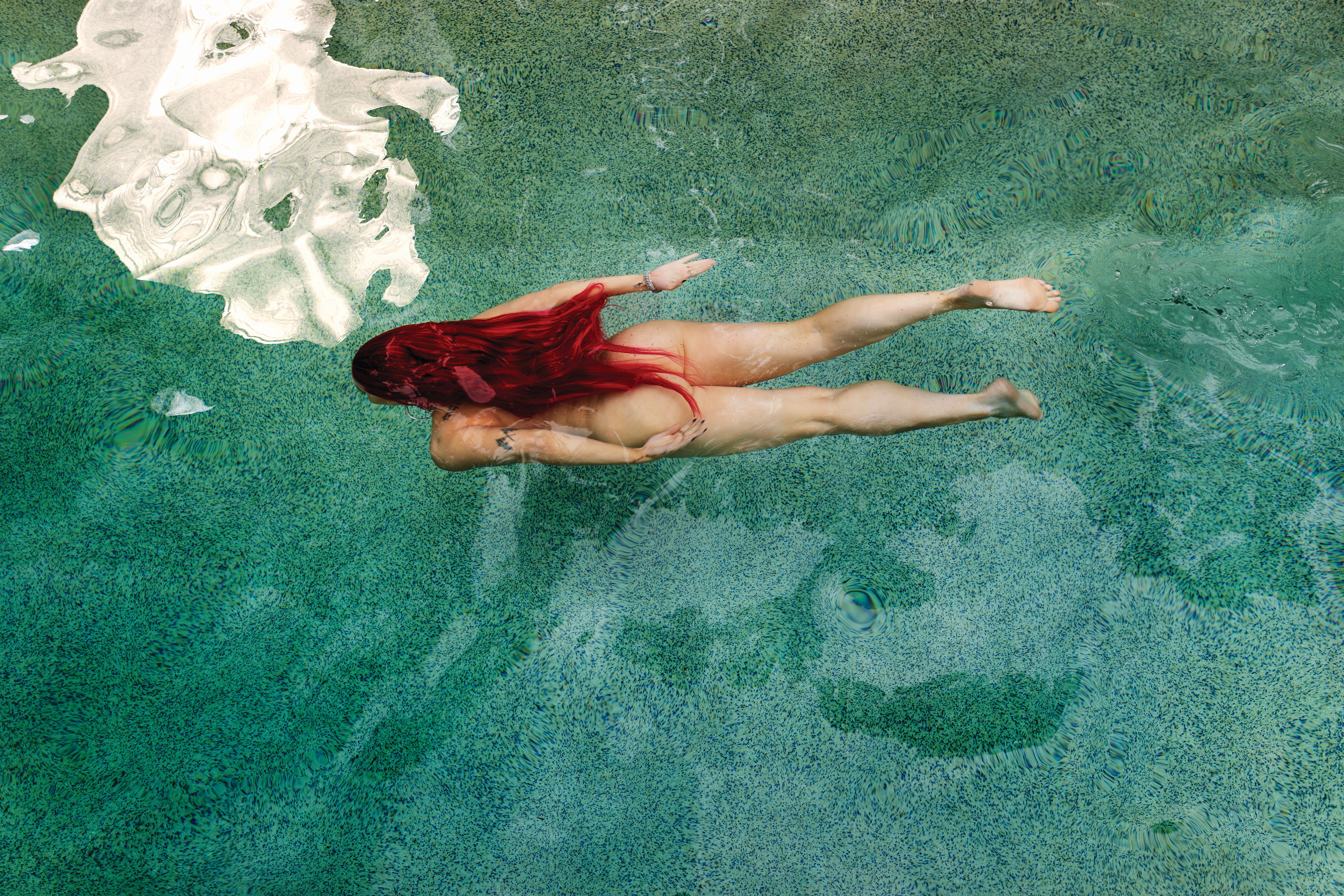 It's not just her artistic abilities and unabated work ethic that make Justina shine; it's her authenticity. Through her music and TV presence, she sends a powerful message to her fans, encouraging them to be proud of who they are and to chase their dream unapologetically.
"I hope to inspire people to be fearless. I hope I inspire someone to hear a million 'noes' and not stop until they bust one of those doors down and get what they know they came for."
If her bright red hair is any indication, her beauty is a reflection of the unyielding passion she brings to every endeavor. "I've been rockin' the red for about a decade," she says.
"I have to shout out to my boy Infamous, the Grammy-nominated producer, because he's the one who told me to do it. One day we were having lunch and he was like 'Hey, you should dye your hair red, because from the second I met you I got hip-hop Jessica Rabbit vibes.' Ever since then it's been all red everything. It's definitely a part of my brand now. It's loud, just like me! Even if someone can't remember my name right away, they know I'm the redhead from Wild 'N Out."
In a world where uniqueness reigns supreme, Justina Valentine stands tall as a shining beacon of boundless creativity and undeniable charisma, having carved her own path in the entertainment industry.
"I have always been a hustler in every sense of the word and had to work very hard to get to where I'm at. I'm extremely grateful to be here, and I'll never squander the opportunity or lose my gratitude for the position I'm in. That keeps me on my toes and always in work mode. I'm grateful but hungry," she says like a true conqueror, proving that she is, without a doubt, a tornado of talent that refuses to be tamed.
The Supporting Cast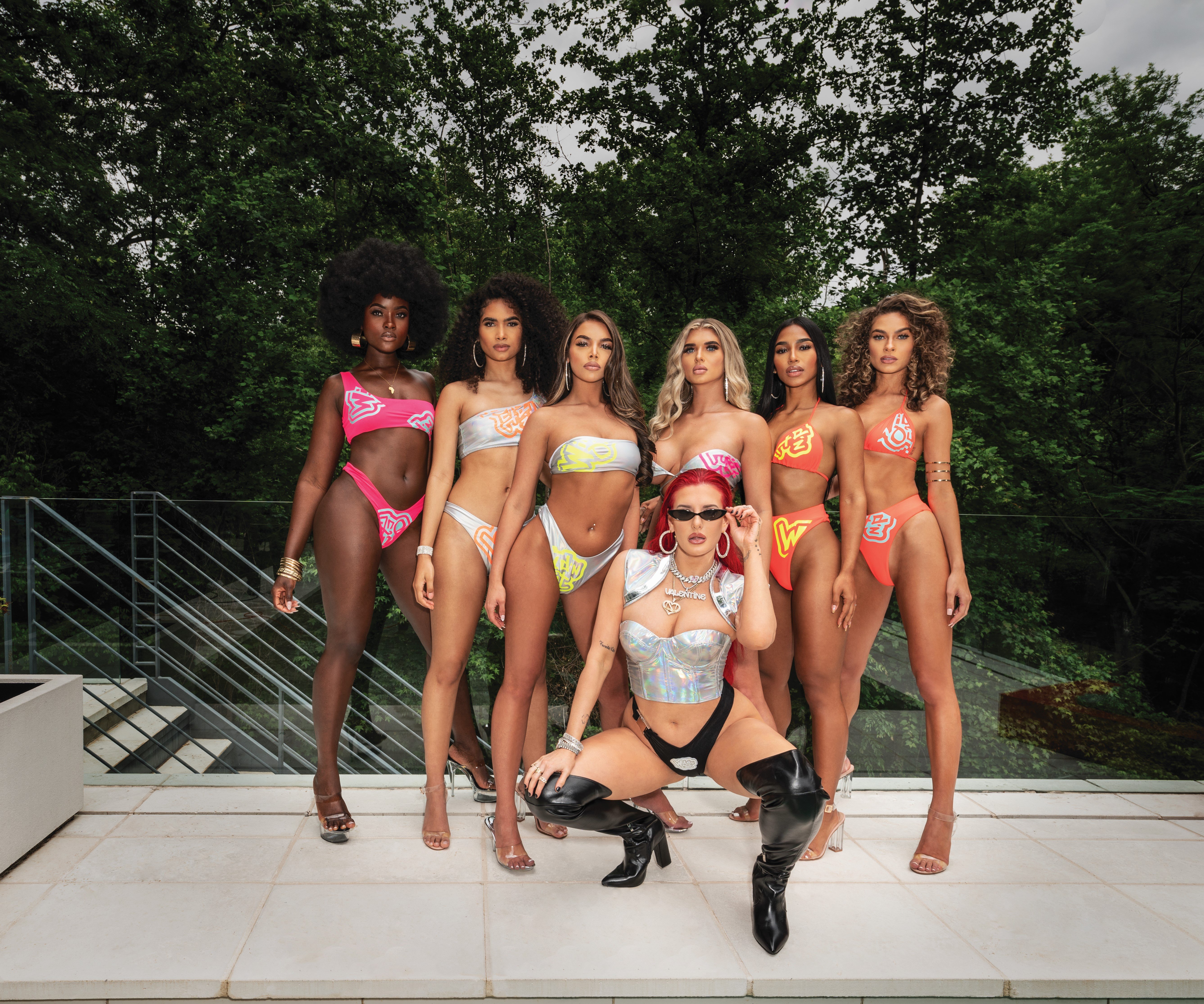 Sonia Tucker
Introducing Sonia Tucker, the fierce "Barbie" who went from humble beginnings in Sierra Leone to ruling the runway. She shattered beauty standards and rose above very challenging circumstances in her homeland of West Africa in her youth, which lit a fire in her and fueled her determination to soar above society's limits. A far cry from her childhood, she now struts her stuff for major brands like Marc Jacobs and Revolve, and is also breaking into the TV scene on Wild 'N Out. With oodles of charisma and a breathtaking beauty, this flawless gem's star is clearly rising.
Ocean van Exel
Ocean, born into a beautiful fusion of Dutch, Surinamese, Asian, and Black cultures, embodies the power of diversity and representation. Her name speaks to her desire to make waves of change. Fueled by her multicultural heritage, she's on a mission to reshape beauty standards, and through photoshoots and campaigns, she breaks boundaries and uplifts marginalized voices. Ocean inspires others to embrace their true selves and envisions a future where diversity flourishes, and with unwavering determination, she plays a vital role in shaping a future where everyone finds their rightful place.
Katherine Anne Krause
From Northeast Ohio springs forth Katherine Anne Krause, a 22-year-old determined to conquer life on her own terms. She's a fearless adventurer, whether reeling in fish or tearing it up on four wheels. Yet, don't be fooled by her wild side—this glam goddess knows how to slay the hair and makeup game. College ignited her passion for educating young children, and the profound connections she formed with them stand as her most meaningful accomplishments. Now, she's heating up the screen in her third season of Wild 'N Out while relentlessly pursuing her dream of acting.
Alisa Scivetti
Meet Alisa Scivetti, the legal maven hailing from New Jersey. Starting her journey as a model, she graced the illustrious pages of Vogue and rocked it with the big shots at Disney. Honors in hand from The New Jersey Institute of Technology, she discovered her true calling at the tech-law intersection, all while sprinting her heart out in Division 1 Track and Field. She recently received her law degree from UMass Dartmouth Law School, specializing in Corporate and Entertainment Law. With her brains and beauty, Alisa is here to prove that authenticity always shines brighter than a disco ball.
Virginia Sanhouse
Virginia Sanhouse, the 22-year-old from Venezuela, has rocked runways and starred in music videos alongside top artists like J Balvin and Sean Paul. Now, she's bringing her killer style and bold energy to the Wild 'N Out stage as one of the Goddesses. But Virginia's journey wasn't always a smooth ride. From emigrating to Argentina and then the United States, she learned the value of hard work and resilience. Balancing responsibilities, mastering English, and starting her own e-commerce business and fitness app, Sanhouse Fit, only scratch the surface of her amazing achievements—and at such a young age.
Macie Mosley
Macie Mosley, a delightful mix of Filipino spice and Cajun zest, is a Fort Worth, Texas native. Modeling stole her heart at a tender age of 15, and she's been strutting her stuff ever since. But she's not just a pretty face—she's also a healthcare marketing wiz, making waves in Houston, Texas. Oh, and did we mention she's an art aficionado? Brush in hand, she unleashes her creative magic through stunning paintings and mesmerizing drawings, and is a firm believer that all young women should chase their dreams, reaching for the stars with unyielding passion.