Nike Pulls Air Max With Betsy Ross Flag After Criticism by Colin Kaepernick
The former San Francisco 49er and current Nike-endorsed athlete objected to the use of the original American flag due to its ties to slavery.
NIKE
Colin Kaepernick and the Flag are in the news again, but not in the way you might think. 
Kaepernick, a Nike athlete, objected to a new Air Max sporting the so-called "Betsy Ross" version of the American flag. Now Nike is reportedly removing that shoe from stores and has taken it offline without explanation, and in retaliation the state of Arizona is removing financial incentives it was set to offer the athletic wear giant to open a factory there.
Kaepernick famously became the face of Nike's "Just Do It" 30th anniversary campaign in 2018. The ads featured the former 49ers QB, who hasn't worked in the NFL since he began protesting racial injustice by kneeling during the national anthem.
The "Betsy Ross" flag, which features stars in a circle representing the original colonies, was long considered the original American flag, though modern historians have disputed the story behind its creation. But inaccurate history isn't the problem, as the Wall Street Journal reports.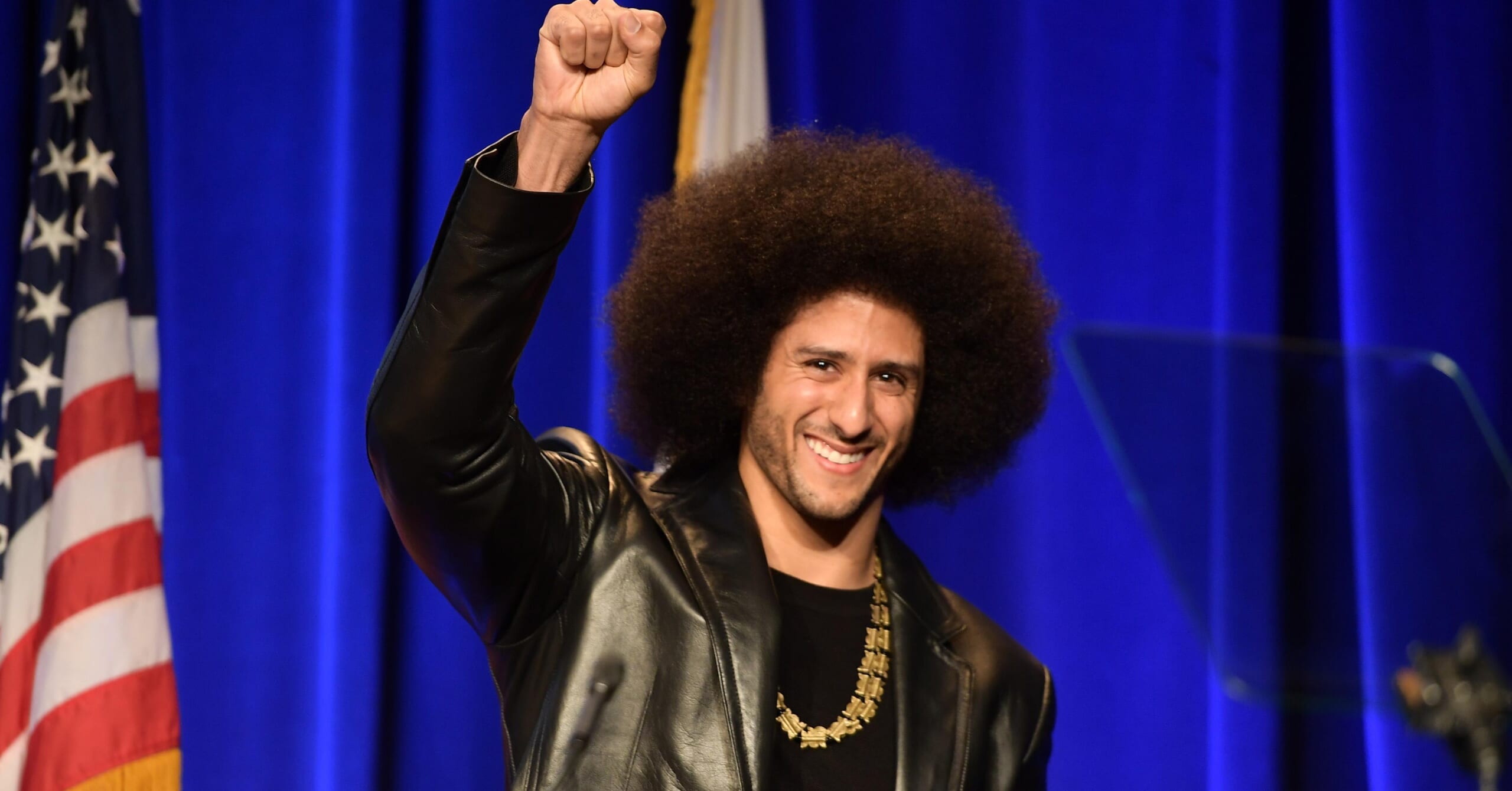 For one thing, sources familiar with the situation tell the WSJ that Kaepernick "reached out to company officials saying that he and others felt the Betsy Ross flag is an offensive symbol because of its connection to an era of slavery." And Kaepernick is also far from the first person to make note of issues attached to this symbol:
In 2016, the superintendent of a Michigan school district apologized after students waved the Betsy Ross flag at a high-school football game, saying that for some it is a symbol of white supremacy and nationalism, according to Mlive.com, a local news outlet.

While the flag's use isn't widespread, the local chapter of the National Association for the Advancement of Colored People said at the time that it has been appropriated by some extremist groups opposed to America's increasing diversity.
Naturally, this was an immediately polarizing issue, and one of the most visible responses came from the Republican governor of Arizona, Doug Ducey, who lashed out at Nike in a practical way, issuing a statement via Twitter which read in part:
Today was supposed to be a good day in Arizona, with the announcement of a major Nike investment in Goodyear, AZ. And then this news broke yesterday afternoon. Words cannot express my disappointment at this terrible decision. I am embarrassed for Nike.

Nike is an iconic American brand and American company. This country, our system of government and free enterprise have allowed them to prosper and flourish. Instead of celebrating American history the week of our nation's independence, Nike has apparently decided that Betsy Ross is unworthy, and has bowed to the current onslaught of political correctness and historical revisionism. It is a shameful retreat for the company.

American businesses should be proud of our country's history, not abandoning it.

Nike has made its decision, and now we're making ours. I've ordered the Arizona Commerce Authority to withdraw all financial incentive dollars under their discretion that the State was providing for the company to locate here.

Arizona's economy is doing just fine without Nike. We don't need to suck up to companies that consciously denigrate our nation's history.
It looks as though Nike will need to find another place to not make shoes with allegedly questionable flags on them. 
Social media reactions were intense all across the political spectrum:
Who made Kaepernick KING of Black Americans and Racism..? The majority of Americans are Patriots and hate Political Correctness. #MAGA
https://t.co/JO8dpr8WO2

— Pastor Mark Burns (@pastormarkburns) July 2, 2019
If you're going to tweet about the Betsy Ross Flag, make sure you include this part: "It has been appropriated by some extremist groups opposed to America's increasing diversity." https://t.co/k5N5bGhDut

— Shannon Watts (@shannonrwatts) July 2, 2019
The Betsy Ross flag has been turned into a symbol of white nationalism and domestic extremism. Conservatives will whine, but Colin Kaepernick was right to speak out and Nike was right to pull the products. https://t.co/rq8HWeaqh6

— Adam Best (@adamcbest) July 2, 2019
https://twitter.com/SohrabAhmari/status/1145843750872244224
So far the impact on Nike isn't easy to predict, though taking what appears to be a socially progressive stance by putting Kaepernick up as a face of the brand has worked to its advantage in the past. 
Will people begin burning their expensive Nike shoes and athletic gear anew, as they did when the company debuted its Kaepernick campaign? Given the intensity of social media reaction, it wouldn't be much of a surprise if they did.