One Of Keith Haring's Rare 'Radiant Baby' Artworks Is Headed To Auction
The one-of-a-kind drawing was cut from the famed artist's childhood bedroom in Kutztown, Pa.
An original drawing by Keith Haring, cut right from the royal blue walls of the artist's childhood bedroom in Kutztown, Pa., will hit the auction block at Rago/Wright to headline their Post War & Contemporary Art auction on September 14.
Nearly lost to history and home renovation, the classic Haring work depicts the artist's Radiant Baby, a common theme across canvases and subway walls throughout his meteoric, but brief, career. Haring passed away from AIDS-related complications at age 31 in 1990.
Angela and Scott Garner purchased the Haring family's Victorian home in 2004, "and recall that the seller was considering painting over the five-inch drawing," a press release by Rago/Wright says. An article by NPR reported that Angela's a social worker and Scott's a limousine driver. Even though the sprawling old house needed money and effort, the couple decided to spring for it when they learned that the legendary Haring had grown up there.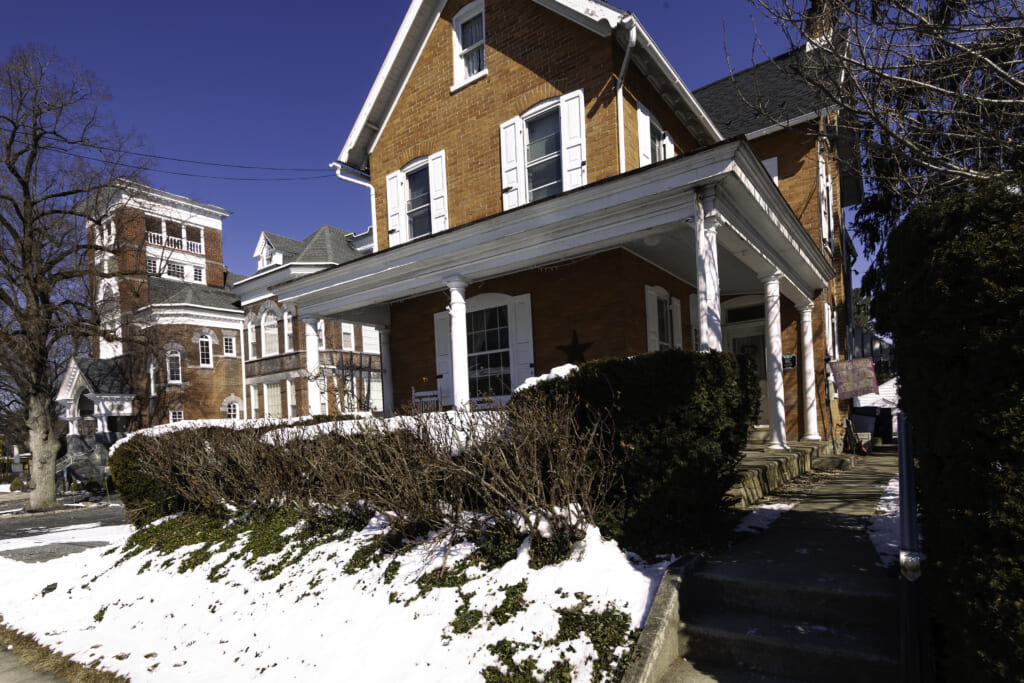 "I always thought it would be neat to have a fixer-upper that had a neat story to it," Angela continued. Over twenty years living in the house, they've fielded all manner of Keith Haring fans. "We had a pizza delivery boy come to the door, and as he's handing me the pizza I noticed he had a Keith Haring tattoo on his arm," she told NPR.
"I can't believe I'm delivering to the Haring house," the pizza delivery guy remarked.
Haring grew up in Kutztown and moved to Pittsburgh for college in 1978–he had some early success, but decided not to be a commercial artist. Haring moved to New York City later that year and studied at the School of Visual Arts. He got involved in the thriving downtown art scene alongside legends like Jean-Michel Basquiat and Kenny Scharf.
Haring "experimented with performance, video, installation and collage," his bio says, but he's best known for public works—chalk drawings on blank subway advertising panels (sometimes creating 40 a day), but also his Spectacolor animated billboard in Times Square and his proprietary Pop Shop in SoHo where Haring sold toys, posters, and more bearing the simple figures that united his practice, an effort to make his artistry more affordable, and more accessible.
Some art dealers balked, but Andy Warhol loved it.
The Radiant Baby recurs throughout Haring's work to symbolize innocence, pure potential, and sometimes even the artist himself. Childlike wonder is the key ingredient in a creative practice. Although it's a drawing of a baby in the artist's childhood home, Haring didn't make this one as a kid. It's a tag he left on a visit back to see his family, done "in blue and gold – a particularly rare color combination for Haring."
Dr. Christine Isabelle Oaklander, an art historian who Mr. Garner got connected to through a chance encounter chauffeuring an artist, adds, "It's really a tag [saying] that this is Keith Haring's room…There's literally nothing else like this."
Haring's father has confirmed the drawing's authenticity–his signed letter of authenticity will accompany the work upon sale, along with two Haring posters circa the late 1980s found in the bedroom closet and a cubbyhole Allen Haring built for his four children. Funds from this sale will likely benefit the college education of the Garners' 18-year-old son.
"We are proud to present this early wall drawing featuring Haring's iconic Radiant Baby image," Meredith Hilferty, Rago/Wright Director of Fine Art, told Maxim. "Amazingly preserved from his childhood home, it is a symbol of hope and joy."
Live bidding on the rare artwork begins September 14, and Oaklander told NPR she hopes it rakes in somewhere between $80,000 and $100,000.
"We would be happy with that, but it has the potential to do far more," she told NPR.