Pam Anderson Stuns In Exclusive Photos For New Book, 'Love, Pamela'
"The idea was to shoot her and show her natural beauty and her edge."
Anyone who grew up in the 1990s remembers Pamela Anderson on the hit show, Baywatch, running down the beach in slow motion in her red one-piece bathing suit. Fans went to bed dreaming of that image all night long, minus the one piece. Since adding producer, actor, model, centerfold and author to her resume, she now has a new memoir, Love, Pamela, tracing her trajectory from rural Canadian girl to era-defining sex symbol.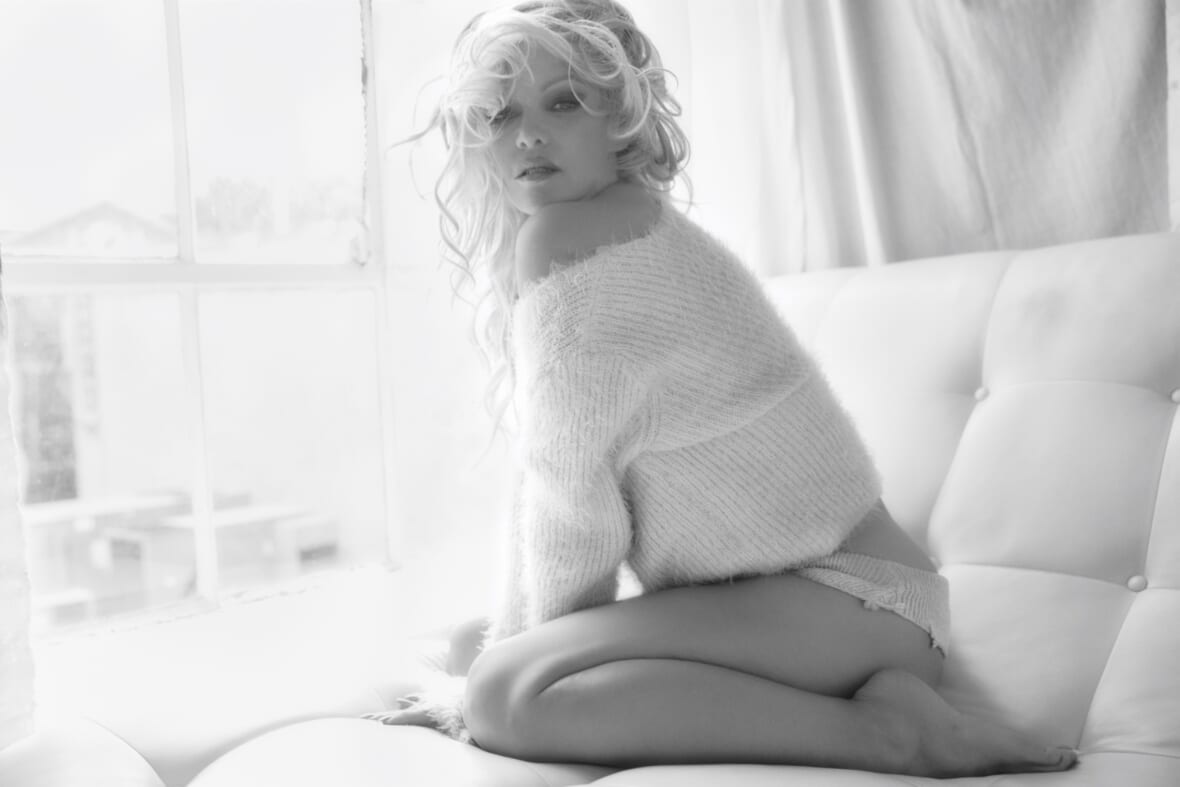 "It feels like some kind of miracle to be retracing the painful steps of my youth. I repainted scenes in detail if it were my childhood or at the Playboy mansion. Just one girl's messy life. A celebration—of imperfections," she wrote in an Instagram post about her memoir, which also contains some original poetry. "The book is an unpolished attempt. I had no co writer. My life—as a mother, as an activist, and as an actress. I am so proud of this book."
Last year she announced an autobiographical documentary deal with Netflix, but there's still no release date. Recently, she sat for a session with famed photographer and frequent Maxim contributor Antoine Verglas in his Manhattan studio for the evocative images you see here.
"The idea was to shoot her and show her natural beauty and her edge," Verglas recalls about his session with the icon. "I ran into her a while back at Casa del Mar hotel [in Santa Monica] but never worked with her. It was a true pleasure. She's an extremely nice woman. Very warm, not shy, but very discreet."
No stranger to the studio, she and Verglas went through the stylist's wardrobe and arrived at the white wool sweater and panties you see pictured. Seating her with her back to the windows, he used a fill card to brighten her features and that was all—easy on the eyes makes for an easy session.
"She was very spontaneous, playful and agreeable to what we were shooting," says Verglas, who splits his time between New York, Paris and St. Barth. Although he's spent a lifetime photographing beauties like Claudia Schiffer, Tatjana Patitz, Cindy Crawford, Stephanie Seymour, Alessandra Ambrosio, Adriana Lima and Gisele Bundchen for the world's top fashion magazines, Anderson has always been a dream subject of his. "It was a great pleasure to spend some time together and get to know her a little bit better."
The last time Anderson appeared on the big screen was in 2017's Baywatch, though she continues to work in television. Last year she starred as Sheriff Rogers in Alone at Night, a horror movie co-starring Ashley Benson and Paris Hilton.
She was also the subject of Hulu's Pam & Tommy, starring Lily James as Anderson and Sebastian Stan as her ex-husband, Mötley Crüe drummer Tommy Lee. Unauthorized by the pair, the show focused on their tempestuous three-year marriage capped off by the leak of a honeymoon sex tape. It earned four Emmy nominations (Pam & Tommy, that is, not the tape).
Anderson also stars in a career-spanning new Netflix documentary, Pamela A Love Story, which hits the streamer on January 31.
Having photographed Anderson once, Verglas is anxious to shoot her again. "We talked about doing a Brigitte Bardot type of story, maybe in Saint-Tropez or St Barth in the next few months or so," he says, thinking back on the shoot which, though simple, is not one he'll soon forget. "It was a big exciting day and I hope I can do it again."