Watch This Cringeworthy Video to See Why 'World's Worst Firearms Instructor' Was Stripped of His Credentials
This is definitely not safe.
Lucien Black, a.k.a. Thervil Black, a.k.a. Michael Douglas Thervil was already testing others' faith in his credibility by using so many aliases. Because that's, you know, sketchy. It's even sketchier if the guy doing it has an NRA-approved side gig teaching people how to use guns.

Then you've got a sketchy guy with a gun in his hand. Who—as revealed in the video above—thought firearm instruction involved a ton of just pointing the weapon at his students.
At least he taught this way when he was certified to teach. Thervil is no longer certified and hasn't been for a while, thankfully. As Bearing Arms reported, after the above video of Thervil (that's probably his real name) surfaced showing him "violating nearly every possible rule of gun safety," his home state got wise and he was "stripped of his NRA instructor credentials and his North Carolina Concealed Carry Instructor credentials by the NC Department of Justice."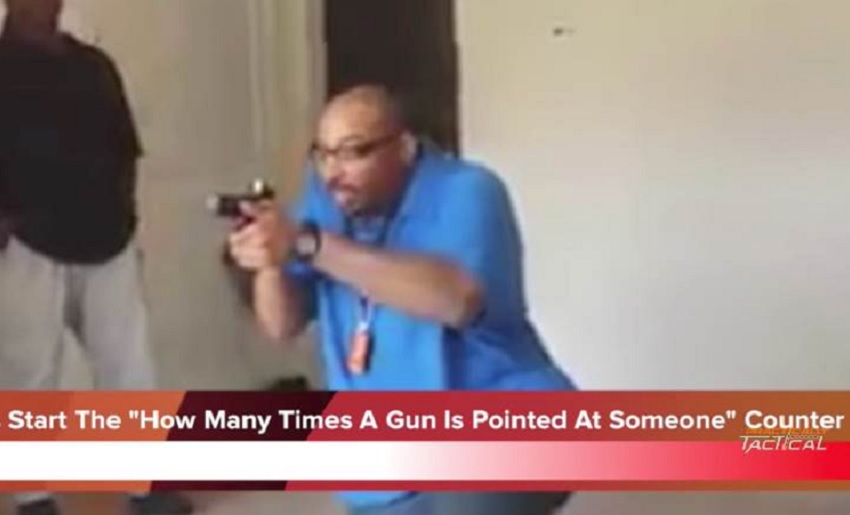 At the time Thervil attempted to defend himself online, but he ultimately deleted his Facebook and Youtube. Probably because co-workers from his time as a prison guard came out of the woodwork with pitiful stories like the following:
…In his time with the department, Thervil was considered one of the worst officer with the [North Carolina Department of Public Safety]. He would come to work with red gloves on and a pair of sun shades on at 6 a.m. in the morning.

I have an interesting video of him getting a beatdown from an inmate. He says he teaches combat and situational awareness technique, but trust when the rubber met the road, he got his biscuits burned. If anything his "techniques" are photogenically mimicked from what he sees on T.V. or reads in magazine articles.

I agree if he was the real mccoy he was use his real name. I remember passing him in the hallways at work on my way out. My first impression was, "this guy is going to get someone hurt".

 Sure enough on October 30, 2014 he shot a guy in the leg in Bonnie Dune. Look 'em up sometime, this guy should have his "credentials" yanked. He is a fraud and a disgrace to criminal justice agents and firearms instructor who teach the proper etiquette.  
We don't know Thervil's current whereabouts but one thing is for sure: we hope he isn't still trying to teach other people that part of firearms training is having the instructor stick the barrel right in your damn face.
h/t Bearing Arms via Barstool Sports