A Closer Look At Designa Individual Watches' Custom Carbon Rolex Daytona Series
Designa Individual adds custom flair to your favorite Rolex timepieces.
Presented by The Luxury Lifestyle Magazine
What started from two passionate artists' love for technology and customization, has now evolved into a worldwide craze as Designa Individual Watches has broken through traditional watchmaking boundaries, creating custom luxury timepieces that reimagine the future of watches.
With headquarters based in Germany, the bespoke watch design company aims to bring meticulous and revolutionary approaches to the watch industry. Sourcing and constructing each timepiece with the highest grade composite materials, DIW Manufacturer has harnessed the ability to recreate iconic timepieces into incredible works of art while maintaining durability, reliability, and incredibly unique designs.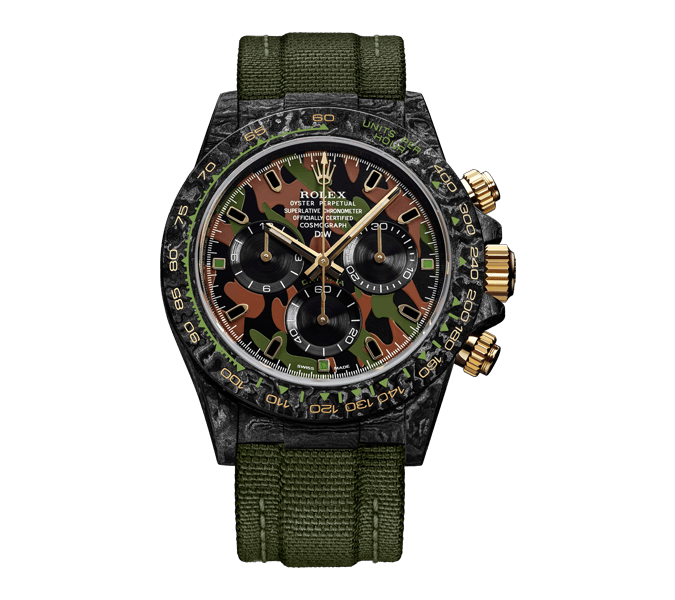 The company's signature Carbon Daytona collection is a modern yet unique take on the Rolex Cosmograph Daytona, consisting of multiple series of watches each with a high end carbon fiber case, making them incredibly light and comfortable.
Each Carbon Daytona is equipped with the original 4130 caliber automatic winding chronograph movement, keeping it's authentic technology combined with unique craftsmanship, resulting in durable lightweight quality that makes it the perfect military piece.
Within the Carbon Daytona Military Series there are 5 models that are limited to 10 pieces each, each model featuring it's own beautiful unique color and personality; Military Red, Blue, Yellow, Desert Eagle or a stoic Desert Eagle Arabic are all available in this series.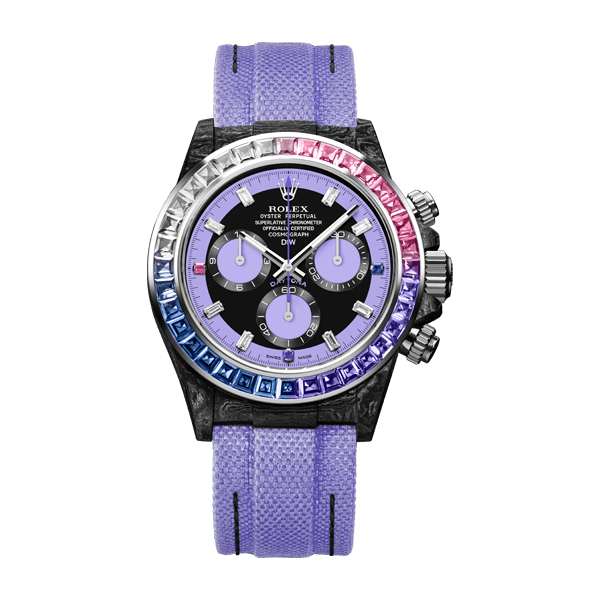 Built upon request, each Designa Individual Watch is constructed to match the highest standards of craftsmanship and is proven to stand the test of time.
The company states "In order to work with innovative materials, it is necessary to have a certain background in the area we work with, thus for the watchmaking sphere we gathered only the best professionals that keep very rigorous research and development procedures for upcoming projects."
The Carbon Daytona Rainbow series is a striking example of this innovative design process, with a bezel containing a gradient of beautiful sapphires and given a ruby at the 12 o'clock marker as a unique accent.
The DIW Manufacturer Carbon Daytona weighs at just 63 grams, achieving an amazing versatility while maintaining a prestigious look all at once. The jaw-dropping Rainbow Series consists of 4 color options – the Rainbow Blue, Candy, Violet and the popular Rainbow Black model.
Each high-quality watch is delivered in a black box covered in velvet and made of beautiful oak wood. It's no wonder why this series has quickly become a popular member of the Carbon Daytona Collection. Each model of this series is limited to 1 of 3, providing an obvious rarity.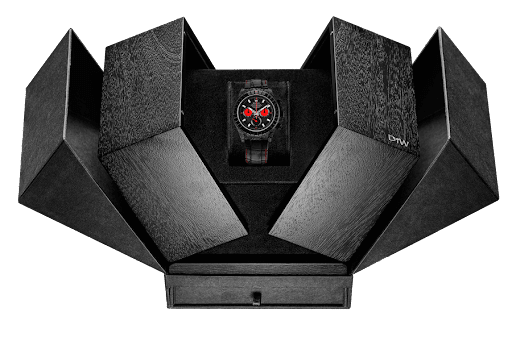 Designa Individual Watches as well has 5 other variations just as unique within the Carbon Daytona collection: The Motley, GT, Avia, Color and Speedster.
Each watch in the Carbon Daytona Collection takes about 14-18 weeks to complete and undergoes an in-house production process to create the forged carbon build similar to Richard Mille's NTPT.
All collections can be found at www.designa-individual.com/en/watches and you can follow them on Instagram at @diw_official.