Audi's All-Electric Off-Road Concept Has Drones For Headlights
Meet the "off-roader of the future."
Audi will introduce what the German luxury car company boldly calls the "off-roader of the future" at the Frankfurt Motor Show. 
Following the Audi AI:ME, which debuted at Auto Shanghai earlier this year, the AI:Trail Quattro is fourth entrant in the series of concept cars with electric drive
systems. 
By far, the EV's most futuristic (and slightly ridiculous) feature is its lighting system. Rather than standard high beam and low beam headlights, the AI:Trail is equipped with five rotor-less electrical drones integrated with LED elements. 
These "Audi Light Pathfinders" generate lift the same way blade-less fans produce air flow and fly ahead to illuminate the path. They can also be equipped with on-board cameras that send a video feed back to the driver's display. When it's time to come back to the mothership, the drones can land on the roof, roof rack or on other inductive charging elements. 
As for the vehicle itself, the giant 13.5-foot long, 7-foot wide AI:Trail is a 4×4 through and through. It rides on massive 22-inch wheels wrapped in 33.5-inch treads that feature variable, sensor-controlled air pressure regulation. 
Optical sensors and electronic stability control work together to detect the condition of the road surface and adjust the air pressure accordingly. With 13.4 inches of clearance, Audi claims the AI:Trail can can traverse waters as deep as 1.6 feet. 
Power comes courtesy of four electric motors, each of which powers a single wheel, hence the "Quattro" designation. Max output is around 415 hp, but it can operate adequately off half of that. On easier terrain, it'll run for 310 miles without a charge. But in the rough environments the 4×4 was designed to conquer, range is limited to 155 miles.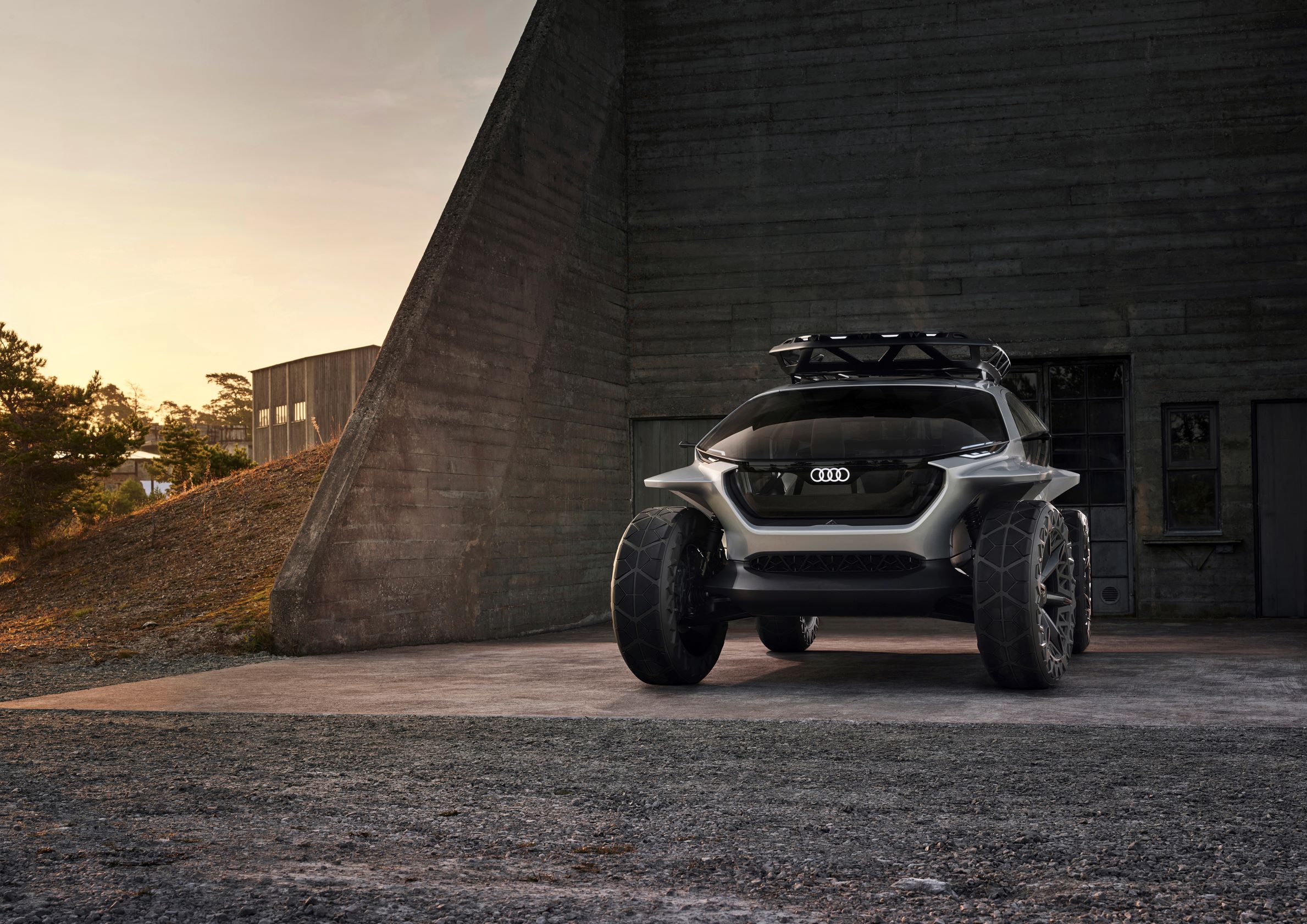 The interior was designed minimally to give drivers maximum visibility. The windshield wraps around the front of the vehicle like the cockpit of a helicopter, offering virtually unobstructed views when looking forward or sideways. 
Driver controls are limited to pedals, a yoke for a steering wheel, a few buttons, and a smartphone attached to the steering column that doubles as a display and control center for vehicle functions and navigation. 
And since this is a concept, Audi went ahead and equipped a Level 4 semi-autonomous driving system—the same tech you get in a Tesla—for travel on paved roads. Off-road, the system dials back to Level 3 autonomy, which prompts human intervention when necessary. 
Other nifty features include four removable seats that used as mobile outdoor chairs and a detachable "Audi Light Companion" that doubles as a campfire light or close-range floodlight. 
If you're attending the Frankfurt Motor Show, which takes place from September 12 to September 22, the Audi AI:Trail Quattro will be available for viewing throughout the event's duration.