Audi RS3 First Drive Review: Getting Sideways In The German Track Star
As Audi's Torque Splitter tech puts 369 pound-feet and 401-hp to either rear wheel, it proudly represents decades of heralded turbocharged five-cylinders.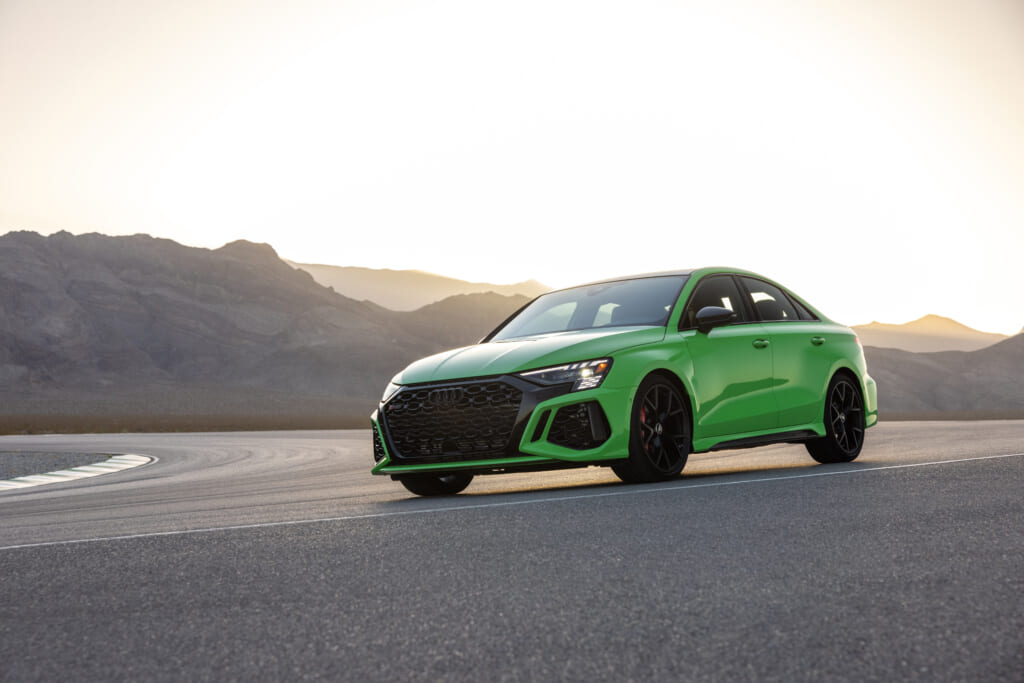 Let's set the table: The sun is setting over the Mojave Desert, painting the skies in pastel streaks of purple, pink and orange. The temps drop from flesh-scalding to merely sticky t-shirt, meaning the barren deserts outside of Las Vegas are actually pleasant for once.
At the heart of the Spring Mountain Motorsport Ranch private racetrack Audi has set up a ring of stadium lighting, the kind with four-ton concrete bases and high-wattage lamps built to spotlight Justin Bieber. Tonight, however, they're aimed instead at pair of Python Yellow Audi RS3 track stars revving their turbocharged five-cylinder lumps on a vast skid pad.
The lights change from red to yellow and then green, signaling to pro driver Tristan Herbert that it's time for some action. He hits the throttle and launches the RS3 down the short straight and into the first loop, the Pirelli P Zero Trofeo R tires squealing like hungry piglets as the compact sports sedan billows white smoke — now colored green from the lights — then shortly quiets as the Audi releases down another straight.
Herbert is a breakdancer, bouncing from apex to apex while keeping the balance of the RS3 impeccably ready, its mass always loaded at the correct wheel to explode onto the next hairpin. His extended night drift is a thing of vehicular elegance — a roaring, rubber melting ballet across a paved-over splotch of Nevada desert.
When he finally skids to a stop before us wild applause breaks out. Then it's my turn to take my hot lap with him: we repeat the 'RS'-shaped drifting course, and from the passenger seat the point of this epic Night Drift becomes as clear as a Swiss lake.
The most salient and bombastic component of this all-new RS3 is its unique motor boasting 401-hp and 369 pound-feet of torque — more than double the horses of the A3 on which this car's based, enough to zip it from 0-60 mph in 3.6 seconds. But the sneaky low-key gamechanger is Audi RennSport's new torque-vectoring rear differential — aka Torque Splitter whose 'Drift Mode' can take the power from Audi's famed quattro AWD system and push 100% of it over to either rear corner. Seemingly instantly, seamlessly, and back again.
What the night drifting highlighted—other than just being a sensory spectacle for the ears, eyes and sense of balance—was just how remarkable this RS Torque Splitter is. We've done donuts on a skid pad before, that's nothing new. Even figure-8's have very little direction change. But organizers had spelled out the cone track into a giant 'RS' shape, which means the RS3 had to violently drift back-and-forth from left to right in looping circles and then right to left and back again. The transfer of power, never mind mass, was spectacular.
The RS's Sport Suspension Plus with Dynamic Chassis Control (DCC) not only handled the heft of the pendulum swings with stiff aplomb, but the power transfers from the passenger to driver side wheels really underscored what a fantastic piece of technology it is.
It should be noted that when we got behind the wheel our dance around the 'RS' drift track was less ballet and more drunken stumble into the bushes, but the Audi lads had already made their point: if the quandary was how to best illuminate the wonder of this new technology, night drifting was a damn good idea. After attending hundreds of car launches in our day it's pretty hard to experience something for the first time. This was one.
For the record this is the same tech that Audi's cousins at VW implemented into their Golf R. However what separates the two racetrack superstars is the Golf lacks the RS 3's spectacular turbo 5-cylinder' offering instead a more traditional four-banger with 86 fewer horses — making the RS3's torque shifting a truly singular experience.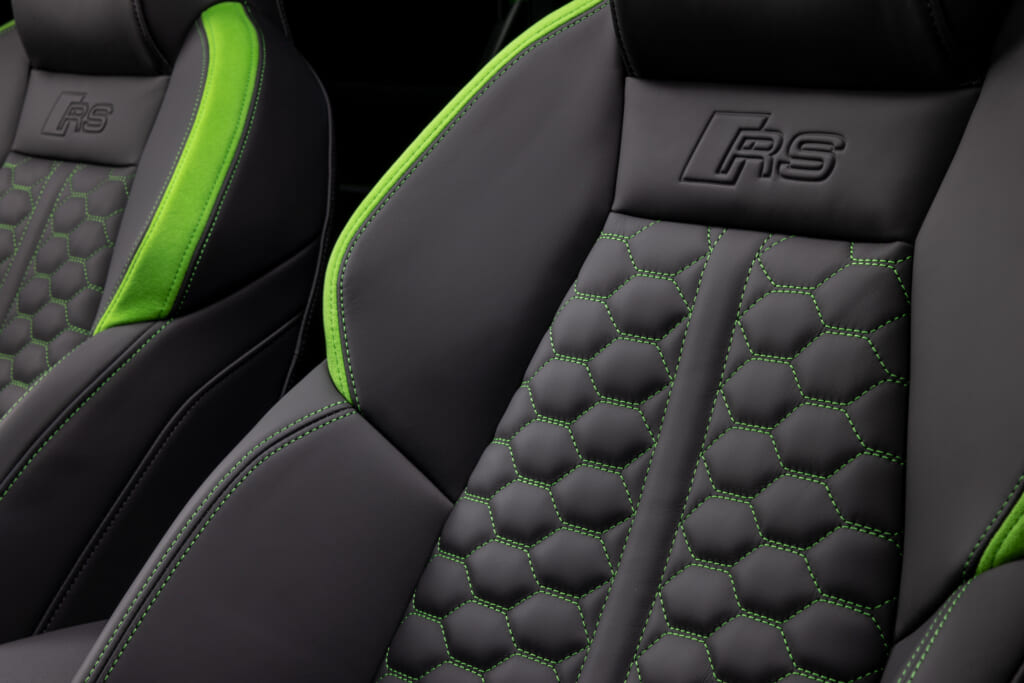 There's a lot else to like about this second generation RS3, returning to America after a one-year absence (and total makeover). Prime among them the brand new body, with flared front fenders and exaggerated vents, bulging wheel arches and matrix LED headlamps — flanked with digital DRL R-S-3 checkered flags that animate when you turn on the car.
In the rear everything is lifted like a Malibu housewife, from the bumper to the RS signature oval exhaust tips. Slip under the black roof and inside you'll be greeted by an all-leather standard interior, green contrast stitching quilting the seats and steering wheel.
For legacy Audi lined up a quartet of its famed 1980s Rally, IMSA-GTO and TransAm racers in a nearby paddock, all powered by turbo 5-cylinders and quattro AWD technology. We circled these legendary champions in awe, seeing them in-the-metal for the first time. At first we thought these were just displayed to wow us with Audi's rich AWD legacy. What we learned on the asphalt of the Spring Mountain Motorsport Ranch is the 2023 RS3 superbly continues—and proudly represents—this DNA. 
Follow our Deputy Editor on Instagram at @nickstecher.