Chevrolet's E-10 Electric Pickup Truck Has Vintage Hot Rod Style
GM says the electrified 1962-era pickup "brings the electric option for hot rodders much closer to reality."
Chevrolet continues to bring the heat to SEMA 2019 with an electrified version of its classic 1962 C-10 pickup.
In contrast to the Carhartt-badged 2021 Silverado HD that Chevy announced on day one of Las Vegas' annual vehicle trade show, the E-10 is a concept vehicle brimming with vintage hot-rod style.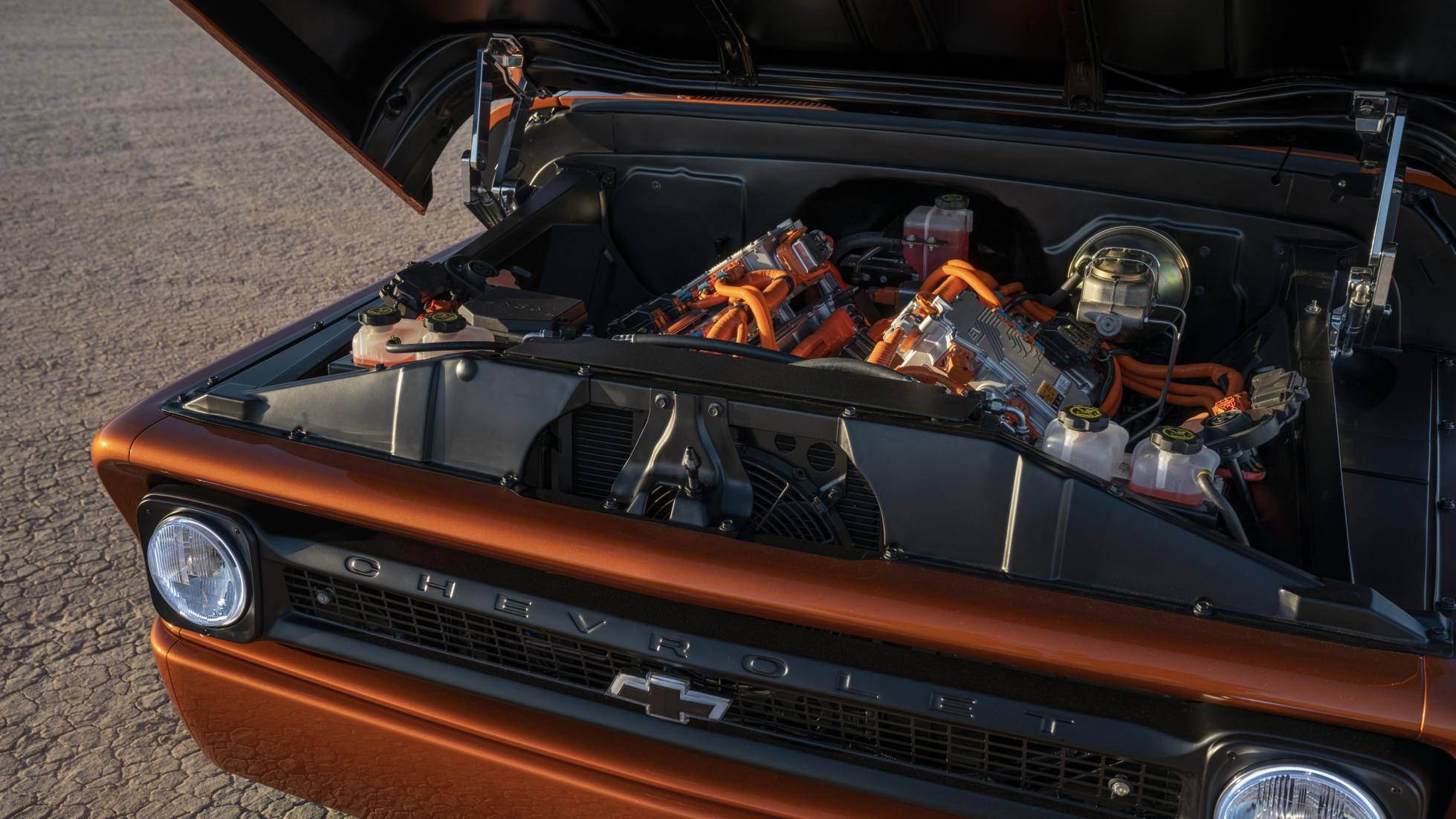 But instead of a hefty V8 under the hood, the orange low-rider runs a pair of two electric "eCrate" motors. Car and Driver notes that the name is a nod to easily-modified gasoline crate engines seen frequently in custom builds. 
The 450-hp powertrain gets its juice from two 60-kWh battery packs—borrowed from the Chevy Bolt EV—stacked in the pickup's bed under a body-painted tonneau cover. GM says that the E-10 will hit 60 mph in five seconds and complete a quarter-mile run in 13-14 seconds flat-out. 
The Detroit-based automaker added that the E-10 "brings the electric option for hot rodders much closer to reality." Gearheads might condemn this notion as sacrilege, but Chevy did attempt to stay true to at least the soundtrack of a hot rod by equipping three speakers that emulate the sound of a Camaro's LS7 V8 and transmission. Alternatively, the emulator can play "futuristic sounds" or nothing at all. 
The E10 joins the 900-hp Ford Mustang Lithium as one of the many EV concepts presented at SEMA. America's biggest car manufacturers clearly have more electrification plans in store for the future.