Pistol-Inspired Curtiss Electric Motorcycle Packs a Bullet-Shaped Battery
High-voltage power.
Curtiss Motorcycle Co. just one-upped the strikingly skeletal Zeus e-bike unveiled days ago with a pistol-shaped model that's truly hellacious.
In fact, it's even called "Hades." Designer JT Nesbitt, who's perhaps best known for conjuring the Wraith and Hellcat motorcycles when the company was operating under the Confederate moniker, collaborated with Curtiss team member Jordan Cornille to create an explosive EV without wasting raw materials. 
"Our goal with Hades is to build the least wasteful machine possible. This not only applies to how the motorcycle operates, but also how it is constructed," Nesbitt said in a press release. 
"Most of the parts on the machine serve more than one purpose. Like Miles Davis, we're playing the fewest possible notes to convey the emotion. That's minimalism."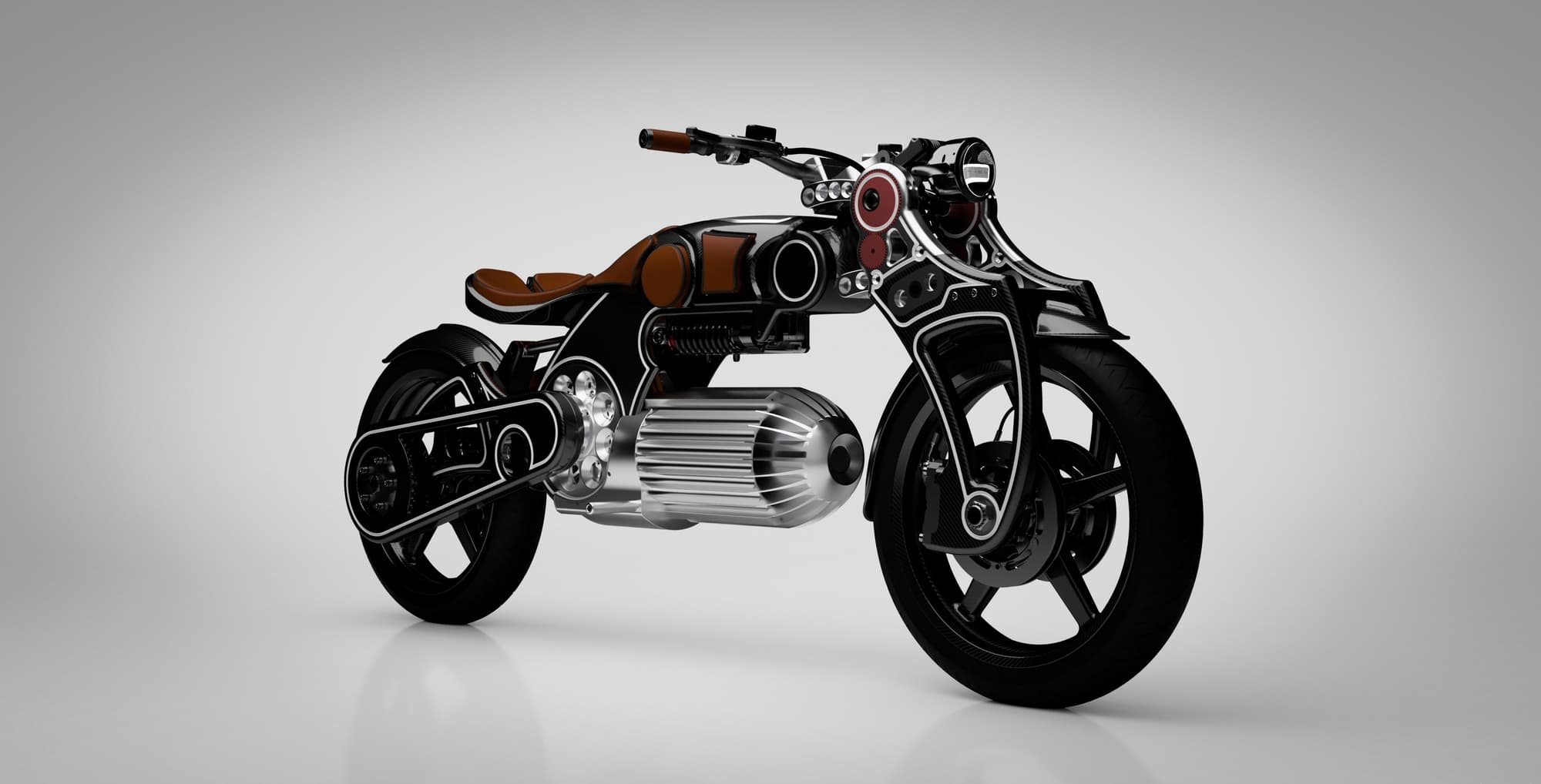 Eyes are naturally drawn to the Hades' bullet-inspired battery case, which houses a massive 16.8 kWH power pack. The rear suspension's extraordinarily long linkage is connected to an element that looks like the cylinder on a revolver. 
Eleektrek notes other wild features: 
The saddle features such a pronounced cup to it that the underside is actually used to mount the rear lights. While lights mounted under a motorcycle's upward sloping tail are nothing new, under-seat taillights are far less common.


There's also no foot lever for the rear brake, as the Hades instead opts for a left-hand lever in place of a typical gas bike's clutch. A rear brake hand lever is becoming increasingly common on electric motorcycles.
Its technical specs are nearly identical to the Zeus: Output to Curtiss' proprietary axial motor is expected to be a staggering 217 horsepower, the chassis is made from a combination of hand-welded titanium, chromoly and aluminum, the wheels are carbon fiber, and its stops courtesy of four Beringer floating cast iron disc brakes. 
Curtiss hopes that the Hades will be among the world's best motorcycles—if not the best—when it arrives in 2020 with a hefty $75,000 price tag. 
"Our ambition is to create the world's best motorcycles — not the world's best electric motorcycles," Nesbitt added. "The fact that ours are electric is secondary. If we're doing our job the right way, it shouldn't matter what makes it go down the road."