Ducati Debuts Multistrada V4 S Grand Tour Adventure Bike
Tour the world on two wheels in "first-class style."
Since Ducati first transplanted its racy power to the Multistrada—or "multi-road"—package in 2003, over 100,000 buyers have embraced the go-almost-anywhere adventure bike. With the launch of the new, long haul-minded Multistrada V4 S Grand Tour, those riders will be anywhere to go almost anywhere for longer.
Ducati bills it as a "complete motorcycle fitted with all the accessories to travel long distances 'in first class' style," thanks to a number of upscale standard features. For starters, the rear fender is flanked two standard side cases, each with nearly 16 gallons of storage space—additional "luggage solutions," such as a top case that sits on the tank, are also available.
The Grand Tour's standard technology suite also rivals a luxury car's, with heated grips and seats, adaptive cruise control, blind spot detection, a tire pressure monitoring system, and additional LED lights to improve visibility at night and in fog.
That's all in addition to Ducati's inertial platform (IMU), which controls ABS cornering, wheelie control, traction control, cornering lights, and Vehicle Hold Control (VHC), which helps riders start on an uphill.
A few features are also borrowed from the Mutlistrada V4 Rally, including the swingarm heat shields and closable ducts, while the 6.5-inch TFT LCD screen with phone mirroring comes is carried over from other members of the Multistrada family.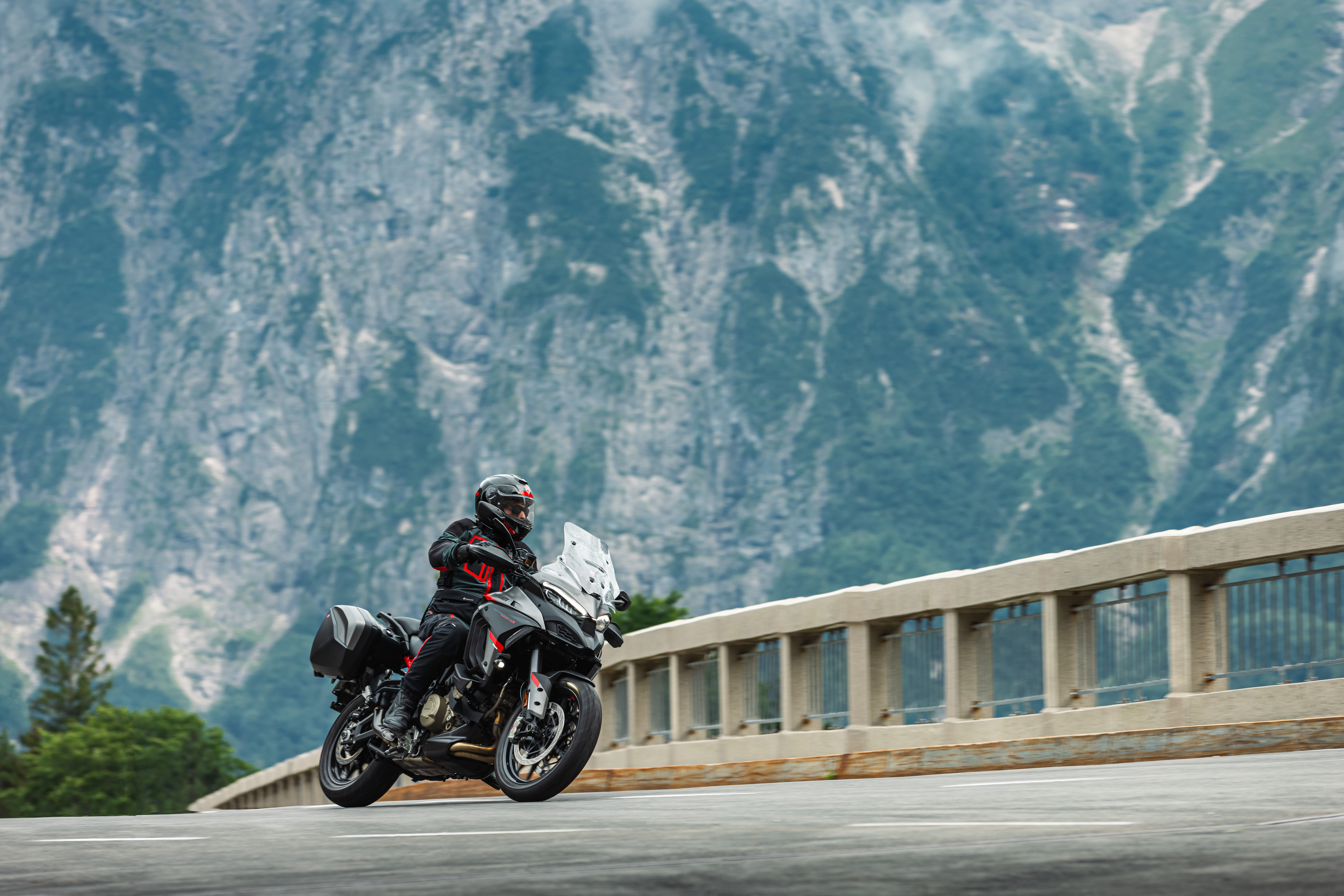 The thing that makes it a Ducati, though, is the 1,158cc V4 Granturismo engine, which puts down a claimed 170 horsepower 92 pound-feet of torque at the rear wheel. Ducati says the torque curve has been made more linear to create a more progressive response across a range of speeds, which should serve off-roaders well in their search for traction.
Priced from $28,395, the Ducati Multistrada V4 S Grand Tour is available to pre-order now before deliveries begin in February of 2024.