Why the 1,973-HP, All-Electric Lotus Evija Is Among the World's Most Anticipated Hypercars
This $2.1 million, insanely powerful electric supercar aims to change the automotive game.
The lotus flower holds profound spiritual power in millennia-old cultures from Hinduism to Egyptian. For Buddhists the blossom—which every day elevates its stalk from the murky pond bottom to bloom on top of the water—represents divine perfection. And perhaps more importantly, rebirth. Fitting it is then that one of the most storied automotive underdogs of the 20th century, Lotus Cars, is soon to be born again. 
Lotus was spiritually birthed in 1947 when an English engineer named Colin Chapman built his first race car in his then girlfriend's parents' garage. By 1958 Team Lotus was competing at the apex of motorsport, Formula One, and a scant two years later claimed its first victory when Stirling Moss piloted his Lotus 18 across the finish line of the Monaco Grand Prix. This against giants of the motorsport world with more deeply lined pockets. Chapman would go on to see his Lotus beat rival Ferrari to become the first constructor to reach 50 Grand Prix victories. Between 1963 and 1978 the automaker claimed six F1 Drivers' Championships with pilots like Graham Hill, Jochen Rindt, Emerson Fitipaldi and Mario Andretti (in addition to another seven Constructors' Championships). 
The British marque has built wonders of the road-going type as well. The Lotus Esprit S1 was famously piloted by James Bond in The Spy Who Loved Me both on asphalt and underwater. That legendary "amphibious" car is now owned by Elon Musk—who coincidentally built his first Tesla, the Roadster, on the bones of the Lotus Elise. The Elise was also recently given the Icon of Icons award by the readers of Autocar magazine—beating such giants of automotive history as the Land Rover Defender, VW Beetle, and Porsche 911. 
But things haven't always been rosy for he storied brand. In the early 1990s sales dipped below 400; in 1996 they recovered with the launch of the Elise roadster, followed in 2000 with the hardtop Exige. The last all new car Lotus released was the Evora way back in 2008, with various editions keeping the brand barely afloat (in 2018 Lotus sold 1,630 cars worldwide). 
This, of course, is where the rebirth part comes in. After an untold time in negotiations, in July 2017 the brain trust that remained at Lotus was informed the hushed rumors were official: Chinese automotive giant Geely Holding Group was buying a majority stake in the automaker. Hugs were exchanged; British joy held in check. And the first mandate Geely issued to said brain trust? The greatest words a design and engineering team could ever hope to hear: "Build us a hypercar unlike any the world has ever seen." 
"As you can imagine, when you get a brief like, 'Design a hypercar,' that's just like wow. That's a dream job," Russell Carr, Head of Design at Lotus Cars, tells Maxim of that day in September 2017 when their first orders came down the wire. "We're lucky we design sports cars as a day job which is pretty cool. But a hypercar, well that may only come along once in your lifetime." That hypercar is the jaw-slacking Evija you see before you. An around $2.1 million exact science expression of the long-held Lotus philosophy. A vehicle born of brute power and brilliant wind manipulation. You see there are three long-standing pillars at Lotus, foundational flagstones that inform the design and engineering of every vehicle bearing the Lotus badge: aerodynamics, weight efficiency and precision driving dynamics. And the Evija is the carbon fiber manifestation of all three.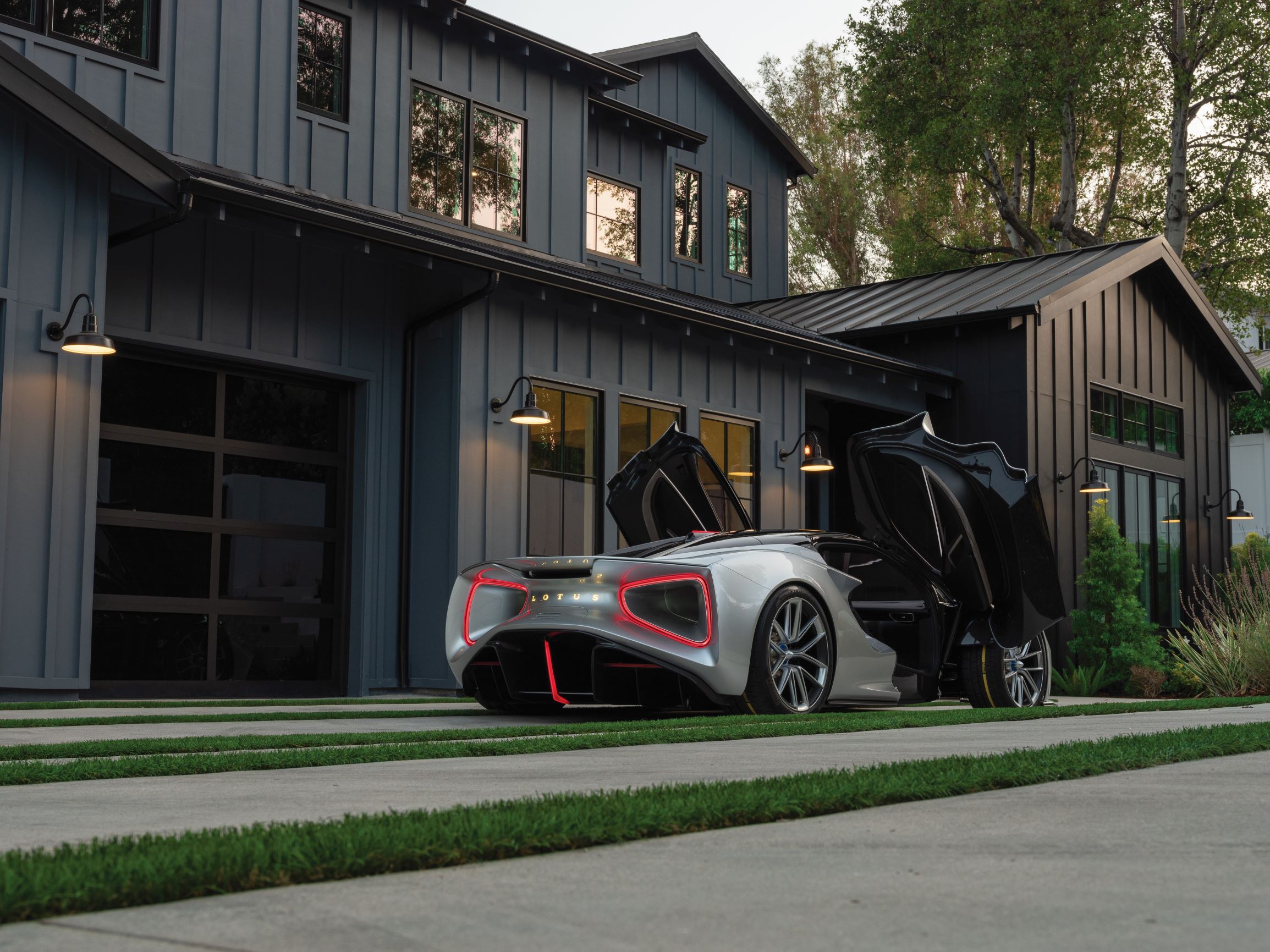 This abolishment of weight and optimization of aero principles is the underpinning of Lotus's racing pedigree. They were the first marque to implement wings in their F1 cars on the Lotus 49, and when they developed an inverted wing underside for their Lotus 78— the John Player Special black and gold race car dominated the world of Grand Prix. Teammates Andretti and Ronnie Peterson scored four 1–2 wins during the 1978 season, easily capturing the Constructors' Championship (with Andretti winning his sole F1 Championship). 
The optimization of weight and aerodynamics is especially important in a battery electric vehicle (BEV), which the brain trust knew early on was a mandate for the Evija (dubbed internally the Type 130 during its skunk works stage). "Aerodynamics become critical," explains Carr. "You want low drag for top speed and to improve range, and you want downforce to make it go around a track quickly. But you want to get the balance right—you're not prejudiced in one or the other too much." 
This meant innovating air ducts and venturis, moving air fluidly through and over the hypercar. For inspiration Russell and his team looked at high-tech military planes like the F-16 Falcon and SR-71 Blackbird. "We liked that slightly menacing elegant beauty that a lot of aircraft have, which is very natural," he explains. "That roll off the cabin and then into the side of the fuselage, I think aeronautical engineers call them chimes. To me that was an appropriate reference, where you have these very beautiful, fluid surfaces and then crisp lines. It's a nice mixture of surfaces that are very dynamic and time – less to look at." 
Not much is known about the specifics of the battery pack or powertrain (which is being developed by Williams Advanced Engineering), but the numbers Lotus are teasing are astonishing. With an electric motor placed on each wheel, the Evija will generate a road-melting 1,973 horsepower. "I think it's going to be mind-bending, like a roller coaster," gushes Carr. With the battery pack placed "mid-engine" behind the driver, and each wheel able to run independently, the torque vectoring on corners should be absolutely insane; the Evija could theoretically spin like a top on its axis. "It's going to be really exciting but sometimes almost a little bit uneasy if you're not a racing driver, and you're not physically accustomed to that amazing change of state from slow to fast, from left to right that you can have on this car." 
Chapman would be proud, Carr hopes. "You don't follow the obvious route, which is what I think he was keen on," the designer muses. "I saw in an interview he did in the '60s and someone asked, even then, 'How can a small company like Lotus survive with all these big corporations?' And he said, 'There's always room for a company who's small and agile, nimble, is virile. Can we act quickly?' And that's very much how Lotus thinks now."  
Lotus CEO Phil Popham on the Future of the Brand 
In September of 2017 China's Zhejiang Geely Holding Group announced it had bought a majority 51% stake in Lotus Cars. By next year they'd hired Phil Popham as their CEO. Plucked from the luxury boat maker Sunseeker, with a previous stop at Jaguar Land Rover, Popham was offered the opportunity of a lifetime to shepherd the tiny British automaker into the 21st Century. 
What is your plan for growing the business? 
Well we've got an ambitious business plan in terms of growth. We've just shown Evija which is not going to be significant in terms of volume for us, because we'll be building a maximum of 130, but it does actually signal the start of something quite significant in terms of investment. The next new car, which we will probably show towards the end of 2020, will be a new sports car that will actually grow our volume quite substantially. It will build on the success of the cars we've got at the moment but also appeal to a greater audience. It will be a car that has all the hallmarks of a Lotus, but that people can live with on a day-to-day basis. 
Lotus has always been known for very analog cars. And then the Evija is the opposite: a fully electric hypercar. Which better represents the future? 
I would say both and I'll explain why. So Evija does a number of things. Firstly, it illustrates the technical capability that Lotus engineering has to actually produce a car like that…. Our competitive advantage has [always] been around on-road dynamics, light-weighting, aerodynamics—and we're still a real force in that respect. We are going to develop with technology. What we're not going to do is to lose anything concerning the DNA of the brand. The DNA of the brand is all about for the driver. It's about the driving experience, it's about on-road and on-track dynamics. 
All the things that we've been famous for during our history we will not lose. But we really take advantage of the fact that we're part now of the fastest growing automotive group in the world. With Geely Group we have access to a lot of future technologies…. We're in a brilliant situation in being part of such a big organization with such tremendous engineering resources…. But we'll do it in our own way. We'll have our own DNA and we'll ensure that we produce cars that live up to that DNA. Cars in the future will be very, very Lotus.