'First New Curtiss Motorcycle In 115 Years' Is An All-Electric Steampunk Masterpiece
The brand formerly known as Confederate Motorcycles is taking preorders on its $83,333 electric bike featuring hypercar-quality construction.
Curtiss Motorcycles certainly wants to make a statement with the debut of the all-electric Curtis 1, billed as the first new bike from the brand "in 115 years" and featuring hypercar-quality construction.
The company, formerly known as Confederate Motorcycles until 2020, was really founded in its current form in 1991. But that century-spanning claim is rooted in ties to Glenn H. Curtiss—the engineer and aviator for which the Alabama-based moto manufacturer was named under the rebrand.
The Curtiss 1, also referred to as "The One," does indeed draw heavily on the V8-powered bike of Glenn Curtiss' design that he used to set the land-speed record at 136.36 mph back in 1907.
The steampunk-style aesthetic is created with a combo of pre-WWI starkness with exposed electrical components, particularly the Curtiss Hex Pack—a first of its kind vessel that absorbs and radiates heat from the 80 kWh battery's individual cells. The black-on-black paint coat with white or black pinstriping harks to Curtiss' record-breaking bike.
An aircraft-inspired TLP monocoque was constructed within the Golden Ratio devised by the Greeks to quantify beauty. Symmetrical proportions allow for significant ergonomic improvements—a reduction in girth compared to other motorcycles allows for dirt bike-like ground clearance, a lower center of gravity, a razor-thin width, and a 425-pound weight.
A proprietary axial motor is centered along the horizontal and vertical axis of the chassis, with a hefty hardened-steel drive shaft attached—Curtiss Motorcycles claims the system provides "the most balanced operation ever created on two wheels."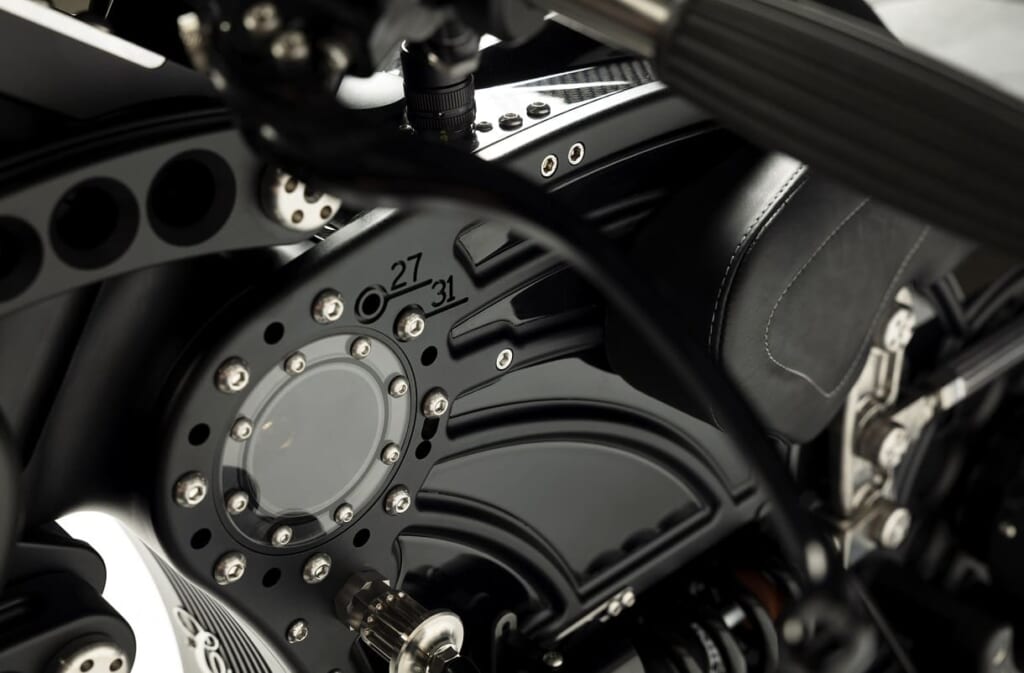 Peak output for now is listed at 110 horsepower and 147.5 pound-feet of the torque, but the brand expects a superbike-slaying 217 horses to be achievable via future cloud-based software updates.
Range is listed at 120 miles in the city and 70 miles on the highway, with a recharge to 80 percent clocking in at two hours on 220V Level 2 Charger.
The opening of perorders for the Curtiss 1 coincides with its debut at the Petersen Automotive Museum's "Electric Revolutionaries" exhibit.
Described as an "exclusive look at the ground-breaking creations of the visionaries at the forefront of the ever-expanding electric motorcycle industry," the Curtiss 1 joins a 240.7-mph "KillaJoule" sidecar streamer, an ultra-minimalist "Rontu" weighing just 100 pounds, and the futuristic XP Zero cafe racer based on the heralded Zero SR/F electric motorcycle.
Priced at $83,333, the Curtiss 1 is available to reserve now with a $5,000 down payment.