Watch Ken Block Slide 5 Cars Across 5 Cities on the 'Ultimate Tire Slaying Tour'
'Gymkhana Ten' is his most insane stunt driving yet.
Hoonigan Racing
After ten years of making some of the highest octane videos on the internet, perennially-sideways stunt driver Ken Block has unleashed his biggest project to date: Gymkhana Ten: Ultimate Tire Slaying Tour. 
Nearly 20 minutes of nonstop rubber decimation sees Block travel to five cities across the globe, terrorizing each with fire-breathing automobiles. 
https://www.instagram.com/p/BrYD3aNgvK3
First, Block stopped in Luleå, Sweden, where he melted snow and ice in a 380-horsepower 2018 Ford Fiesta WRC while skidding around a dude jumping into an frozen lake. We're not sure whose balls are bigger, to be honest.  
Block redlined his most ferocious ride of the trip in Detroit. You might recognize the growl of his 1,400-hp Ford Mustang "Hoonicorn" V2's monstrous 6.7-liter, twin-turbocharged V8 from their attack on Pike's Peak. 
This time, a sluggish Segway rider risked his well-being to capture awesome donut footage.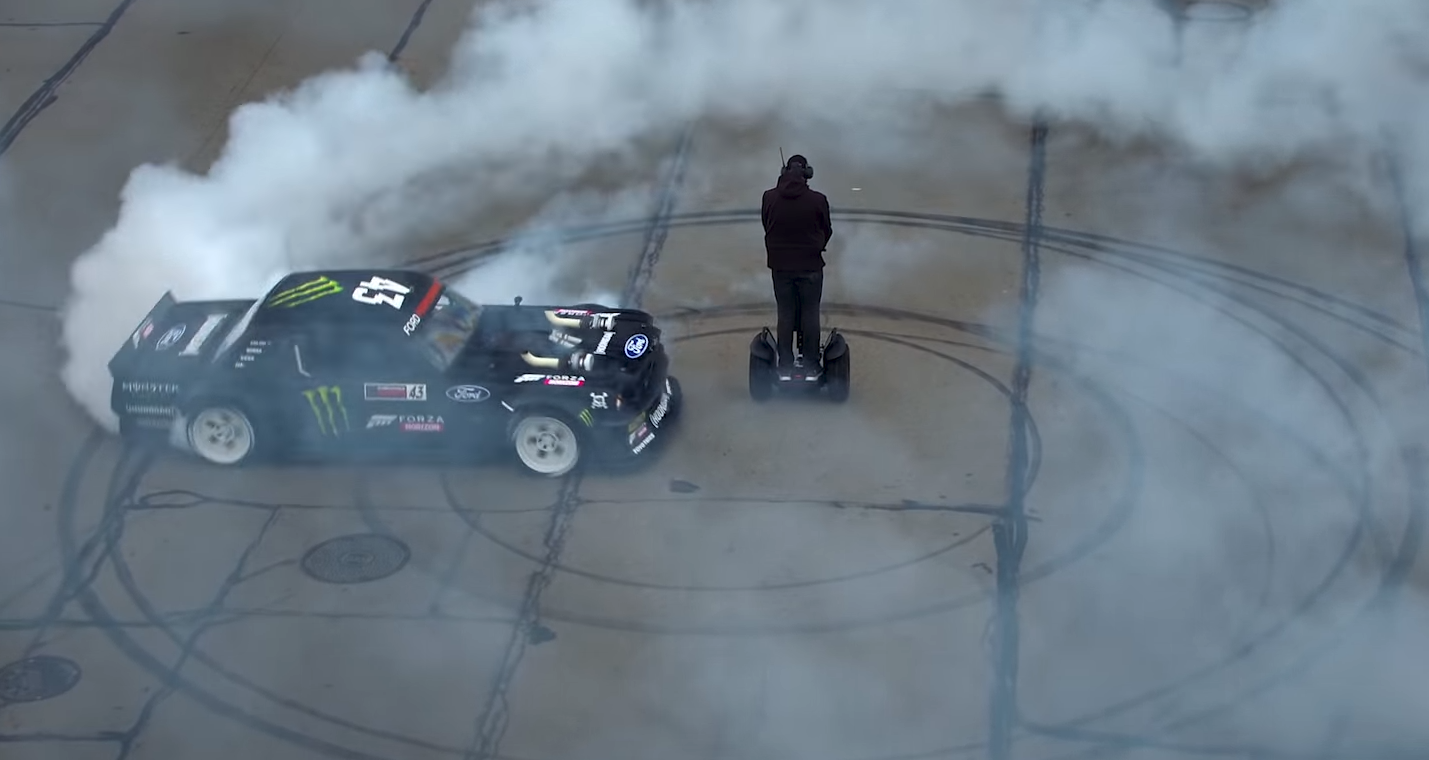 Next, Block ripped up the cobblestone streets of Guanajuato, Mexico in a nimbler 2017 Ford Focus RS RX rallycross car. No pinata was safe from the racing machine's 650 horses.
The Hoonigan team must have ran out of tires in LA, because Block ran his 645-hp 1991 Ford Escort Cosworth rally car on its rims, creating some fantastic fireworks the process. 
The last clip of the montage shows the world debut of Block's newest stunt car: the 1977 Ford F-150 "Hoonitruck." The sleepy Texas town of Shamrock got a rude awakening courtesy of its 914-hp, twin-turbocharged V6. 
"For number ten, we tried to make it the biggest and best," said Block. "It was two years in the making. It's insane the effort that went into this one, and I couldn't be happier with the end result."
If your need for speed still isn't satisfied, check out more highlights from Gymkhana Ten below:
https://www.instagram.com/p/BrS_RqIgq-5https://www.instagram.com/p/Brjc0uxgny-https://www.instagram.com/p/BrjTQ75guLshttps://www.instagram.com/p/BriwG_ogwWbhttps://www.instagram.com/p/Brk4fVLAN7X