Hennessey Unveils Insane $2.7 Million, 1,817-HP Venom F5 Revolution Hypercar
The world's most powerful combustion-only coupe gets a hardcore makeover for the track.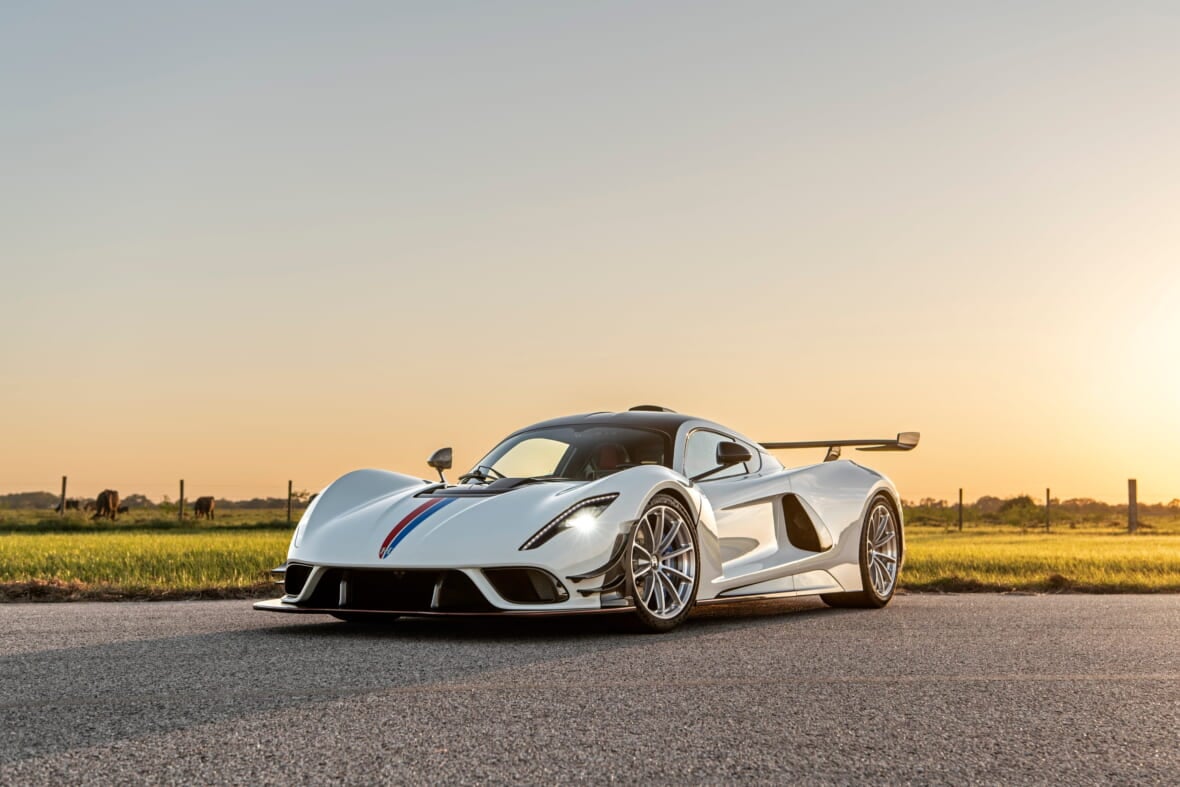 As if the 1,817-horsepower Hennessey Venom F5 wasn't already hardcore, the power-hungry Texas tuner has unleashed a limited-edition variant tailored specifically to track day fiends.
The Hennessey Venom F5 Revolution was conceived under Chief Engineer John "Heinrocket" Heinricy, whose impressive resume includes 38 years performance vehicle development at GM, during which time he worked closely on the muscle-bound Corvette Z06 and Cadillac CTS-V. As a professional racing driver, Heinricy has also seen 240 checkered flags and notched three FIA Speed Records.
"Nothing compares to designing, developing, and refining a race car for the road like the Venom F5 Revolution," said Heinricy, who can be seen putting the Venom F5 through its paces in the video above.
"From the outset, we designed the Venom F5 hypercar to be ultra-light and monstrously powerful, with dynamics to match. So, taking these ingredients and adding track-focused aerodynamics, suspension, and gearing, enabled us to create a machine that is the ultimate visceral and emotional driving experience."
The most blatant piece of aero kit is the full-width, adjustable carbon fiber rear wing. Along with airflow-guiding end plates to which its mounted, Hennessey reports that the wing delivers 800 pounds of downforce at 186 mph and 1,400 pounds at 249 mph.
A front splitter adds extra downforce by mitigating the amount of air that moves beneath the car, thereby creating a low-pressure vortex, while an extended rear diffuser smoothly guides any air that does move along the underside rearward. Dive planes mounted in front of the wheels aid in turn-in grip by shifting the balance forward under braking.
Other track-focused additions include a new roof-mounted central air scoop that both aids in cooling the boisterous twin-turbo 6.6-liter "Fury" V8 and adds to the Venom F5's ferocious aesthetic, as well as a more aggressively aligned double wishbone suspension, enlarged wheels, and an optional on-board telemetry system for measuring an array of hot lap data points.
Priced at $2.7 million, the Hennessey Venom F5 Revolution is limited to just 24 examples, many of which are already spoken for. Interested parties can apply to purchase one of the remaining vehicles here before the hypercar makes its debut at the Miami Motorcar Cavalcade Concours d'Elegance on January 15.