Hennessey's 1,026-HP Mammoth 6×6 Is Its Biggest, Baddest Supertruck Yet
This Hellcat V8-powered, six-wheeled monster is priced at a cool $450,000.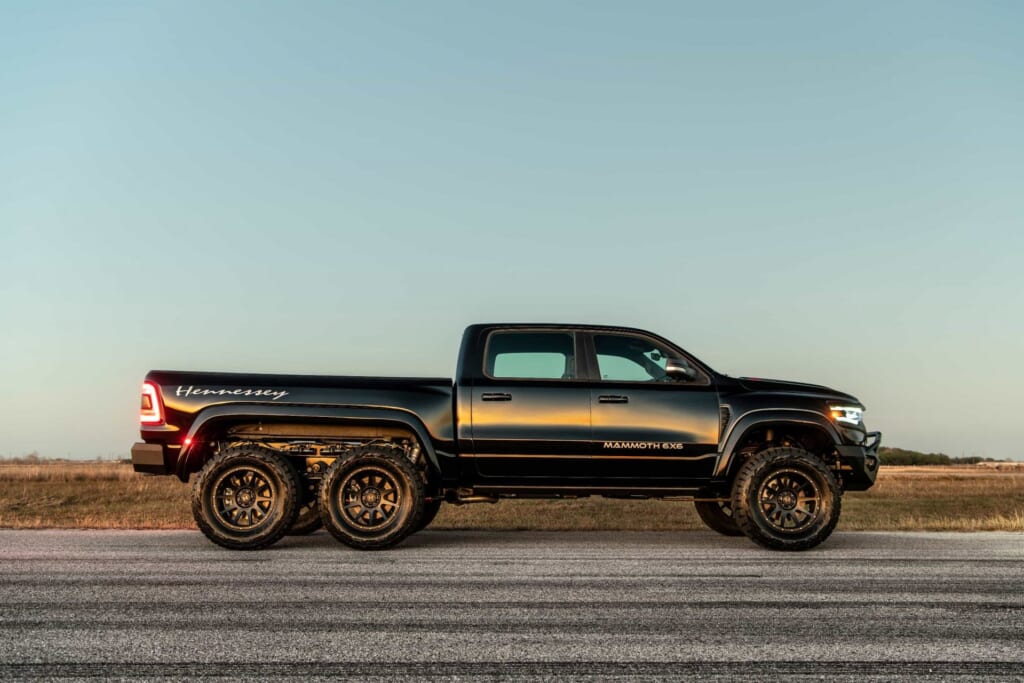 Hennessey Performance is delivering on its promise to build the biggest and baddest vehicle in the Texas tuner's history, the RAM TRX-based Mammoth 1000 6×6.
Production has officially begun on the street-legal monster truck following its announcement in 2020. At nearly seven feet tall, 7.4 feet wide and 24 feet tall, it not only dwarfs everything else on the road, but even Hennessey's own Chevy Silverado-based Goliath 6×6.
The most obvious mod is the addition of a third axle mounted with two more 20-inch 10-spoke wheels wrapped in 37-inch off-road tires. But it wouldn't be a Hennessey without an uptune of the TRX's 702-horsepower 6.2-liter Hellcat V8—already the most powerful stock half-ton pickup engine on the market.
Over 300 extra hellacious horses are added courtesy of an engine overhaul including installation of a 2.65-liter supercharger, better fuel injectors, and a high-flow intake system, bringing total output up to 1,026 horsepower and 969 pound-feet of torque.
While the bulk of the work and cost covers mechanical upgrades, a few cosmetic pieces include "Mammoth" custom bumpers, as well as various Hennessey badging on the extended bed and embroidered headrests.
To help owners scale the sides and climb in the cockpit, Hennessey adds aftermarket electronic fold-out steps.
"Everything we do at Hennessey Performance is turned up to 11, but the Mammoth 1000 6×6 is definitely turned up to 12!" founder John Hennessey said in a statement.
"Everything on the Mammoth 6×6 is bigger, badder, and more imposing – plus, it's still super-fast, while being a total powerhouse off-road. It's the undisputed king of the road."
You'll need a king's fortune to buy one, too, as the Hennessey Mammoth 6×6 is priced at $449,950 all-in, including the donor vehicle. A maximum of 12 examples will be made yearly—contact Hennessey here to get on the shortlist.