The 1,700-HP Koenigsegg Gemera Is World's Fastest Four-Seater
The "world's first Mega-GT" can hit 62 mph in 1.9 seconds.
New sports cars, supercars and hypercars and grand tourers are announced on a regular basis, but Koenigsegg aims to carve out a brand new performance vehicle segment with what the Swedish marque calls the "world's first Mega-GT." 
The Gemera has four adult-sized heated seats, four cold and warm cup holders, front and rear seat central infotainment displays, phone chargers, Apple CarPlay, Wi-Fi, an 11-speaker sound system, exterior and interior cameras, cabin lights, climate control, and all-wheel drive.
Indeed, those are the type of creature comforts that you'd find in a Bentley, especially with regard to the passenger space. That's where the "Mega" part comes in. Three electric motors—one for each rear wheel and one on the engine's crankshaft—pump out a combined 1,100 horsepower. Another 600 hp comes from a twin-turbo 2.0-liter 3-cylinder engine, pushing total output to an insanely powerful 1,700 hp. A similar hybrid platform with a bigger engine but less power was featured in the Koenigsegg Regera.  
Koenigsegg claims that the Gemera will hit 62 mph in just 1.9 seconds. That would not only make it the fastest four-seater ever but one of the quickest production cars in the world. Its nearly 250-mph top speed is also ridiculous, especially in a vehicle that Koenigsegg says is built for "family trips on long-range public roads."
Car and Driver reports that the hybrid range is 590 miles, but it can go for 31 miles on its 15-kwh battery alone. Signature Koenigsegg design elements include a carbon fiber monocoque, wrap-around jet fighter inspired windshield, hidden A-pillars, the short overhangs and large side air intakes. The front design is inspired by the company's first-ever prototype – the 1996 Koenigsegg CC.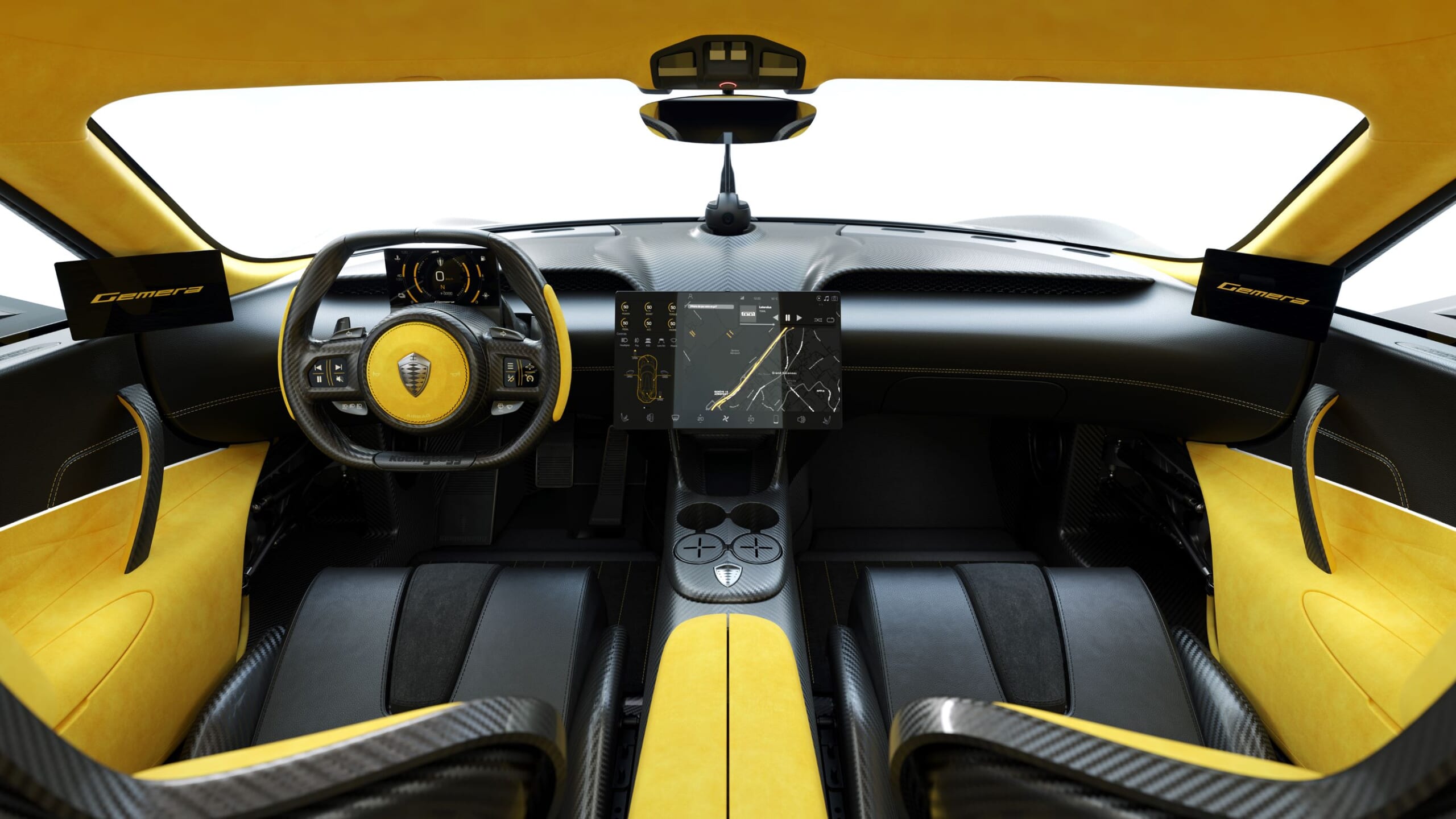 Giant scissor doors open vertically, allowing riders to climb into the back without moving the seats—another uncommon feature for most GTs. Safety features include six smart airbags, stability control, traction control, ABS and an ADAS 2.5 driver assistance system.
Only 300 Gemeras will be made. There's no word on price, but it'll be seven figures for sure. Head to Koenigsegg's website to learn more.