You Can Buy This Insane 1,200-HP Mustang Hellion For a Cool $50K
Just try to go faster for less money.
Ford Motor Co.
Ohio's Lebanon Ford can't leave well enough alone by just selling sexy new Ford Mustangs. Instead, they are offering the 1,200-horsepower twin-turbo Hellion modification package to the Mustang GTs they sell for a total price of $49,995.
Unlike so many such upgrades, the price of the new Mustang is included in this purchase. The Hellion upgrade starts with a pair of enormous 62 mm turbochargers, intercooler and Basani cat-back exhaust system for $45,499.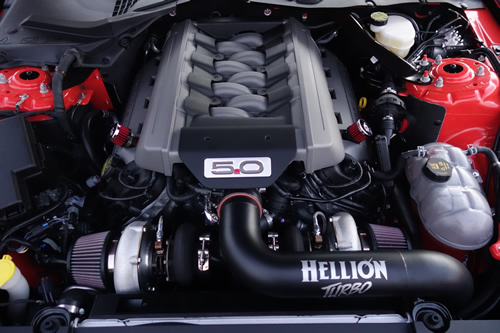 To achieve the maximum of 1,200 horsepower at the rear wheels, the $49,995 Package 2 adds 95-pound fuel injectors, high-volume fuel and oil pumps and fatter rear-wheel halfshafts to withstand the added power.
The Mustang built its reputation on providing performance bang for the buck, and a pony car with Bugatti Veyron-like power for less than the price of a base Chevrolet Corvette continues that tradition.
h/t: The Drive