The All-Electric, 1,972 HP Lotus Evija Is The World's Most Powerful Production Car
Meet the new king of horsepower.
Earlier this year at the Shanghai Auto Show, Lotus cryptically teased the "first British all-electric hypercar." 
Exciting stuff, but what wasn't mentioned is that the performance automaker's newest production vehicle would also be the world's most powerful road car.
Thanks to the Lotus Evija (pronounced "E-vi-ya"), the also all-electric, 1,900-horsepower Pininfarina Battista's reign as the king of ridiculous output has ended after just five months. 
The Brit has 72 hp on the Italian, but how performance will compare is unclear. The Battista is supposed to be a sub-two second car with a 217 mph top speed, but all that's been revealed regarding the Eivja's capabilities is that the four wheel-drive coupe will hit 62 mph in under three seconds, 186 mph in under nine seconds, and max out above 200 mph. We'll have to wait for specific figures. 
But there are plenty of reasons to get excited about the forthcoming EV, particularly when it comes to charging.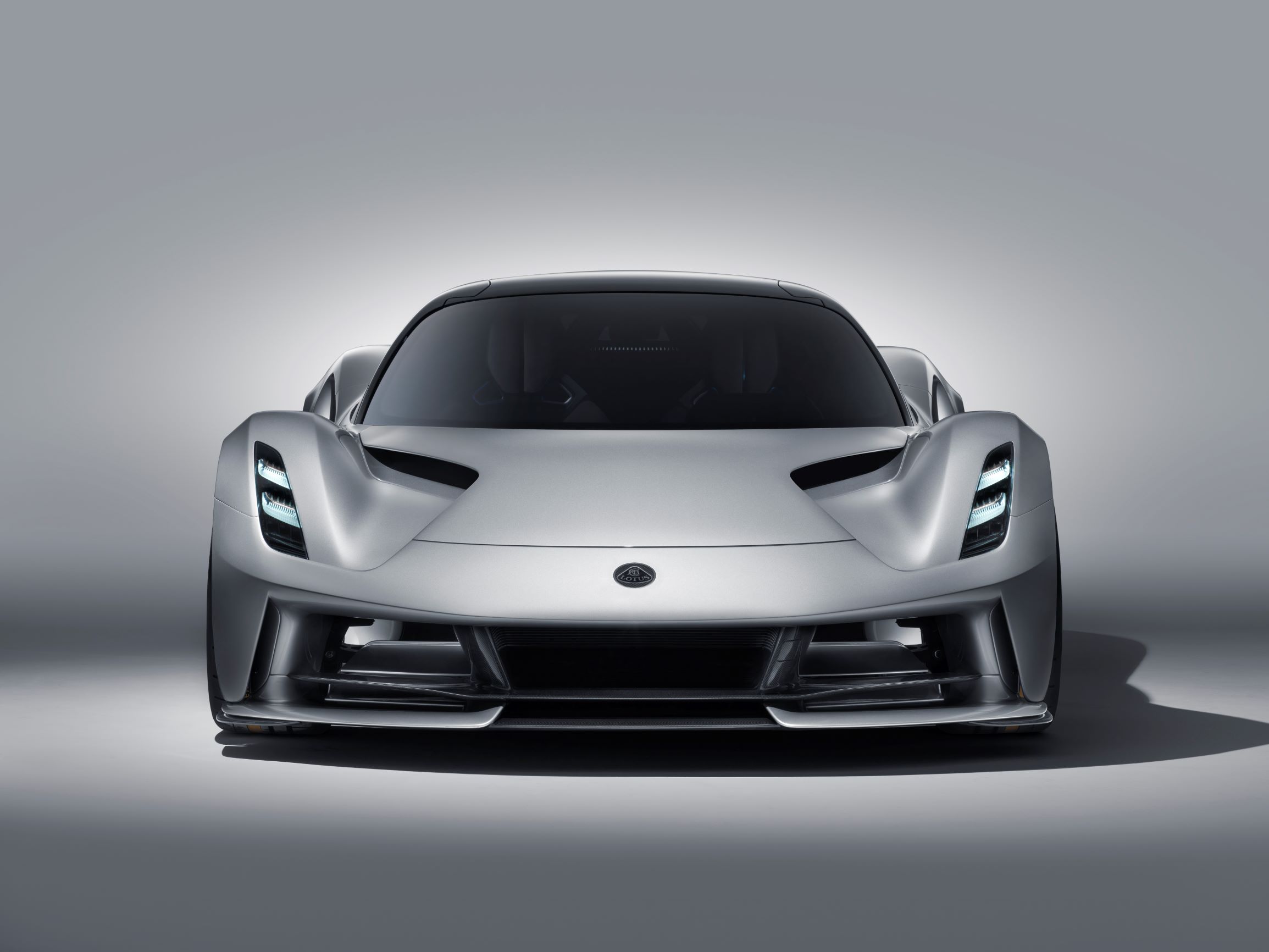 While estimated max range is 270 miles, the mid-mounted battery can accept an 800kW charge to juice back up in a world record-setting nine minutes. The catch is that there aren't any commercially available units capable of delivering said charge, but today's 350kW units will still get the battery to 100 percent in 18 minutes.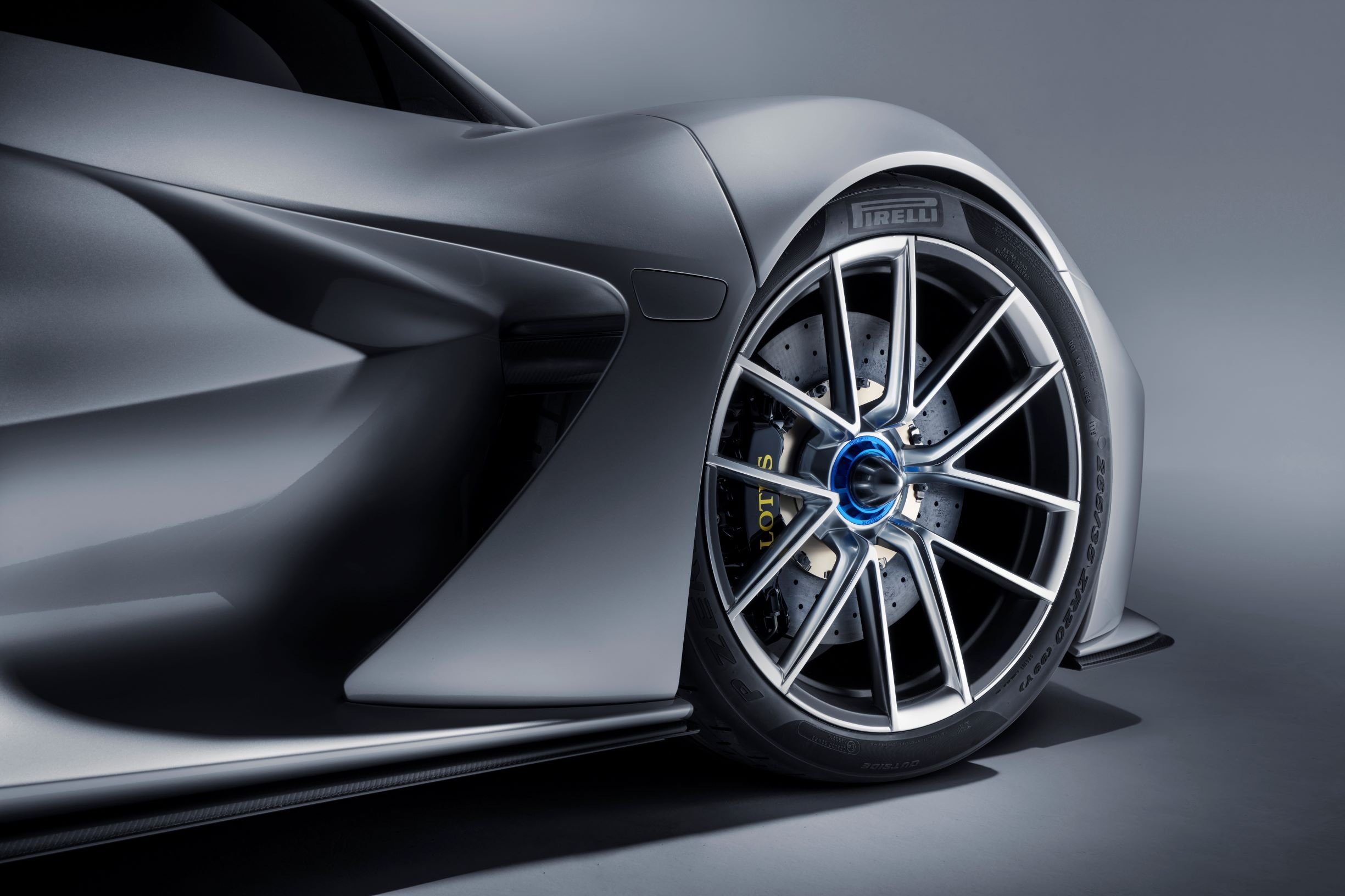 Other, less newsworthy superlatives are attached to the Evija. An ultra lightweight carbon fiber monocoque keeps curb weight down to about 3,700 pounds, making it the world's lightest EV hypercar.  
It's also the first production car with "laser lights" on both main and dipped beams, which we assume will illuminate the road better and more precisely than today's headlights.  
Lotus says that the most striking design element is the Evija's shell. Indeed, the carbon fiber bodywork, muscular tail and flowy lines are gorgeous, even by Lotus standards.
But beyond the butterfly doors (which are operated by a key fob and roof-mounted button) is a cabin that's from the future. The steering wheel has an F1-style shape, there's a paired down digital display that serves as the vehicle's sole screen, and a slick "ski slope-style" center console with touch-sensitive hexagonal controls. Naturally, the race-style bucket seats are made of carbon fiber and trimmed in Alcantara. 
Even with all of those features, the interior appears to be quintessentially Lotus, which is to say that it's not oozing with the type of overbearing technology or outlandish accents found in some of today's hypercars.
That said, the Evija will have a max price tag of $2,481,800 and production will be limited to just 130 examples, meaning that this is by far the most expensive and exclusive new Lotus ever made. Don't worry—can reserve yours now for a cool $310,237.50 (£250,000).