Meet The Bugatti Mistral, The Brand's Final W16 Hypercar
This raging $5 million roadster is the last Bugatti powered by a 16-pot engine.
Since 2005, Bugatti's behemoth W16 engine has produced truly prodigious outputs, first in the Veyron and most recently in the Chiron. Those two models have spawned countless special editions and closely related siblings all powered by the marque's quad-turbo 16-pot, and the new Mistral will be the last.
"For the final roadgoing appearance of Bugatti's legendary W16 engine, we knew we had to create a roadster. Well over 40 percent of all Bugatti vehicles ever created have been open-top in design, establishing a long lineage of performance icons that – to this day – are revered the world over," said Bugatti Rimac CEO Mate Rimac, who spoke to Maxim shortly after the merging of Bugatti and Rimac.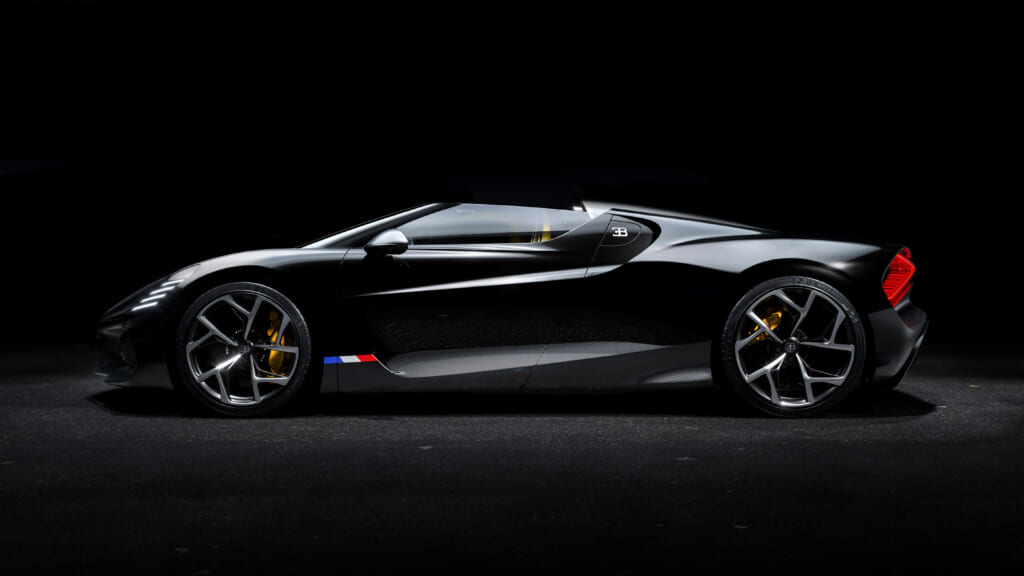 "In the Chiron era there had, to-date, been no roadster, so the introduction of W16 Mistral continues this legacy, driven by enormous demand from our clients for an all-new way to experience the mighty performance of our iconic engine. The W16 Mistral opens the next chapter in the Bugatti roadster story, inspired by over a century of open top legends."
The curving windshield wrapped around the A-pillars reinterprets those 1934 Bugatti Type 57 Roadster Grand Raid's V-shaped windshield. Engine air scoops located just behind the occupants also reference the Grand Raid, as well the first W16-powered open-top Bugatti, the Veyron 16.4 Grand Sport.
The list of functional highlights is lengthy, but it includes a four-piece headlight configuration (a nod to the quad-turbo/four-wheel drive) that also funnels air through the wheel arches an extra-wide horseshoe grille, an X-taillight that both vents side oil coolers, and a new intake layout that aims to accentuate the robust soundtrack through the rev range.
The Mistral's interior is based on the Chiron's, again featuring a plethora of lightweight titanium/milled aluminum materials and top-tier leathers. But there are a few details make the Mistral distinct—the yellow-and-black colorway, plus a shifter that's machined from a solid hunk of aluminum and adorned with the "dancing elephant" sculpture that graced the 1926 Bugatti Type 41 Royale's hood.
As for the engine, Motor Trend points out that it's the 1,600-hp version of the W16 that helped Bugatti crack the 300-mph record in the Chiron Super Sport 300+. Even if it's limited to 260 mph, the Mistral will be the most potent open-top internal combustion engine product car ever built.
Despite a prohibitive price tag approaching $5 million and a far-off 2024 delivery date, all 99 Bugatti Mistrals have been sold.