Why Rimac Is Poised to Become the New King of Hypercars
Founder Mate Rimac dishes deep on the 1,914-horsepower Nevera EV, the Bugatti partnership, and meeting fellow automotive pioneer Christian von Koenigsegg.
"I always wanted to race, and the easiest and cheapest way to start racing in Croatia was to buy an old car with rear-wheel drive and a bunch of used spare tires to just use until they blow up drifting," a youthful Mate Rimac tells me over an early morning Zoom. "So as soon as I turned 18 I bought a BMW." Sitting in his Sveta Nedelja offices just outside of Zagreb, the bearded entrepreneur and EV visionary illuminates the Origin Story of his eponymous marque/globally recognized disruptor: Rimac Automobili.  
Unfortunately for a young Mate, but quite fortunate for gearheads worldwide, after just a couple races the 1984 E30's engine exploded, fast-tracking the nascent tuner to a crossroads.
"My dream was to put an M5 V8 into an E3 — like, wow! But even crashed cars were very expensive here, so instead I went to Plan B which was to make an electric E30," he recalls of the early groundwork that would soon define his young life.
"I thought I'll make an electric one and maybe there is a business I can build out of it. It's not like I did market research or analysis and an Excel spreadsheet spit out that it makes sense to make electric cars; I did it out of passion. But I wanted to make something big, not just a hobby project."
After a moment's pause, he continues: "Let's just say the heart wanted the V8, but the mind wanted electric."
Influenced by a man named Martin Eberhard, who EV aficionados will recognize as the original pioneer behind Tesla (sorry Elon fanboys), Mate bought an electric fork-lift motor and some batteries and began tinkering. It took a year to get his BMW EV running, but the early iteration required numerous updates and experimentations as he optimized the battery pack.
"Every time I would improve it I thought What you can buy off the shelf is not good enough," he explains, "so I started designing my own parts like a battery management system." The result? His revolutionary EV would go on to notch five FIA and Guinness World Speed Records.
This bold leap into engineering and crafting his own parts, eschewing the traditional supplier chain model, laid the early foundation for what Rimac Automobili would evolve into.
Because while his mindboggling hypercars write headlines in giant script — such as the upcoming quad-motored Nevera, boasting 1,914 horsepower, a 258-mph top speed and 0 to 60-mph time-warp in under 2 seconds — it is Rimac's position as a technology supplier to other OEMs that has revolutionized the industry.
Rimac's groundbreaking EV systems now pin numerous hypercar architectures, including several past MAXIM feature subjects. Consider the entire powertrain for the upcoming Pininfarina Battista [July 2021], the battery system for the Koenigsegg Regera [July 2020] and the KERS brakes of the Aston Martin Valkyrie [January 2019]. All Rimac.
Then there's Porsche AG who followed their initial 2018 investment in Rimac by increasing their stake to 15% the following year. In March of this year they poured in an additional $83.3 million, raising their hold to 24% and setting Rimac on course to becoming a Tier 1 high-tech supplier to one of the most respected marques across performance and motorsport. This adds to the $90 million Hyundai/Kia Motors invested just a couple months prior.
As any enthusiast knows the automotive landscape is littered with digital renderings of impossibly powered supercars that have as much basis in reality as the Millennium Falcon.
What sets Rimac apart is Mate's commitment since day one to elevating his marque beyond #vaporware — despite the lunatic numbers of his Concept_One, which caused similar eye-rolling skepticism among media when unveiled at the 2011 Frankfurt Motor Show.
"Porsche invested three times in us. Why?" he asks rhetorically. "Because when we promise something we do it — and often we over-deliver. As you know there's lots of hot air in this industry, and lots of PowerPoint companies. I don't want our company to be one of those."
It is Rimac's twin development of otherworldly hypercars with real-world supply chain technology that has set the Croatian startup on a path unlike any other in history. In terms of generated revenue Mate discloses the technology business will be 'orders of magnitude higher' than the hypercar business, which begs the question: how much time will Mate personally be spending on each of these endeavors?
He pauses over Zoom, grins. "50-50."
So you're being incredibly inefficient in a way?, we ask. "Yeah, but also one doesn't work without the other," he counters. "The stars aligned there; the two businesses only work together: the car business wouldn't work without the tech business because if you just develop hypercars it would be too expensive. And despite the hypercar business being much smaller of a share in the business, it's a very integral part. So it's just the beautiful symbiosis."
He goes on to note how CEOs and development heads of nearly every major European car manufacturer has visited their HQ in the flesh, and to a person the experience of driving their hypercars has been the proof-of-concept that qualitatively elevated Rimac from a dreaded 'PowerPoint company' to an indisputable, IRL face-peeling performance supplier.
This unique success story sowed the seed for arguably Rimac Automobili's greatest feat: the recent absorption of legendary marque Bugatti under its brand.
As announced over the summer, the 112-year-old French hypercar brand renowned for its W16-powered Chiron and Veyron spaceships will be moving over from VW control to Rimac (55% ownership, with Porsche controlling the remaining 45%). Not only will Rimac be snatching possession of Bugatti, but also likely its title as the Fastest Car In the World when their Nevera hits the streets.
"This is a truly exciting moment in the short, yet rapidly expanding history of Rimac Automobili. We have gone through so much in such a short space of time, but this new venture takes things to a completely new level," Mate tells us proudly.
"Rimac and Bugatti are a perfect match in terms of what we each bring to the table. As a young, agile and fast-paced automotive and technology company, we have established ourselves as an industry pioneer in electric technologies. With the Nevera we have also proven that we can develop and manufacture outstanding hypercars that are not only fast but also exciting and high-quality. Bugatti, with over a century of experience in engineering excellence, also possesses one of the most exceptional heritage of any car company in history."
It doesn't take poetic license to begin dreaming what these two companies — one steeped in innovation and bleeding edge technology, the other in century-old heritage and peerless handcrafted artisanry — will accomplish together.
The mind swims dreaming of a Rimac-platform hypercar — bristling with thousands of horses in its powertrain — sheathed in the opulence that only the artists in the Bugatti's Atelier in Molsheim can create.
"I can't begin to tell you how excited I am by the potential of these two incredible brands," gushes Mate, "combining knowledge, technologies and values to create some truly special projects in the future."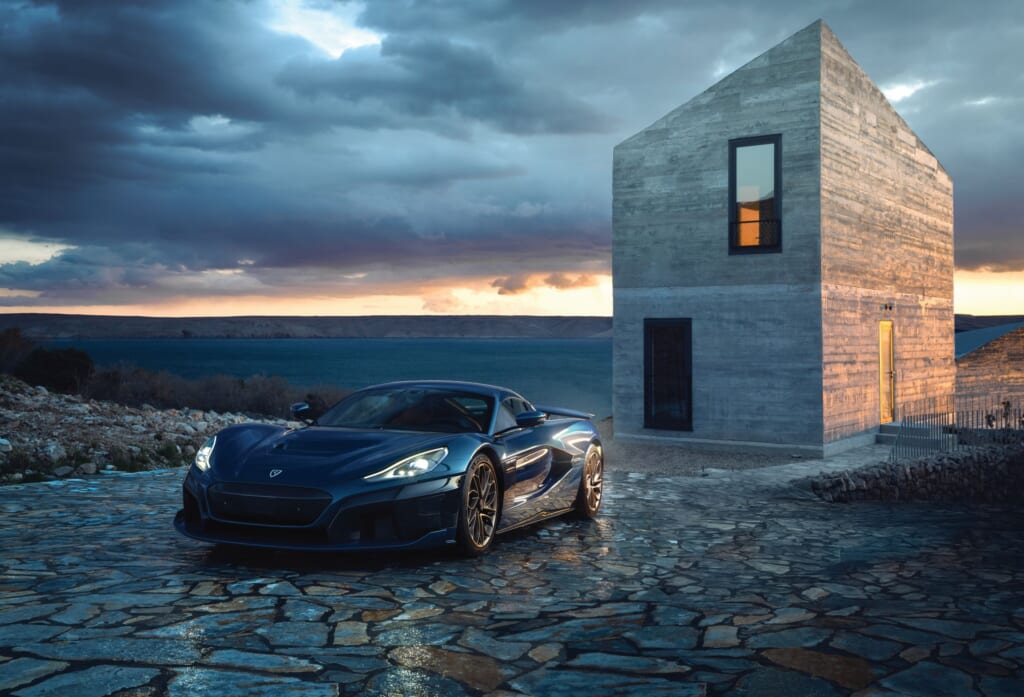 Rimac x Koenigsegg
"That's a really nice story, actually," smiles Mate when asked of his relationship with 21st century automotive pioneer Christian von Koenigsegg. As one of his 'big heroes' — along with Horatio Pagani and Nikola Tesla, who was born less than an hour from the Rimac campus — the two hypercar visionaries have built a bond far stronger than electrons and carbon fiber.
In 2007 while working on his electrified BMW E30 Mate drove to the Geneva Motor Show to search for his hero despite not having any clue what the entrepreneurial Swede looked like.
"It's hard to think today but I didn't know, because there was no Koenigsegg YouTube video at that time," he reveals. So he scoured the Geneva floor for 'the most serious looking guy' and tapped him on the shoulder. Serendipitously that person turned out to be Christian's father, who was kind enough to pass along his son's email.
"Christian is a very smart guy — actually, I never met somebody with such a sharp logic like him, just thinking from First Principles really well," Rimac praises. "So I wrote him a very nice email describing what I was doing with the BMW." As he didn't even have a company at the time Mate was forced to use a generic Gmail address, but to his surprise Christian actually replied and told Mate to keep him posted of the EV E30's developments.
A few years later he received a surprising call: 'Mate I'm going to Croatia, can I stop by?' asked Christian. "He came here and we were just starting, we were like five people, and he tried one of our cars," Mate recalls of their initial in-person meeting. "It was the first time he drove an electric car, and he was blown away — and right then I knew that sooner or later he would make an electric or hybrid car."
So moved was the young Croat by the experience that as a birthday present that year he created twin special one-offs of his Greyp e-bike: one fully carbon with livery matching the Koenigsegg One:1 hypercar, and the other a replica of Il Tempo Gigante — 'the fastest car in the world' from Ivo Caprino's 1975 stop motion film Pinchcliffe Grand Prix. The e-bike copied the crazy looking dual-engine, copper-bodied, radar dish-spinning hot rod that inspired Christian's destiny as a young child [click here our deep dive on Koenigsegg]. 
"I wrote something really nice saying he was my hero, engraved it on the bike and everything. Sent it off to him and he called me and was like, This is the best present I ever got in my whole life!" laughs Mate. "So I respect him regardless of business, but also from a business perspective I knew as soon as he would think about a hybrid or electric car he would come to us."
Mate's instincts proved on point as that project came to realization a couple years later with the game-changing Regera, Koenigsegg's first foray into electrification. After an initial phone call discussing strategy Christian flew down to Croatia the very next day to brainstorm — the resulting sessions deciding Mate's company would design the battery pack while Christian's would build the rest of the car.
"So that's how it started," smiles Mate. "They say Don't meet your heroes, you'll be disappointed, but with Christian it was absolutely not the case; he is a great guy. And we are still good friends — I just talked to him a few days ago, and I think there could be some interesting collaborations in the future as well."
Just as the mind races at what Rimac may achieve with Bugatti, so too does it swoon at the potential of what a collaboration between these two automotive trailblazers might achieve.
Patents, International Awards and a Budding Croatian Electric Visionary
Usually when you read the Origin Story of the mighty Rimac Automobili it all begins with that 1984 BMW M3. But while one might attribute the Birth of Rimac to this near-mythic Bimmer it doesn't quite reach back far enough. You see before that E30 there was a teacher at Croatia's Mechatronic High School who pushed a teenage Mate to new heights, somehow seeing past his poor grades to recognize the potential underneath. This is a good half-decade before Mate would officially launch Rimac Automobili in 2009.
"You have to build something for graduation and usually people build amplifiers or stroboscopes where you can just buy a kit online and assemble it. I had another idea," recalls Mate. "Before the iPhone came to the market I thought that devices would be more and more connected to the internet, like televisions and stuff… So I made a glove that replaces a keyboard and mouse that interfaced with these devices. I did it just as a graduation project, but my professor then sent me around on these competitions."
Mate would go on to patent this glove and also a blindspot-removing mirror system by the age of 17, and with his professor's instigation began winning local, and then national, science fairs. "Then Croatia sent me all around the world," he remembers. Against stiff international competition from Germans, Japanese, Swiss and other of the most developed nations, the budding engineer thought he had no chance.
"But wherever I went I had a gold or silver medal and a bunch of awards," he recalls, seemingly still bewildered by his accomplishments. Trophies from South Korea, Kuala Lumpur, Nuremberg, Geneva and more piled up on his bookshelf — and now adorn a dedicated showroom wall at Rimac HQ.
"If young people ask me for advice I tell them: The idea is absolutely nothing, it is irrelevant. Nobody gives a shit about your idea. It's all about execution," argues the steadfast CEO with cold logic.
"I tell them do something outside of the university because it teaches that you need to work day and night to manage deadlines and show something for a race, competition, whatever. And that's the reality later in life: You have a deadline, you have to do it and you have so many limitations. So this was really great just to learn — and without that professor who pushed me to do it, I probably wouldn't have done anything."
Tough to imagine a kid who built his own Guinness Record-winning electric BMW, earned a score of international science awards and notched twin patents by the age of 17 not accomplishing anything, but the world owes that professor a debt of gratitude.