Meet The Volkswagen ID. Buzz–The Iconic Hippie Van Reborn As An All-Electric Vehicle
VW's long-awaited electric microbus is coming to America in 2024.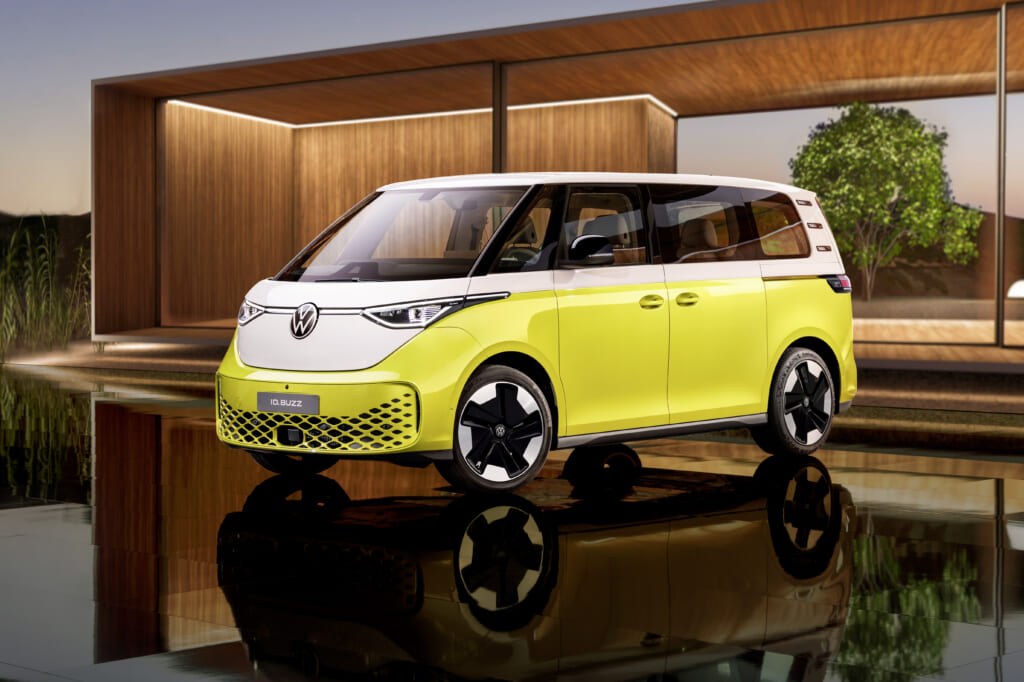 Whether you know it as the Volkswagen Bus, hippie van, VW Transporter or microbus, the beloved people carrier is set to be relaunched as the all-electric VW ID. Buzz.
After years of rumors accompanied by the same recirculated images of a 2017 prototype, the electric version of your uncle's favorite ride has finally been unveiled. And according to Car and Driver, there will be some changes when the ID. Buzz arrives stateside in 2024.
Europe's 117.6-inch wheelbase will be lengthened by an unspecified amount for the U.S. Both the 82 kWh battery pack and the 201-hp electric motor driving the rear axle will be bolstered in North America as well—C&D says to expect as least as much output as offered in the 295-hp ID.4. Top speed is limited to 90 mph, and no range figures have been provided.
In the styling department, VW has kept the iconic two-tone color scheme, with the white top/green bottom combo being perhaps the most recognizable. Motor Trend points to vintage styling cues like the oversized VW logo and three distinctive strakes on the E-pillar that recall those found on vintage microbuses.
Inside, the ID. Buzz will launch in Europe with five seats, while the ID. Buzz Cargo will get only a driver's seat and a double bench seat for three, plus a fixed partition separating the rearward cargo space.
As standard, a 10-inch Digital Cockpit display is paired with a 10-inch infotainment system positioned centrally in the dashboard.
There's also an interactive "ID. Light" stretching across the base of the windshield that lights up as a warning system. For example, a signal in the right-hand area of the strip advises of obstructions in this area or corresponds with a navigation instruction to change lanes.
The VW ID. Buzz is currently slated to hit Europe in late 2022, and won't arrive in the U.S. until 2024.