Mercedes Takes On Tesla With Vision EQXX Concept Car
With an industry-best range of 620 miles, the EV may be "one of the most consequential concept cars" of our time.
Rarely does a concept car create serious waves within the car industry, but the Mercedes Vision EQXX is no ordinary concept.
As Motor Trend puts it, the EV could be "one of the most consequential concept cars of the early 21st century."
"[It's] what folks who've been building automobiles for more than a century can do when they turn the might of their huge research and development budgets entirely to thinking about designing and engineering a better electric vehicle."
Capable of traveling 620 miles on a single charge, the Vision EQXX can go much farther than anything on the market. That includes leaders like the Tesla Model S Long Range (405 miles) and the Formula E supplier Lucid's Air Dream Edition Range (520 miles).
The Merc also does so with a smaller battery pack than those two, making it significantly more efficient. And it was brought from the drawing board to road-ready fruition in just 18 months, thanks in-part to the expert engineering pedigree of the Mercedes-AMG Petronas Formula One team.
"It would have been easy to just use a big battery to get the range," said EQXX drivetrain engineer Tim Wolfel. "But we wanted that range in a compact vehicle."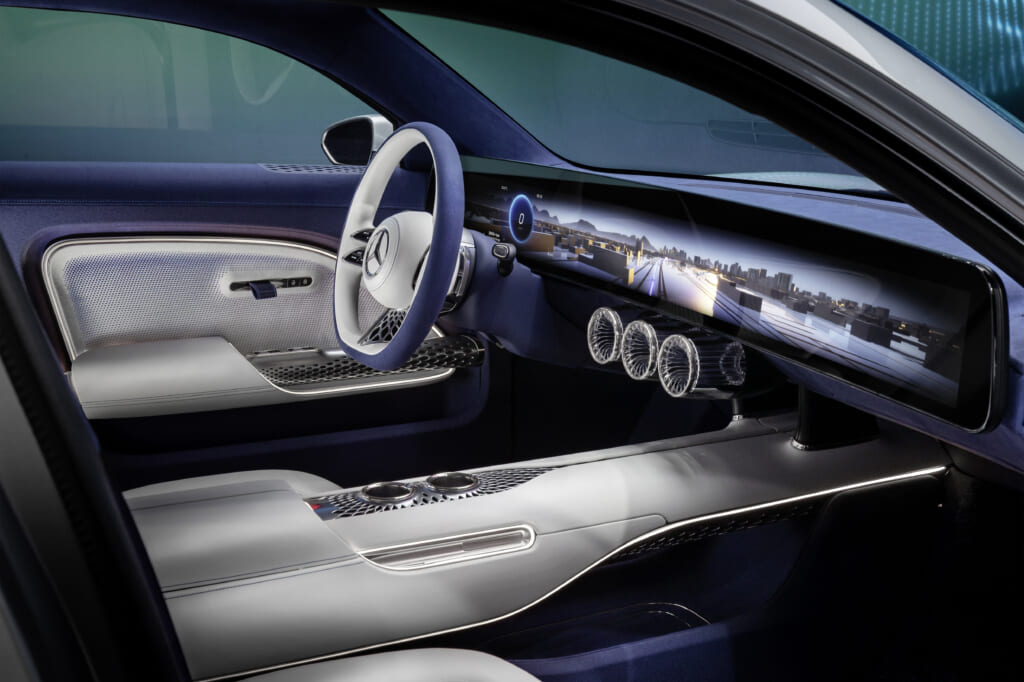 Efficiency, efficiency, efficiency. Power comes form a single 200-hp electric motor mounted to the rear axle, utilizing Mercedes-AMG High Performance Powertrain to ensure 95 percent of the energy sent from the 900V, ultra-dense battery goes to the wheels. There are also 117 solar panels in the roof, good for a 15-mile increase in range.
A tiny drag coefficient of .19 is achieved with drastically tapered cabin a rear track that's two inches narrower than the front. A long tail reduces turbulence, and an active diffuser lowers and extends at 40 mph to keep the speed of the air coming from undernearth the car is equal to air streaming off sides and top.
The interior, while containing some current Mercedes components, gets a huge curved 8K screen that runs between the A-pillars and displays video game-engine-powered graphics. All fabrics are made of either plant-based organic materials or recycled plastics, from biofabricated silk to animal-less leather and bamboo fiber.
"The Vison EQXX is an advanced car in so many dimensions – and it even looks stunning and futuristic," said Mercedes-Benz executive Ola Kallenius. "With that, it underlines where our entire company is headed: We will build the world's most desirable electric cars."