The New Electric VTOL 'Airspeeder' Is Like a Flying Formula 1 Race Car
This futuristic racing drone takes electric flying cars to the next level.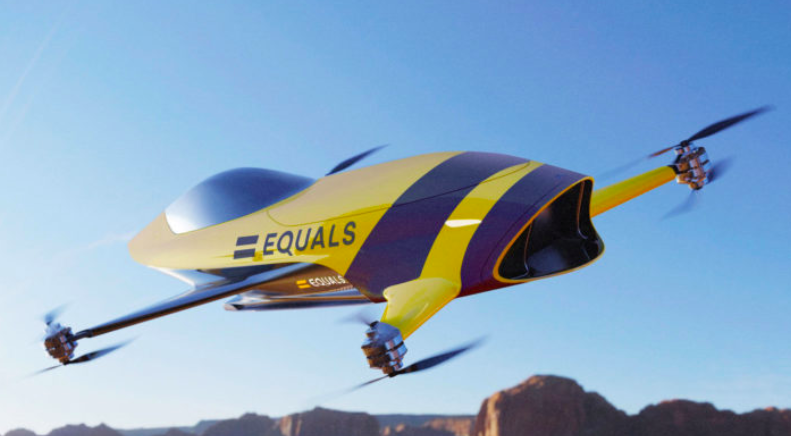 Airspeeder
For anyone who feels locked in place as coronavirus quarantines drag on, fear not: Progress continues, and the flying cars of the future are truly here.
Airspeeders aren't just electric flying cars but next-generation Formula 1 racing-level vehicles. Think of Vertical Takeoff and Landing (VTOL) supercars.
According to Robb Report, Sydney, Australia-based Alauda Racing will pump new life into air racing by "building a piloted flying vehicle, the Airspeeder, for a future international race series."
The science fiction-friendly but very real electric vertical takeoff and landing (eVTOL) Airspeeders you see in these images do make it feel like the 21st century is getting closer to the future some imagined when they were watching old cartoons like The Jetsons.
Alauda's Airspeeder drone first took off in 2019 at the Goodwood Festival of Speed. An eVTOL, it has been created to be what the company terms an efficient and "highly-effective 'flying car' for commercial use."
Airspeeder CEO Matt Pearson has described the Airspeeder as a kind of hybrid Formula 1 racer and high-end drone. The unmanned versions can attain up to 125mph and are equipped with cameras that promise an intense experience even for a ground-based pilot.
Here are more details from Robb Report:
This series will be based on a single drone platforms provided to the different teams. Pearson says the series will go beyond just racing, and will help develop eVTOL technology for the future of Urban Air Mobility (UAM).

The Airspeeder will sport a swappable 500-kW battery pack flying the aircraft's four arms, with four 24 kW electric-motor dual-rotors at each end. The aircraft weighs 550 lbs, and is capable of carrying up to 2,200 lbs.—which is a better power-to-weight ratio than a Formula 1 car. It will rely on LiDAR to avoid obstacles. Like most serious drones, the Airspeeders are built to take some punishment and be rebuilt fairly quickly in a race environment.
These are definitely vehicles that require special training and an understanding of the technical details that an average drone enthusiast or everyday driver of grounded vehicles wouldn't have, and that will likely be the biggest obstacle for something like the Airspeeder to move from the rarified world of Formula 1-style racing through the air to a commuter flying one to work. 
That said, Vertical Flight Society executive director Mike Hirschberg tells Robb Report that "like automotive racing resulted in safety technologies now required for consumer vehicles, developing high-performance eVTOL racing aircraft will also facilitate rapid safety innovation."
"It will help to focus vehicle design on incident management," Hirschberg says, "such as crash safety."
These aren't commercially available vehicles yet, but it does feel like that's just a matter of time. 
Learn more about the MK2 2018 unmanned Airspeeder and the 2020 MK4 piloted version here at Airspeeder.com.